Welcome to Cool Comics in My Collection Episode 169, where we take a look at various comic books I own (and in some cases ones that I let get away), both new and old, often with a nostalgic leaning for those feelings of yesteryear.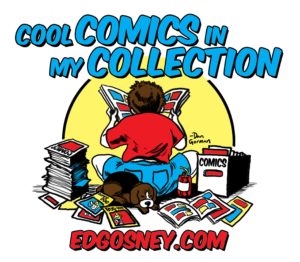 For each of the comic books I include in this blog (except for digital issues), I list the current secondary market value. This is according to the website www.comicbookrealm.com. They list out the near mint prices, which are on the comic book grading scale of 9.4. If you go to the website to look up any in your collection, you can click on the price and see the value at different grades. Not all of my comics are 9.4. Some are probably better, and some are worse. But to simplify it, that's the grading scale I use here. And remember, a comic book is only worth what someone is willing to pay for it.
Have you considered being a guest host for Cool Comics? You can do a theme or just pick any of your comics for inclusion (this blog is for all ages, so please keep that in mind), with a maximum of seven issues. Repeat guest hosts are permitted and encouraged. For any questions or to submit your completed blog, write to edgosney62@gmail.com.
The Cool Comics In My Collection Facebook group is a place where you can discuss the comics you love, your favorite titles, and the characters that keep you coming back for more. Also, creators are welcome to share news about what you are working on, including Kickstarter campaigns. Be sure and join today!
If you have any comments, please scroll to the bottom of the page to where it says, "Leave a Reply." And now, Episode 169…
Cool Comics News!
You may have noticed last week that I slipped something new into the italicized section above (I added it late on Thursday, after having launched the episode in the morning, so you may have missed it). That's right, there is now a Cool Comics In My Collection Facebook group. If you like to chat about your favorite heroes and villains, or if you are a creator and want to tell us about your new projects, consider joining this community of friendly people who have a passion for the blending of words and art.
And for those who celebrate it, Merry Christmas from Cool Comics In My Collection!
Cool Comics Battle of the Week!
Your Cool Comics Battle of the Week is The Batman Who Laughs versus Conan the Barbarian! What do you think would happen if they faced each other in a titanic tussle, and how do you see the winner achieving victory? Let us know in the comments section below.
Cool Comics
#813 — The Batman Who Laughs #1, DC, February 2019.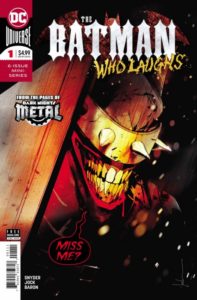 Nearly a year-and-a-half ago when Dark Nights Metal #1 came out and I was just starting to buy new comic books again, I decided to purchase it, based on all the noise I was hearing about this new limited series from DC. I ended up getting all six issues; and because I hadn't been reading new comic books since 2003, I was a little lost when it came to the story. OK, I was very lost. But I stayed the course and read on, regardless of having no background about what had previously been built. And now comes the first issue of a popular villain who emerged from the depths of Dark Nights Metal, The Batman Who Laughs. When I saw it solicited in DC Previews, I didn't even consider reading this and being lost all over again. But I must be a glutton for punishment. Less than a week away from the launch, I contacted my local comic shop and asked them to pull the series for me. Yet this time, it was much easier navigating my way through the comic. We have just one hero to concentrate on, I've been reading new titles for a while now, and I'm back in the groove. I'm not going to pretend I understood everything going on, but it was intriguing, and I'm looking forward to the second issue. The cover price of The Batman Who Laughs #1 is $4.99, while the current value is $5.
#814 — World's Greatest Super-Heroes Holiday Special #1, DC, December 2018.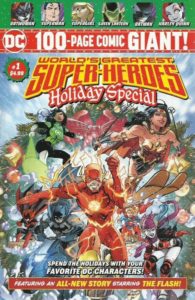 The DC/Walmart comic book collaboration has once more brought us a standalone holiday special (the first was a Halloween issue that I covered back in Episode 160) that I couldn't resist buying. You get a lot of bang for your bucks with these, although most of the materials used are reprints, so if you already have them, then you have to decide if the one new story, at 12 pages, is worth spending this much on. Oh…and the covers are pretty cool, so that makes for a stronger selling point. In this new edition, I've read a couple of these stories in the past, but I enjoy this time of year and it didn't bother me to "see" a couple reruns. I mean, we watch It's A Wonderful Life and A Christmas Story (or whatever your go-to movies are in December) annually, or pull Dickens off the shelf for another read of A Christmas Carol, so why not have comic book reruns? This 100-Page Comic Giant features seven stories containing some of your favorite spandex-donning heroes such as The Flash, Superman, Supergirl, Batman, Batwoman, Harley Quinn, and Green Lanterns Jessica Cruz and Simon Baz. You can probably still find it at your local Walmart if you need some additional yuletide reading. The cover price of World's Greatest Super-Heroes Holiday Special #1 is $4.99, while the current value is $5.
#815 — Mr. Magoo's Christmas Carol, Airwave Comics, December 2002.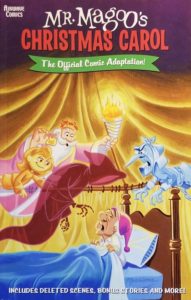 When you read an adaptation to a musical, it certainly loses something along the way, but the comic book version of Mr. Magoo's Christmas Carol isn't meant to be a replacement for the original, especially considering they sold some versions with the DVD included. From what I've been able to find out, the cover on my edition is the one that came packaged with the DVD, but I bought this as a standalone at Akron Comicon in November from Chris Yambar  (you may know the name from Bongo Comics, featuring the Simpsons), who wrote a "Behind the Scenes" section that adds something to the story (George Broderick, Jr., who was in my Akron Comicon feature last episode, did the pencils for this part). If you are a big fan of Mr. Magoo and hold the tradition of watching Mr. Magoo's Christmas Carol yearly, then you'd probably enjoy adding this comic to your collection. There is some background information on Mr. Magoo and the man who voiced the character, Jim Backus, along with a couple additional older Magoo stories, one being another Christmastime tale. My edition has signatures from Chris Yambar, George Broderick, Jr., and Ken Wheaton (inks). The cover price of Mr. Magoo's Christmas Carol is $7.98 for the regular edition and Free for the limited edition that was packaged with the collector's DVD, while the current value for the regular cover is $8, and the limited variant is listed at $20.
FCBD the Cool Comics Way (Week 32)
#816 — Adventure Time With Fionna and Cake, Kaboom!, May 2018.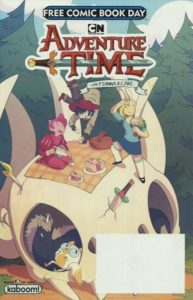 Adventure Time, from what I've gathered over the last few years, is a popular cartoon among people are much younger than me. I've seen bits and pieces of the show when my kids have had it on, I know that some like to dress up like the characters for Halloween and at conventions, and I basically have no interest in it (I'll take the cartoons from my childhood over these…Speed Racer, Super Friends, the Flintstones, Johnny Quest…okay, you get the idea). Yet I made a commitment to you readers that I would talk about every comic from Free Comic Book Day 2018 here at Cool Comics, so there was no getting out of this when I discovered it was next in line. Listed as an all ages comic from KaBOOM! (an imprint of BOOM! Studios), it was a nice little story that you can give to your kids and not worry about the content. There is a quest to deliver a bowl of punch, and that's what our adventurers seek to do, yet several obstacles get in their way. The cover price of Adventure Time With Fionna and Cake is free, while the current value is $1.
Cool Comics Kids
#817 — Walt Disney's Comics and Stories #340, Gold Key, January 1969.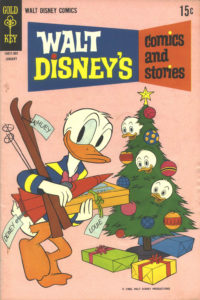 This is the seventh week featuring our new Cool Comics Kids section, and a pattern has emerged that these are the kinds of issues that came out when I was a kid, or even a few years earlier. Are there decent comics for kids coming out today? You bet, including the FCBD issue above, a number of them from past weeks that have been covered in Cool Comics, and IDW is currently publishing comics featuring Marvel heroes for a younger generation. What you have to remember is that the comics I write about here are ones I actually own…hence, "Cool Comics In My Collection." Perhaps a little corny, but corny works just fine when talking about this fun hobby. And most readers know that I really enjoying digging around in quarter boxes, and now that I've got this section of the blog in mind when searching, and since I often channel my inner child, I tend to gravitate to things that keep me entertained. But this particular issue didn't come from the quarter box. I looked in the regular back issue section to find fun Christmas stuff for December, and with a Walt Disney comic, you can't go wrong. I've read a handful of Duck stories over the last couple years that feature Donald's three nephews, Huey, Dewey, and Louie, and as I've grown older, they've grown on me. The three young ducks feature, along with Donald and Uncle Scrooge, in the first story, as they wonder what they should get their rich uncle for Christmas. Next in this anthology title comes a tale with Scamp, another story with ducks, then part 2 of an ongoing thriller with Mickey and Goofy. These kinds of comics are very affordable in less than perfect condition and make a nice treat for the kids (and yourself!). The cover price of Walt Disney's Comics and Stories #340 is 15¢, while the current value is $28.
Cool Comics Classics
#818 — Conan the Barbarian #31, Marvel, October 1973.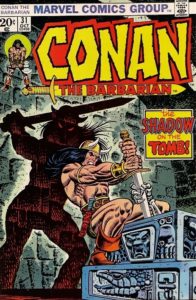 By Crom! Who wouldn't want to celebrate the holidays with Conan the Barbarian? Well, probably most of us wouldn't want to, if he were real, but via books, movies, and comics, we can experience the Hyborian age in the safety of our own homes. Conan stories at this time of year can bring out more red than you'll find on Santa's suit, so if you're a fan of sword and sorcery epics, and you've never tried Conan, there are many back issues available from both Marvel and Dark Horse Comics. Marvel now has the license back for the character, and next month they will start publishing Conan comics once again. But if you can't wait, why not try some of the comics from the past? I was fortunate to find this beauty written by Roy Thomas, with art by John Buscema, in a quarter box (I love to strike gold at discount prices!). And the Gil Kane cover is pulling you in, isn't it? Maybe you should plan a trip to your local shop, and soon, to see if this issue is available. The cover price of Conan the Barbarian #31 is 20¢, while the current value is $15.
Recently Read Digital Comics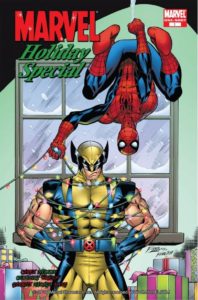 I think I've owned the Marvel Holiday Special 2007 digital comic for close to two years now, but was saving it up for Yuletide reading, and just didn't manage to fit it in to my schedule last year. But I was finally able to flip the virtual pages of this comic and enjoyed the first story—which features Wolverine and Spider-Man—quite a bit. When two of Marvel's most popular characters get together during this festive season, it's usually a fun ride, and this comic is no exception. The last three stories included here are shorter, the next two being just okay, but the last one had some heart and soul in it. A writer for the Daily Bugle, Lester, gets one more chance to write a spectacular story or lose his job, and he turns to Reed Richards of the Fantastic Four, whom he met during a previous interview. He explains that he is writing a feature with the theme of "What's the meaning of Christmas?" Does Reed come through for Lester? They don't call him Mr. Fantastic for nothing!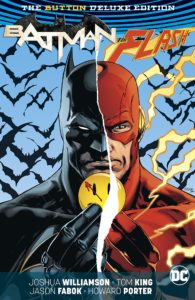 Have you been reading Doomsday Clock? I know that many fans are divided when it comes to other creators at DC touching the Watchmen, and while I love the original, it is fun to see more stories with them, especially when they are running smack-dab into the likes of Batman and other DC heroes. The limited series started last year, at a time when I was just starting to read new issues again, but what I missed out on was Batman #21-22 and The Flash #21-22. These two titles had a little four issue crossover that helped set the stage for what is going on now, so during a recent sale of Batman titles via Amazon, I decided to purchase Batman/The Flash: The Button Deluxe Edition for just $4.99 (the regular price is $11.99). Though I started reading Batman regularly with issue #45, I haven't been getting The Flash, but I know enough from the TV show that this made the purchase worthwhile. I liked Joshua Williamson's writing, and I may just need to start paying more attention to the Scarlet Speedster. Needless to say, I read through these four collected issues in a…Flash!
ComicBooks For Kids!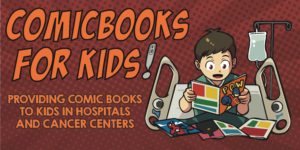 ComicBooks For Kids! (CB4K) is a charity that Cool Comics In My Collection is honored to be working with. CB4K provides comic books to kids in hospitals and cancer centers all across the Unites States. You can check their website and see if your local hospital is included and if not, you can work with them to get them included! If you like what you see, please help them out and follow/like their Facebook page. Their link is https://www.facebook.com/comicbooksforkids/
Never Miss an Episode of Cool Comics!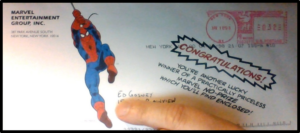 Now you can get Cool Comics in My Collection delivered directly to your email! Just click "Join My Newsletter" on my website (or click on the image of my No-Prize!), sign up, and that's it. Pretty easy, right? Just be sure to follow the instructions on the confirmation email so that you start receiving my newsletter. If you don't see it, you may want to check your Spam or Junk Mail folders.