Welcome to Cool Comics in My Collection Episode 160, where we take a look at various comic books I own (and in some cases ones that I let get away), both new and old, often with a nostalgic leaning for those feelings of yesteryear.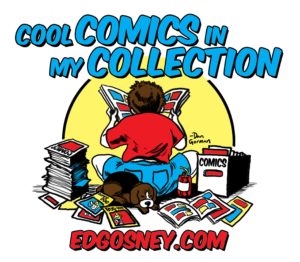 For each of the comic books I include in this blog (except for digital issues), I list the current secondary market value. This is according to the website www.comicbookrealm.com. They list out the near mint prices, which are on the comic book grading scale of 9.4. If you go to the website to look up any in your collection, you can click on the price and see the value at different grades. Not all of my comics are 9.4. Some are probably better, and some are worse. But to simplify it, that's the grading scale I use here. And remember, a comic book is only worth what someone is willing to pay for it.
Have you considered being a guest host for Cool Comics? You can do a theme or just pick any of your comics for inclusion (this blog is for all ages, so please keep that in mind), with a maximum of seven issues. Repeat guest hosts are permitted and encouraged. For any questions or to submit your completed blog, write to edgosney62@gmail.com.
If you have any comments, please scroll to the bottom of the page to where it says, "Leave a Reply." And now, Episode 160…
Cool Comics News!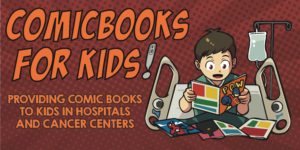 Recently I've become aware of a neat charity that works hard to get child-friendly comic books into the hands of kids who are hospitalized. Cool Comics believes this is a great goal and wants to help the cause, and we're hoping you may happen to feel the same way. Some of the top comic book publishers are also on board and making donations, along with retailers and individuals just like you. ComicBooks For Kids has some rules about what kind of comic books may be donated (condition and age appropriateness are top considerations), but money is also a way to help get comic books in the hands of these hospitalized children. I hope you'll take some time to click on the link (you can click on the name in bold above or the image) and look around the website to see what ways you might want to help out. Maybe someday you'll be listed on the "Wall of Heroes," which is a really "cool" thing to do! If you like what you see, please help them out and follow/like their Facebook page. Their link is https://www.facebook.com/comicbooksforkids/
Cool Comics Battle of the Week!
Your Cool Comics Battle of the Week is Swamp Thing versus Barnabas Collins! What do you think would happen if they faced each other in a titanic tussle, and how do you see the winner achieving victory? Let us know in the comments section below.
Cool Comics
#763 — Magica De Spell Giant Halloween Hex #2, IDW, September 2018.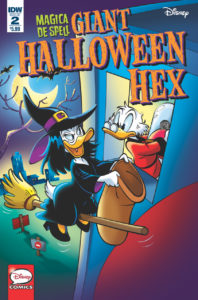 I ordered this comic via Previews from my local comic shop without much knowledge of what it was about…but the word "Halloween" was on the cover, so I needed it for my collection (you'll note a September cover date, but this was late and just came out last week). I saw that it was Disney, just by having Scrooge McDuck on the cover, but I had no idea what Magica De Spell meant. I figured it was some kind of magical spell, but rather, it turned out to be a character. A completely new character from my perspective, although when I did a little digging, I found out that this Italian sorceress has been around since 1961 and had a number of appearances in the DuckTales cartoon series. Only I never watched DuckTales, and rarely read comics with Disney characters, so to me, this was all new. The comic itself is thicker than usual and contains one long story and one short. And guess what? Both of them were reprints. But it is the first time they've appeared in the United States, so for many audiences, they are new stories. The first tale, "The Gifts of the Gods," was originally published in Italy in 1990, while the second, "She's an Animal!" appeared in Denmark in 2010. These weren't bad stories (although I'm not the target audience…big surprise), but they really didn't have anything to do with Halloween and could have been published any month of the year, in my opinion. But the cover is cool and with the big "Halloween" splashed across it, this comic would make a good display for October. The cover price of Magica De Spell Giant Halloween Hex #2 is $5.99, while the current value is $6.
#764 — Swamp Thing Halloween Horror Giant #1, DC, October 2018.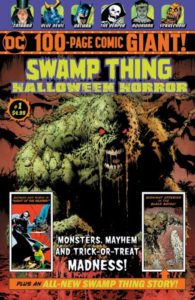 Remember the new DC/Walmart 100-page exclusives? This month they put out a special one-shot featuring Swamp Thing. Just like the ongoing titles, out of the 100 pages you get a 12-page new story, while the rest are reprints. For the price, they are pretty good deals, especially if you are either new to comics or skipped a number of years (like I did). In that case, almost every story will be new to you. Although I quit getting the ongoing comics during the second month, I made sure to buy this Halloween special. If you are interested in it, you should be able to find some copies if you live close enough to a Walmart, as they seemed to stock a good number of this special. Besides the new Swamp Thing story, it also contains a reprint of his origin, and some other Halloween tales featuring Aquaman, Superman, Zatanna, Batman, and Robin. Perhaps my favorite was the second story in the comic, starring Enchantress and Blue Devil, which pays tribute to a very familiar Halloween cartoon beloved by nearly everyone. If you're a person who gets into the spirit of Halloween, you'll probably want to add this comic to your collection. The cover price of Swamp Thing Halloween Horror Giant #1 is $4.99, while the current value is $5.
FCBD the Cool Comics Way (Week 23)
#765 — Howard Lovecraft Big Book of Summer Fun, Arcana Studio, May 2018.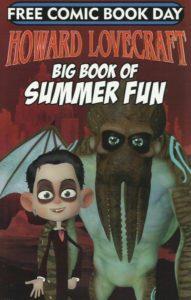 The Free Comic Book Day title this week contains two stories, and while neither are Halloween stories, both of them are in tune with October. The first features a young Howard Lovecraft, the horror author, in a fictitious tale that alludes to the reasons behind his later writings. While it was entertaining to a point, it contained no dialogue. Nothing but narrative blocks to keep the story going, and I wonder if young readers would stay with it. The second story is "The Steam Engines of Oz," and yes, we get to see flying monkeys. And I think we're all in agreement that those winged terrors gave us nightmares after seeing the musical version of The Wizard of Oz when we were kids. That and the Wicked Witch of the East's legs curling up and sliding under Dorothy's house. That scene is still creepy to this day! The publisher, Arcana Studio, produces animation based on their comics, and gets some big names for the voices, such as William Shatner. I've never seen their work, but if you have, tell us in the comments what you think of them. The cover price of Howard Lovecraft Big Book of Summer Fun is free, while the current value is $1.
Cool Comics Classics
#766 — Ripley's Believe It or Not! #82, Gold Key, October 1978.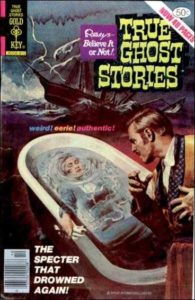 I love it when I find future Cool Comics Classics in discount boxes, and I've really struck gold as of late. The Ripley's Believe It or Not! anthology title was originally published by Harvey Publications, but later Gold Key acquired the license and produced the comic from 1967 to 1980. These old comics make great October reading, or really during anytime of the year. This 48-page issue contains six tales that appear to be stories you'd think would be more fitting in a Twilight Zone comic, but, believe it or not, every word is true! Or are they? I guess Ripley's gives you a choice in the matter. At any rate, none of the stories was so overly long that boredom set in (which is always a good thing); although younger readers might not enjoy these tales as much as more seasoned comic book readers would. The cover price of Ripley's Believe It or Not! #82 is 50¢, while the current value is $16.
#767 — Dark Shadows #30, Gold Key, February 1975.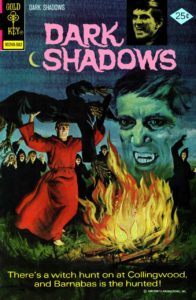 One of my most vivid memories of being scared as a young kid happened at the house next door. A girl my same age lived there, and we were at her house, playing around as kids do. I believe one or both of my sisters were there also (one a little older, one a little younger), and the girl who lived there put Dark Shadows on the TV. As the ocean waves came crashing down on the screen, and I found out this was a soap opera with a vampire, I remember being very scared! Now that I'm older, Dark Shadows doesn't give me the heebie-jeebies the way that it did back then, but for years, just hearing the name Barnabas Collins would put me on edge. So if you like to read scary comics in October, you may want to peruse the back issue bins at your local comic shop and see if you can find any of these old Gold Key gems. But sometimes snooping around can cause more trouble than it's worth, as you'll find out if you happen to read this issue! The cover price of Dark Shadows #30 is 25¢, while the current value is $50.
Never Miss an Episode of Cool Comics!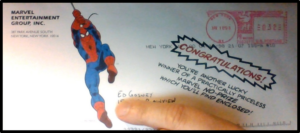 Now you can get Cool Comics in My Collection delivered directly to your email! Just click "Join My Newsletter" on my website (or click on the image of my No-Prize!), sign up, and that's it. Pretty easy, right? Just be sure to follow the instructions on the confirmation email so that you start receiving my newsletter. If you don't see it, you may want to check your Spam or Junk Mail folders.