Welcome to Cool Comics in My Collection Episode 184, where we take a look at various comic books I own (and in some cases ones that I let get away), both new and old, often with a nostalgic leaning for those feelings of yesteryear.
For each of the comic books I include in this blog (except for digital issues), I list the current secondary market value. This is according to the website www.comicbookrealm.com. They list out the near mint prices, which are on the comic book grading scale of 9.4. If you go to the website to look up any in your collection, you can click on the price and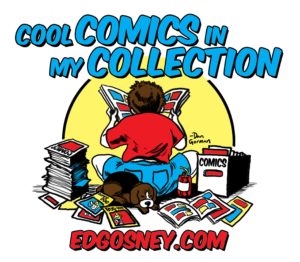 see the value at different grades. Not all of my comics are 9.4. Some are probably better, and some are worse. But to simplify it, that's the grading scale I use here. And remember, a comic book is only worth what someone is willing to pay for it.
Have you considered being a guest host for Cool Comics? You can do a theme or just pick any of your comics for inclusion (this blog is for all ages, so please keep that in mind), with a maximum of seven issues. Repeat guest hosts are permitted and encouraged. For any questions or to submit your completed blog, write to edgosney62@gmail.com.
The Cool Comics In My Collection Facebook Group is a place where you can discuss the comics you love, your favorite titles, and the characters that keep you coming back for more. Also, creators are welcome to share news about what you are working on, including Kickstarter campaigns. And don't forget the prizes. Yes, Cool Comics gives away cool prizes. Be sure and join today!
 If you have any comments, please scroll to the bottom of the page to where it says, "Leave a Reply." And now, Episode 184…
Cool Comics News!
"Seen any good movies lately?" Okay, we've heard that phrase for…well…ever. But have you? Tuesday, I saw Captain Marvel, and despite a lot of negativity surrounding it (I have one gripe, but does it really matter?), I had fun watching it. And over the weekend I purchased Aquaman and didn't regret the decision after it was over. But the next big comic book movie coming out is one I'm really excited about, and it's (of course you know what I'm going to say) SHAZAM! If the trailers are any indication, this should be a lot of fun. Even more fun is the fact that when I bought Aquaman on Vudu, I got a coupon for $8 off my SHAZAM ticket, and when I pre-bought my tickets while at the theater on Tuesday, they ended up giving me the ticket for free! And speaking of SHAZAM! (if I say it enough, will I turn into the World's Mightiest Mortal?), I knew I couldn't let down all you fearless readers after this build-up, so this week Cool Comics Classics features "The Big Red Cheese."
Cool Comics Battle of the Week!
Your Cool Comics Battle of the Week is Red She-Hulk versus SHAZAM! What do you think would happen if they faced each other in a titanic tussle, and how do you see the winner achieving victory? Let us know in the comments section below.
Cool Comics In My Collection
Contemporary Cool Comics
#895 — Detective Comics #1000, Marvel, May 2019.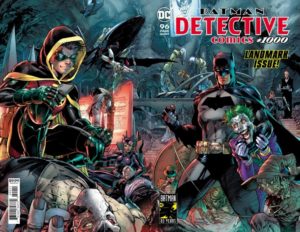 A thousand of anything is a lot, right? So being that Detective Comics has reached this milestone, it deserves to celebrate. Granted, just like Action Comics (which also hit the mark a while back), there were times when it came out more than once a month (currently it comes out twice a month), but still, if the reading public didn't like it, it wouldn't have hit four digits. And as the cover states, this is a "LANDMARK ISSUE!" So how did Detective Comics celebrate? By putting out multiple covers representing all the eras it published in. For me, I just bought the regular wrap-around cover pictured here, but I know that at my local comic shop the Frank Miller cover proved to be the most popular one. This is a big comic, with 96 pages for $9.99, and contains multiple stories from an all-star cast of creators. Is it worth $9.99? I think so, considering the history, writers, and artists involved…and let's not forget that it's Batman who stars in this. That doesn't mean I loved all the stories, but I read it with both a sense of history and appreciation. The cover price of Detective Comics #1000 is $9.99, while the current value is $10.
#896 — Middlewest / Bully Wars Galley Edition, Image, January 2019.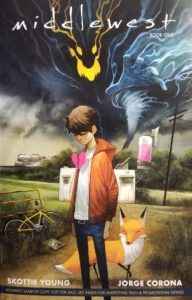 In my opinion (and I would venture to say practically everyone else who has read these), Skottie Young has a couple hits on his hands with these two Image titles, Middlewest and Bully Wars. Though I'm a little late jumping on this bandwagon, thanks to my fearless comic shop owner who set me up with this advance sampler copy, I was able to read the first three issues of each of these limited series. From what I can tell, Bully Wars ended with issue #5, and Middlewest, which just put out #5 in March, may also be over…for now. You can pick up the trade for Bully Wars if you don't want to go searching for individual issues, which is a bonus for many readers. Though I'm far from the target market, I could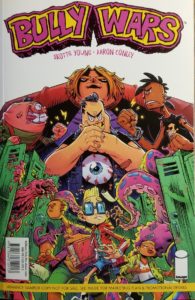 empathize with the characters, and that's the key to good writing. These are two completely different stories. Middlewest is a fantasy that may make you think of Dorothy in the Wizard of Oz, trying to escape danger across the plains of Kansas, all the way to a mystical land. But Middlewest is definitely its own story, and if you like to venture into territory that isn't full of supertypes, give this one a try. I think you'll also love the art by Jorge Corona. Bully Wars might take you back to a place you don't want to visit from your youth, but Young shows us various sides of the issue, besides the fact that this crazy tale is certainly not reality. But the story is fun, and the characterization is exceptional and will keep you interested. The art by Aaron Conley is very different when compared to Middlewest, but Conley captures the right perspective for this story. The cover price of Middlewest / Bully Wars Galley Edition is free (but hard to get your hands on), while the current value is $15.
Cool Comics Done Dirt Cheap
#897 — Red She-Hulk #63, Marvel, May 2013.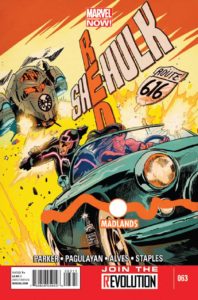 Midway through the year 2003, I quit buying new comics for various reasons. Then a few years later I sold most of my collection at a garage sale (for buyers, it was pretty awesome). But in 2011, I started reading some of the back issues I'd kept and hadn't read yet. In 2015, I started the Cool Comics In My Collection blog, and decided to visit my local comic shop to buy some back issues I could include in Cool Comics. For a while I got on a kick in which I did theme weeks in the blog (which was a lot of fun), such as westerns, military, horror, Saturday morning cartoons, TV shows, movies, etc. Hence, I started showing up at my comic shop a little more frequently, and during late December in 2016, the store owner offered me a longbox of comics sitting on his floor for just $20. Turns out there were 419 individual comics inside. I'd had and read 92 of them, which left 327 I'd never had the pleasure of reading. This box didn't contain hidden gems that were going to make me rich, and some weren't in great condition, but out of this, Cool Comics Done Dirt Cheap was born, and it's allowed me to explore titles I'd never considered buying. Such as this week's entry, Red She-Hulk. What got me interested in reading this one is that I just discovered Betty's history as a Hulk from recent issues of The Immortal Hulk (one of the best ongoing titles in all of comics), not to mention that Aaron Stack, aka Machine Man, is part of this comic. I can't say if I'll ever read another issue of this title, but for being dirt cheap, it was worth it. The cover price of Red She-Hulk #63 is $2.99, while the current value is $3.
FCBD the Cool Comics Way (Week 47)
#898 — 2000 A.D., Rebellion, May 2018.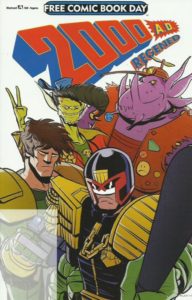 2000 A.D. is a British produced comic for Free Comic Book Day, and although the only character name I'm familiar with in this comic is Judge Dredd (and in this story he is Cadet Dredd), as I always say, FCBD is a great way to experience companies and characters that are new to you. The other comics in this freebie include Strontium Dog (which does sound vaguely familiar to me), Chet Jetstream, Tharg's Future Shocks, and Dr. & Quinch. For me, the stories were hit or miss, but even the hits were so far out of my wheelhouse that I'm not going out on a hunt for their comics. But I'm glad to have had the opportunity to experience these stories that are so different from my normal weekly purchases. The cover price of 2000 A.D. is free, while the current value is $1.
Cool Comics Kids
#899 — Mickey Mouse #153, Gold Key, December 1974.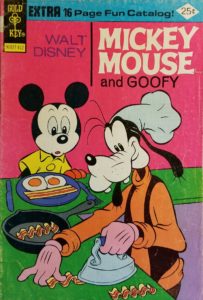 Often these old Gold Key comics aimed at kids contain multiple stories, usually four or five, but this one contained only three (and one of those was just one page), with the first, "Mickey Mouse in the Secret of Drake's Island," lasting for the majority of the comic. It was a pretty good adventure, and younger readers are bound to enjoy the exploits and perils that Mickey and Goofy face. Once it's all over and we have a moment to catch our breath, there is a one-page short story (a nice feature for young readers to get in "book style" reading practice) featuring Chip 'n' Dale titled "A Packet O' Racket." Then we move on to "The Golf Hound" in which Pluto gets to be the hero, and finally a one-page comic vignette. Like so many older comics, the ads prove to be as fascinating as the stories, and even better, this one contains an "EXTRA 16 Page Fun Catalog!" that shows off, in comic book form, toys like: Dusty, America's Most Beautiful Doll; Baby Alive (don't blame me if it gives you nightmares, you've been warned that it's in here!); a Snoopy power tooth brush set; Steve Scout and his friend, Bob Scout; Duke, the Super Action Dog; SSP Ultra Chrome Gleaming Hi-Gloss Racing Cars; SSP Smash-Up Derby; and more! I had some of the toys in here, so it was fun to take a walk down memory lane. The cover price of Mickey Mouse #153 is 25¢, while the current value is $18.
Cool Comics Classics
#900 — SHAZAM! #12, DC, June 1974.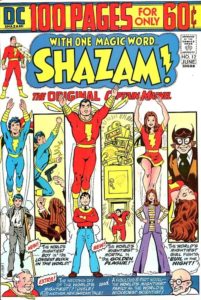 I'm finishing up Cool Comics this week with an extra thick 100-page classic that harkens back to my childhood (Detective Comics #1000 was 96 pages, and the Middlewest / Bully Wars Galley Edition contains six issues, meaning that I did a lot of reading for this episode!). SHAZAM! was a hero I paid no attention to in comic book form, yet I did watch the live-action Saturday morning show. I remember seeing his comics, along with a few of the treasury sized editions (Limited Collectors' Edition if you want the proper DC lingo), but they didn't catch my attention. When I got a little older and started collecting again in the Nineties, I suddenly found myself interested in Billy Batson and his exploits (and especially so after my father told me he'd owned some of the original Fawcett Comics). But it wasn't until last year that I finally purchased a comic from DC's original run (which took place when I was a kid), and it happens to be this one. I'm slowly working on having the entire collection of the "100 Pages For Only 60¢" editions, and I was happy to get this one for $10. Containing multiple stories and multiple Marvel Family members (such as Captain Marvel, Mary Marvel, Captain Marvel Jr., and Uncle Marvel), this is 100-pages of pure fun (some of the stories date from the forties, for those of you who want a sampling of the Fawcett editions). The cover price of SHAZAM! #12 is 60¢, while the current value is $70.
ComicBooks For Kids!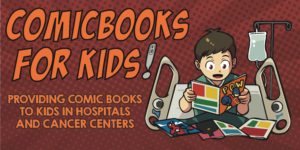 ComicBooks For Kids! (CB4K) is a charity that Cool Comics In My Collection is honored to be working with. CB4K provides comic books to kids in hospitals and cancer centers all across the Unites States. You can check their website and see if your local hospital is included and if not, you can work with them to get them included! If you like what you see, please help them out and follow/like their Facebook page. Their link is https://www.facebook.com/comicbooksforkids/
Never Miss an Episode of Cool Comics!
Now you can get Cool Comics in My Collection delivered directly to your email! Just click "Join My Newsletter" on my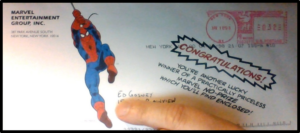 website (or click on the image of my No-Prize!), sign up, and that's it. Pretty easy, right? Just be sure to follow the instructions on the confirmation email so that you start receiving my newsletter. If you don't see it, you may want to check your Spam or Junk Mail folders.