Welcome to Cool Comics in My Collection Episode 181, where we take a look at various comic books I own (and in some cases ones that I let get away), both new and old, often with a nostalgic leaning for those feelings of yesteryear.
For each of the comic books I include in this blog (except for digital issues), I list the current secondary market value. This is according to the website www.comicbookrealm.com. They list out the near mint prices, which are on the comic book grading scale of 9.4. If you go to the website to look up any in your collection, you can click on the price and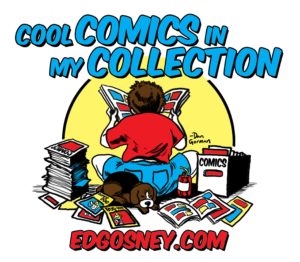 see the value at different grades. Not all of my comics are 9.4. Some are probably better, and some are worse. But to simplify it, that's the grading scale I use here. And remember, a comic book is only worth what someone is willing to pay for it.
Have you considered being a guest host for Cool Comics? You can do a theme or just pick any of your comics for inclusion (this blog is for all ages, so please keep that in mind), with a maximum of seven issues. Repeat guest hosts are permitted and encouraged. For any questions or to submit your completed blog, write to edgosney62@gmail.com.
The Cool Comics In My Collection Facebook Group is a place where you can discuss the comics you love, your favorite titles, and the characters that keep you coming back for more. Also, creators are welcome to share news about what you are working on, including Kickstarter campaigns. And don't forget the prizes. Yes, Cool Comics gives away cool prizes. Be sure and join today!
If you have any comments, please scroll to the bottom of the page to where it says, "Leave a Reply." And now, Episode 181…
Cool Comics News!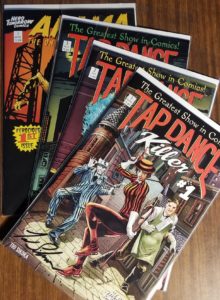 Comic fans, there's no time like the present to join the Cool Comics In My Collection Facebook Group, as we are "that" close to achieving our next goal, which is 100 members. What happens when we get there? I'm glad you asked! I'll make an announcement to the group that anyone who wants to be in on the prize drawings should indicate so in a post. Then, after an allotted number of days go by, I'll take the names and enter them all in an online randomizer, and the top three all get Cool Comics prizes! This will be our second giveaway, and this time we have some special variant covers of Hero Tomorrow Comics, signed by writer Ted Sikora! It's really that simple. You just need to click on the link above, request to join the group, then once we hit our goal, make sure to watch for my prize announcement. Then sit back and hope you are one of the three winners!
Cool Comics Battle of the Week!
Your Cool Comics Battle of the Week is Samuree versus Looney Tunes! What do you think would happen if they faced each other in a titanic tussle, and how do you see the winner achieving victory? Let us know in the comments section below.
Cool Comics In My Collection
Contemporary Cool Comics
#878 — Doomsday Clock #9, DC, May 2019.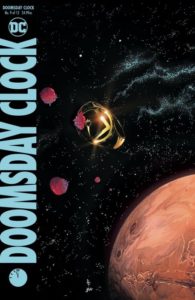 Way back in Cool Comics episode #114, we took a look at Doomsday Clock #1, the DC series integrating the Watchmen into the regular DC Universe. While some people have been against it from the beginning, I've enjoyed the series so far, especially the last two issues because of Firestorm's involvement. And if what's happening is really happening (and with comic books, you never know), then this is resulting in big changes for the Nuclear Man. The ramifications have the potential to make Firestorm…wait a minute…if you plan on reading this, but haven't gotten around to it yet, you know me, I never want to spoil your fun. So read it, and if you want to discuss it further, be sure to tell us in the comments section below (and if you haven't read it yet, you've been warned that someone might reveal something big in the comments). The only disappointing aspect of the series for me has been the perpetual lateness. I mean, here we are 14 months later, and there are still three issues left to go (their Doomsday Clock seems to be in perpetual "fall back" mode). Although dragging it out does keep it around that much longer. The cover price of Doomsday Clock #9 is $4.99, while the cover price is $5.
Cool Comics Done Dirt Cheap
#879 — Samuree #2, Continuity Comics, August 1987.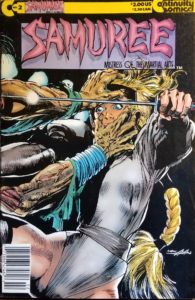 This week, courtesy of my legendary longbox (a few years back I paid $20 for a longbox of 419 comics, sight unseen), we bring you Samuree, straight from Neal Adam's former company, Continuity Comics. For some of you, this is a trip down memory lane. Continuity ran from 1984 to 1994, and while I was away from comics between 1983 until 1993, Continuity was not on my radar when I started buying again. Before I acquired my dirt cheap longbox, I owned exactly two Continuity Comics titles: Megalith #3 and Ms. Mystic #1 (I also used to own the Pacific Comics first issue of Ms. Mystic). While I sold them both at a garage sale, I'm now in possession of two more Continuity titles with this and a copy of ToyBoy #1, which I wrote about in episode 145. Okay, back to Samuree. Elliot Maggin (quite possibly a very familiar name to longtime DC readers) wrote this issue, which proved to be of interest to me as he was mentioned often in a recent Back Issue magazine I read. Samuree's uniform is a bit…cheeky, to say the least, and I'm guessing that was part of the appeal way back when. I still don't know much about Continuity Comics, but I find these Eighties companies interesting, as they boldly tried to gain readers from the Big2. The cover price of Samuree #2 is $2, while the current value is $3.
FCBD the Cool Comics Way (Week 44)
#880 — Starburns Presents #1, SBI Press, May 2018.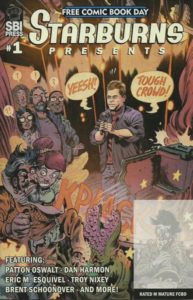 SBI Press is yet another company I know next to nothing about, which is part of the beauty of Free Comic Book Day. If you are attending this year (first Saturday in May, so please check with your local comic shops if they are participating), why not try out a few titles you're unfamiliar with? Starburns Presents is an anthology featuring a variety of writers and artists, and I found most of the stories fairly entertaining. Patton Oswalt (remember him from Agents of S.H.I.E.L.D.? And yes, he's the narrator of The Goldbergs) wrote the first story, and Dan Harmon (the TV shows Community and Rick and Morty are a couple of the things he's known for) also contributed to this issue. Just keep in mind that this issue is rated M for Mature, in case you decide to track it down. The cover price of Starburns Presents #1 is free, while the current value is $1.
Cool Comics Kids
#881 — Looney Tunes #8, Gold Key, June 1976.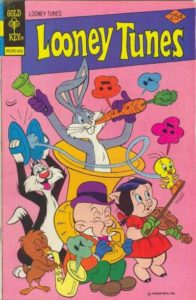 I'm betting that many of you grew up watching Looney Tunes on Saturday mornings and fondly remember Bugs Bunny and friends. Which is a large part of the appeal of this comic book; the other being that I was able to snag it out of a quarter box…and this is a case where paying cover price for a used item is a great deal! Not to mention that since this issue falls into our Cool Comics Kids category, readers can rest assured that little ones should be fine with it. Stories in this issue include "Tasmanian Goulash," featuring Bugs Bunny, Porky Pig, and the Tasmanian Devil; "Mind Your Manners," starring Yosemite Sam and Daffy Duck; "A Peachy Idea," with Foghorn Leghorn and Henery Hawk; and also stories centering around Tweety and Sylvester, and Wile E. Coyote and the Roadrunner. When reading these Seventies comic books, part of the fun is the ads, including, of course, one for Sea-Monkeys (one of the most controversial ads ever, right? Maybe someone should do a comic about Sea-Monkeys, and how they are sentient and have happy family units, but when people are around, they shapeshift into brine shrimp…and are secretly working hard to get into every home in America, with plans to eventually take over!). The cover price of Looney Tunes #8 is 25¢, while the current value is $22.
Cool Comics Classics
#882 — Iron Man #32, Marvel, December 1970.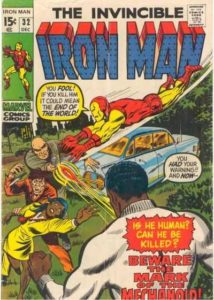 This week, Cool Comics Classics brings you the Mechanoid! To be precise, he's Mechanoid Scout MK-5, and he was sent by the masters. What masters? I don't know the answer to that, but maybe you do. From what I can find, Mechanoid Scout MK-5 also had a brief appearance in the next issue, #33, and that was it. So if you want to bring up an obscure character in Marvel history the next time you're trying to stump your friends, this one seems to fit the bill. Aside from that, this was an enjoyable story brought to us by Allyn Brodsky (writer) and George Tuska (artist), complete with 2 pages of fan letters (Sock It To Shell-Head) and Marvel Bullpen Bulletins, including Stan Lee's Soapbox. As so many of you know, the ads are a big part of the experience when reading these older comics, and there is even one for Alter Ego magazine, "Edited By Rascally Roy Thomas Himself!" For a four-issue subscription you had to cough up $5. Speaking of money, I had to pay a measly $2 for this issue, and while far from perfect, it's in great shape for reading and experiencing this period in Marvel history. The cover price is 12¢, while the current value is $45.
ComicBooks For Kids!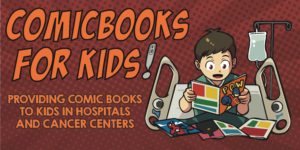 ComicBooks For Kids! (CB4K) is a charity that Cool Comics In My Collection is honored to be working with. CB4K provides comic books to kids in hospitals and cancer centers all across the Unites States. You can check their website and see if your local hospital is included and if not, you can work with them to get them included! If you like what you see, please help them out and follow/like their Facebook page. Their link is https://www.facebook.com/comicbooksforkids/
Never Miss an Episode of Cool Comics!
Now you can get Cool Comics in My Collection delivered directly to your email! Just click "Join My Newsletter" on my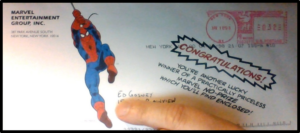 website (or click on the image of my No-Prize!), sign up, and that's it. Pretty easy, right? Just be sure to follow the instructions on the confirmation email so that you start receiving my newsletter. If you don't see it, you may want to check your Spam or Junk Mail folders.