Welcome to Cool Comics in My Collection Episode 175, where we take a look at various comic books I own (and in some cases ones that I let get away), both new and old, often with a nostalgic leaning for those feelings of yesteryear.
For each of the comic books I include in this blog (except for digital issues), I list the current secondary market value. This is according to the website www.comicbookrealm.com. They list out the near mint prices, which are on the comic book grading scale of 9.4. If you go to the website to look up any in your collection, you can click on the price and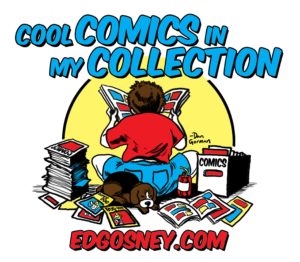 see the value at different grades. Not all of my comics are 9.4. Some are probably better, and some are worse. But to simplify it, that's the grading scale I use here. And remember, a comic book is only worth what someone is willing to pay for it.
Have you considered being a guest host for Cool Comics? You can do a theme or just pick any of your comics for inclusion (this blog is for all ages, so please keep that in mind), with a maximum of seven issues. Repeat guest hosts are permitted and encouraged. For any questions or to submit your completed blog, write to edgosney62@gmail.com.
The Cool Comics In My Collection Facebook Group is a place where you can discuss the comics you love, your favorite titles, and the characters that keep you coming back for more. Also, creators are welcome to share news about what you are working on, including Kickstarter campaigns. Be sure and join today!
If you have any comments, please scroll to the bottom of the page to where it says, "Leave a Reply." And now, Episode 175…
Cool Comics News!
Our Cool Comics Facebook Group is growing by leaps and bounds, thanks to a couple intrepid members who helped recruit new members. To celebrate, Cool Comics is giving away three levels of prizes, but beware, fellow fans, because Super Bowl Sunday at noon ET (Not the Spielberg movie!) is the deadline for commenting on the special announcement post in the group if you want a chance for your illustrious name to be randomly drawn!
Cool Comics Battle of the Week!
Your Cool Comics Battle of the Week is Guardians of the Galaxy versus Justice League of America! What do you think would happen if they faced each other in a titanic tussle, and how do you see the winner achieving victory? Let us know in the comments section below.
Cool Comics
#845 — Guardians of the Galaxy #1, Marvel, March 2019.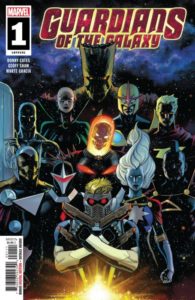 Guardians of the Galaxy Vol. 5 started last week. Yup. A comic series that saw Volume 1 start in 1990 is already up to the 5th volume. When you read modern comics, you can't help but notice a lot of series stops and starts. I'm not saying it's a bad thing, but I'm not saying it's good, either. At least from a collector's perspective of trying to keep track of all this. But Marvel helped us out a bit and included the "Legacy" numbering with it. Does that make everything all better? I'll leave that for you to decide, because your opinion is your opinion. And while I'm at it, if grown-ups want to read comic books, they have every right to (or at least they do in—here it comes—my opinion). Okay, I'm playing around a little with something a supposed celebrity (well, he's not a celebrity in my world of celebrities, so I can say that, can't I?) said about comic books, but honestly, I could care less what he or anyone else thinks about my reading habits. Several studies can be found on the internet about how many books a year the average person reads, and the consensus seems to be about four. I usually read between 25 and 70 books a year, which often includes literary classics, science books, and some history. Along with reading several hundred comic books. Maybe his statements did bother me a little after all. Okay, back to the Guardians. This first issue (which is also issue #151 on some worlds) is an enjoyable read, and we see how a mostly new team gets pulled together after the events of the recent Infinity Wars. If you like your heroes cosmic and appreciate sci-fi comics, this might be the series you've been waiting for. And don't worry, Star-Lord is still Star-Lord. The cover price of Guardians of the Galaxy #1 is $4.99, while the current value is $5.
#846 — Blossoms 666 #1, Archie, March 2019.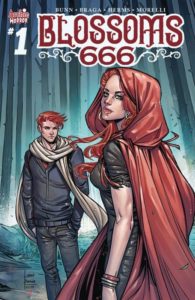 If you're a viewer of the hit CW show Riverdale, then you already know that Cheryl Blossom usually finds a way to steal whatever scene she's in. So when I saw in Previews a few months back that there was going to be a Blossoms 666 mini-series as part of their horror line in which either she or her brother Jason turns out to be the Anti-Christ, it was a no brainer. Afterlife With Archie, Chilling Adventures of Sabrina, Jughead the Hunger, Vamperonica, and now Blossoms 666. Archie Horror is going through a veritable renaissance of "light-hearted" scariness, and they've taken me along for the ride (but not against my will!). A few of the major cast members in this limited series are no longer amongst the living on the TV show Riverdale, but that's part of the beauty with these Archieverse comics…like DC's Elseworlds and Marvel's What If?, the good people at Archie can twist and turn our favorite happy-go-lucky teens into whatever angst-ridden, gruesome shapes they want, then start all over again. After the first issue of Blossoms 666, written by Cullen Bunn and penciled by Laura Braga, there is no doubt I'm staying with them to the bloody bitter end! The cover price of Blossoms 666 #1 is $3.99, while the current value is $4.
FCBD the Cool Comics Way (Week 38)
#847 — Disney Princess, Joe Books LTD, May 2018.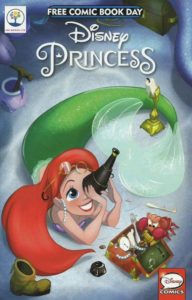 When I started collecting new comic books again in mid-2017, I had no idea that I'd someday be reading a Disney Princess title. But it is part of the Free Comic Book Day offerings from 2018, and since I committed to talk about each one here at Cool Comics, I couldn't back out. And actually, it's really not that bad. The first thing you have to get used to here is the sideways pages. Just think of this as a "widescreen" comic. From what I can tell about other issues of the ongoing series, they all come in this comic strip style. There are a number of stories in this issue, some with a little length, but most of them are pretty short. They may remind you of reading the Sunday funnies section of your local newspaper. There are the usual Little Mermaid observations, like marveling at her feet, trying to figure out what different land-based items are that she and her under the sea buddies find, and hanging out with Sebastian (this guy is too crabby for my taste…had to do it). It's a comic that would also fit in great with our Cool Comics Kids section, but I got it on FCBD, so here it stays. The cover price of Disney Princess is free, while the current value is $1.
Cool Comics Kids
#848 — Beep Beep the Road Runner #82, Gold Key, August 1979.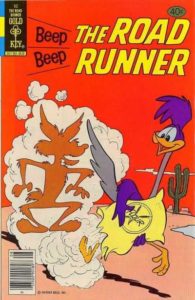 A while back, I believe as a Cool Comics Classics entry, I featured another issue of Beep Beep the Road Runner, published by Dell. I remember being surprised that the Road Runner and his brood of little road runners actually spoke—and in rhyme, even—and it's still a little disconcerting to see it in this Gold Key version I recently read. Why, if they're going to go that far, they might as well have the Pink Panther talk in comic books…oh yeah…he does. Really, even if you are a Road Runner purist, you'll get used to it after a few pages. Then you can settle in and enjoy the four little stories contained here. These are fun tales for younger readers, especially if they've seen any of the classic cartoons and are familiar with the whole Road Runner/Coyote thing. I was fortunate to find this fun little gem in a quarter box at Kenmore Komics & Games, my go-to shop. The cover price of Beep Beep the Road Runner #82 is 40¢, while the current value is $10.
Cool Comics Classics
#849 — Justice League of America #140, DC, March 1977.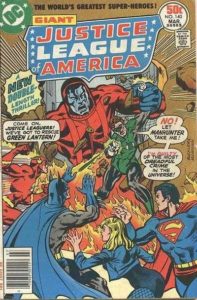 The delicious action-packed and colorful cover tells it all! Hal Jordan, otherwise known as The Green Lantern, is guilty of a horrible crime…in his own words, "I'm guilty of the most dreadful crime in the universe!" What, pray tell, did he do? And how could it truly be so bad that he's willing to let that Manhunter take him away? I was fortunate to get this comic last summer at a giant $1 each sale at a comic book shop in downtown Akron, Ohio. Everything in back issue boxes was just $1, and this issue, along with the next one, Justice League of America #141, were bagged together, for just a buck! I really hit the jackpot, because this story, although in a "Giant" format, doesn't conclude, but instead continues in the next issue, and I've got it just waiting for me in my file cabinet of unread comic books! Yes, lots of exclamation points here at Cool Comics Classics this week, and deservedly so when it comes to Seventies comic book fun. This story was a lot of fun, and I don't have much of a background on Manhunters, so it was educational, to boot. It might be a while before I get to #141, but you can be sure that when I do, I'll tell you about it right here! The cover price of Justice League of America #140 is 50¢, while the current value is $18.
ComicBooks For Kids!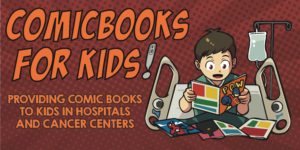 ComicBooks For Kids! (CB4K) is a charity that Cool Comics In My Collection is honored to be working with. CB4K provides comic books to kids in hospitals and cancer centers all across the Unites States. You can check their website and see if your local hospital is included and if not, you can work with them to get them included! If you like what you see, please help them out and follow/like their Facebook page. Their link is https://www.facebook.com/comicbooksforkids/
Never Miss an Episode of Cool Comics!
Now you can get Cool Comics in My Collection delivered directly to your email! Just click "Join My Newsletter" on my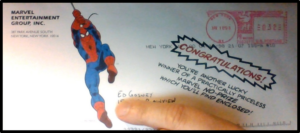 website (or click on the image of my No-Prize!), sign up, and that's it. Pretty easy, right? Just be sure to follow the instructions on the confirmation email so that you start receiving my newsletter. If you don't see it, you may want to check your Spam or Junk Mail folders.