Welcome to Cool Comics in My Collection Episode 174, where we take a look at various comic books I own (and in some cases ones that I let get away), both new and old, often with a nostalgic leaning for those feelings of yesteryear.
For each of the comic books I include in this blog (except for digital issues), I list the current secondary market value. This is according to the website www.comicbookrealm.com. They list out the near mint prices, which are on the comic book grading scale of 9.4. If you go to the website to look up any in your collection, you can click on the price and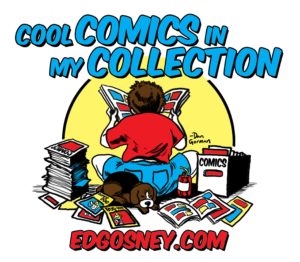 see the value at different grades. Not all of my comics are 9.4. Some are probably better, and some are worse. But to simplify it, that's the grading scale I use here. And remember, a comic book is only worth what someone is willing to pay for it.
Have you considered being a guest host for Cool Comics? You can do a theme or just pick any of your comics for inclusion (this blog is for all ages, so please keep that in mind), with a maximum of seven issues. Repeat guest hosts are permitted and encouraged. For any questions or to submit your completed blog, write to edgosney62@gmail.com.
 The Cool Comics In My Collection Facebook Group is a place where you can discuss the comics you love, your favorite titles, and the characters that keep you coming back for more. Also, creators are welcome to share news about what you are working on, including Kickstarter campaigns. Be sure and join today!
If you have any comments, please scroll to the bottom of the page to where it says, "Leave a Reply." And now, Episode 174…
Cool Comics News!
JOIN NOW! The Cool Comics In My Collection Facebook Group has planned giveaways (comic books and comic-related items) for when we hit certain membership numbers. The first drawing for prizes will be announced once we reach 50 members (don't worry, all giveaways will ship internationally), so sign up today and get your comic book reading friends to join the group, and we can start giving away Cool Comics prizes!
Cool Comics Battle of the Week!
Your Cool Comics Battle of the Week is Casper versus Lois Lane! What do you think would happen if they faced each other in a titanic tussle, and how do you see the winner achieving victory? Let us know in the comments section below.
Cool Comics
#840 — Marvel Comics Presents #1, Marvel, March 2019.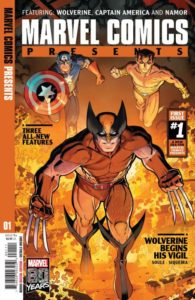 Many Cool Comics readers know that I have a special affinity for comic book anthologies of the Sixties and Seventies, ranging from such titles like Marvel Premiere to Boris Karloff Tales of Mystery. Yet it wasn't always this way. When I first discovered the four-color world of entertainment in the Seventies, I mostly stayed away from anthology titles, and the same goes for my brief collecting foray in the Eighties. When I rediscovered my love of the artform in 1993, and I started collecting back issues, memories of seeing anthology titles on newsstands during my childhood flooded my heart and soul, and I fell in love with them. When I sold thousands of comics several years ago to make room in my house, I kept nearly all the anthology titles I'd been getting. Except for the few Marvel Comics Presents issues I'd bought. Since this comic started near the end of the Eighties, it wasn't anything I was really interested in. But now that it's back, I'm getting those nostalgic feelings once more, and I'm excited about the possibilities of the stories to be told. This first issue starts off with a Charles Soule Wolverine adventure set during World War 2, then Greg Pak gives us a previously untold tale with Namor at the end of the Second World War, while the last story, scribed by Ann Nocenti, features Captain America. While the second and third stories felt like one and done, the Wolverine adventure ends with those ominous words, "To Be Continued." The cover price of Marvel Comics Presents #1 is $4.99, while the current value is $5.
#841 — Nightmare World Volume One: Thirteen Tales of Terror, Devil's Due/1First Comics, September 2017.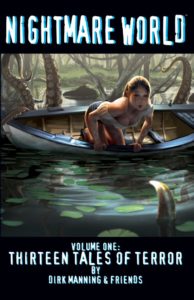 When I was at Akron Comicon 2018, I bought two comics from Dirk Manning (he's a good salesman!), and I mention this because you may remember I talked about Cosa Nostra #1 in Episode 166. It was my intention to just buy that comic, but now after reading Volume One of Nightmare World, I'm glad Dirk gently persuaded me that I'd enjoy it (and yes, he signed it for me). Just as it's billed, there are thirteen tales packed inside, in short eight-page stories that keep you on the edge of your seat. Once you start reading, you don't want to stop, and it seems so easy to "just read one more," due to the length. When Dirk Manning & friends (it's on the cover that way, Dirk is the writer, and there are many different artists) first created these tales, they were available online, and were later collected in four volumes (I need to get the other three). Now maybe you've heard this, and maybe you haven't, but one of the stories in this volume bares similarities, according to Dirk Manning, to a recent episode of the show Black Mirror (it's on Netflix). And the story in Nightmare World came out many years before. If you want to get Dirk's scoop on how he was "Bandersnatched," click here. By the way, this is my last comic from Akron Comicon. I had a great time reading the comics and talking about these talented creators. The cover price of Nightmare World Volume One: Thirteen Tales of Terror is $16.99, while the current value is $17.
FCBD the Cool Comics Way (Week 37)
#842 — Maxwell's Demons #1, Vault Comics, May 2018.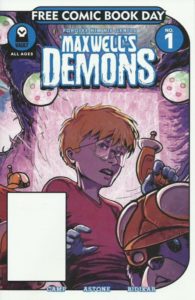 The Free Comic Book Day edition of Maxwell's Demons #1, listed as "All Ages," would be a decent modern-day fit for our Cool Comics Kids category. I use the descriptor decent, rather than perfect, because there is a sense of innocence lost via abuse that permeates the story. Don't worry, you're not going to see abuse in this comic the way you may be thinking, but it's there, hovering over Maxwell's life, and we see how and why he does what he does. I'm not saying this comic couldn't be read by a younger crowd, but rather than the light tone we may get in a Looney Tunes or Disney adventure, some readers may get a little uncomfortable. Still, this is an intriguing story that will fill your heart with empathy for Maxwell. The publisher is Vault Comics, and if you've never heard of them, I hadn't either. That's certainly part of the beauty of FCBD, discovering new characters, creators, and companies. The cover price of Maxwell's Demons #1 is free, while the current value is $1.
Cool Comics Kids
#843 — Casper's Ghostland #98, Harvey Comics, December 1979.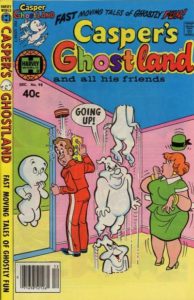 Harvey Comics were popular when I was a kid, but aside from a couple Richie Rich digests, I stayed away from them. And now that I'm older and a little wiser, I'm not exactly sure why I didn't get more. I bought and read my share of Archie comics, and Dennis the Menace was a favorite, so why did I pretty much ignore the Harvey brand of classics? As an adult, I've come to appreciate their charm, and I think they would make fun editions to any sort of comic library you may be building for younger readers in your life. Casper's Ghostland #98 contains seven shorts (a couple so short that they are one page each), featuring, of course, Casper, but we also get a Wendy, the Good Little Witch, story, and another featuring the Tuff Little Ghost, Spooky. Whatever your feelings are on ghosts and witches, the ones populating this comic are of the cute and fun variety. As it turns out, this is the last issue of the title. The cover price of Casper's Ghostland #98 is 40¢, while the current value is $12.
Cool Comics Classics
#844 — Superman's Girl Friend, Lois Lane #125, DC, August 1972.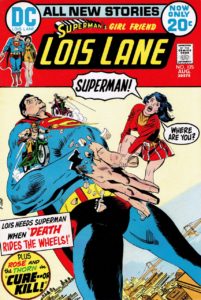 Since I started back on the road to collecting both new and old comics a couple years ago, I've definitely taken a more historical perspective of the hobby, having developed a much deeper appreciation of comics from the past. I think about my father, and the fantastic comic books he had in his youth, and it fills me with a desire to learn more about the hobby, both before and after I started collecting in 1973. So this comic, Superman's Girl Friend, Lois Lane #125, came out about a year before I bought my first issue of The Amazing Spider-Man. And there we go, fun stuff before I was even aware of such marvelous things. But the number one woman in Clark Kent's life still had this title on the stands for a couple more years after this one came out, though I don't ever remember having seen any issues. And I wouldn't have bought them, anyway. With the exception of those wonderful "100-Pages for 60¢" issues and some Limited Collectors' Edition titles (you know, the tabloid-sized beauties that all the kids loved to own!), I was strictly a Marvel kid. But now I enjoy sampling many different titles from a variety of companies, and besides, I got this issue from of a quarter box. The condition isn't great, but now I finally have a Lois Lane comic in my collection, and it didn't cost me an arm and a leg. If you've read some of these, then you may be familiar with Rose and Thorn, an ongoing back-up story, but this was my introduction. This comic makes me feel like I've stepped back in time, so it's done its job. The cover price of Superman's Girl Friend, Lois Lane #125 is 20¢, while the current value is $30.
ComicBooks For Kids!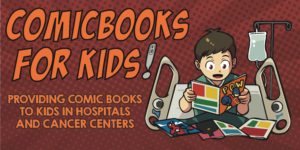 ComicBooks For Kids! (CB4K) is a charity that Cool Comics In My Collection is honored to be working with. CB4K provides comic books to kids in hospitals and cancer centers all across the Unites States. You can check their website and see if your local hospital is included and if not, you can work with them to get them included! If you like what you see, please help them out and follow/like their Facebook page. Their link is https://www.facebook.com/comicbooksforkids/
Never Miss an Episode of Cool Comics!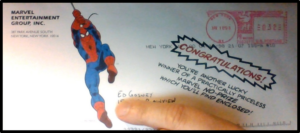 Now you can get Cool Comics in My Collection delivered directly to your email! Just click "Join My Newsletter" on my website (or click on the image of my No-Prize!), sign up, and that's it. Pretty easy, right? Just be sure to follow the instructions on the confirmation email so that you start receiving my newsletter. If you don't see it, you may want to check your Spam or Junk Mail folders.