Welcome to Cool Comics in My Collection Episode 172, where we take a look at various comic books I own (and in some cases ones that I let get away), both new and old, often with a nostalgic leaning for those feelings of yesteryear.
For each of the comic books I include in this blog (except for digital issues), I list the current secondary market value. This is according to the website www.comicbookrealm.com. They list out the near mint prices, which are on the comic book grading scale of 9.4. If you go to the website to look up any in your collection, you can click on the price and see the value at different grades. Not all of my comics are 9.4. Some are probably better, and some are worse. But to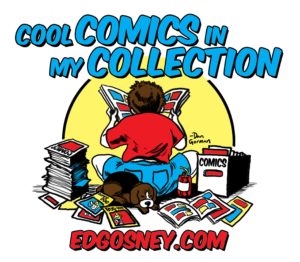 simplify it, that's the grading scale I use here. And remember, a comic book is only worth what someone is willing to pay for it.
Have you considered being a guest host for Cool Comics? You can do a theme or just pick any of your comics for inclusion (this blog is for all ages, so please keep that in mind), with a maximum of seven issues. Repeat guest hosts are permitted and encouraged. For any questions or to submit your completed blog, write to edgosney62@gmail.com.
The Cool Comics In My Collection Facebook Group is a place where you can discuss the comics you love, your favorite titles, and the characters that keep you coming back for more. Also, creators are welcome to share news about what you are working on, including Kickstarter campaigns. Be sure and join today!
If you have any comments, please scroll to the bottom of the page to where it says, "Leave a Reply." And now, Episode 172…
Cool Comics News!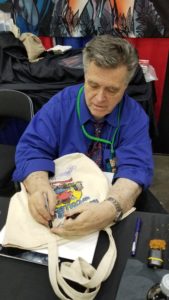 This past week I had to make a difficult decision. I was given the opportunity to contribute comic book reviews for an established website, and initially, I was excited and ready to start. But as I considered it more and more and pondered over the responsibilities and time constraints that would be involved, I ended up declining…for now. So my dedication is solely to you, dear reader of Cool Comics. I want to bring you a fun, fascinating, and exhilarating reading experience each week (okay, I'd settle for you saying, "nice job, Gosney"), without having other looming deadlines. If you enjoy what we do here at Cool Comics, please pass the word on and share the website with others. And consider signing up for my newsletter so that you never miss an episode.
Cool Comics Battle of the Week!
Your Cool Comics Battle of the Week is young Franklin Richards versus Winnie-the-Pooh! What do you think would happen if they faced each other in a titanic tussle, and how do you see the winner achieving victory? Let us know in the comments section below.
Cool Comics
#830 — Conan the Barbarian #1, Marvel, March 2019.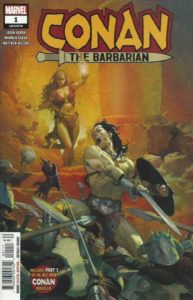 I may have said it on here before, but when Marvel first licensed Conan the Barbarian, I paid no attention to the Cimmerian swordsman. This title ran from 1970 until the end of 1993, and his savage sword was featured in a variety of other titles and magazine format during this period, finally coming to an end in 2000. Then Dark Horse Comics acquired the rights, and now, once again, Marvel has them. This is the first Conan comic book I've ever bought as a new issue. Like I said, I never really paid any attention until the Nineties, when I'd sometimes find an interesting looking issue in a discount box and purchase it, only to leave them gathering dust and unread. Finally, several years ago, I had a large comic book culling and sold all my Conan comics (along with many other gems) in a huge, legendary garage sale. Yet over the last few years the itch for the character has returned, and I've found myself buying discount back issues of any of his titles from both Marvel and Dark Horse Comics. I think a large part of this new fascination has to do with a book I read that had a lengthy section about the creator, Robert E. Howard, and so now I harken back to those Hyborian days of the past with these spectacular old issues…and now new ones, too. Beware that this comic has "Parental Advisory" on the cover. After all, he is a barbarian, and blood flows in both the arena and on the battlefield, by Crom! As an added bonus, this issue contains part one of a 12-part prose novella at the end of the comic. The cover price of Conan the Barbarian #1 is $4.99, while the current value is $5.
#831 — Franklin Richards: A Fantastic Year #1, Marvel, November 2018.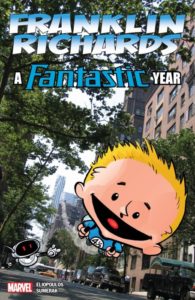 While most of my purchases at Akron Comicon 2018 came from indie creators, I had to buy this Marvel compilation of stories (these originally came out in separate comics over 10 years ago) directly from writer Marc Sumerak. If you are a fan of the Fantastic Four, then you are familiar with the son of Mister Fantastic and the Invisible Woman. Over the years we've seen Franklin Richards at various stages of his life, sometimes with powers beyond imagining, and sometimes just as a little boy. The eleven delightful tales contained in this comic take a look at the lighter side of things from Franklin's perspective, covering holidays, sports, and any sort of trouble a young boy might find himself in—especially if his dad is a genius and just happens to have cosmic gizmos in his lab, waiting to be discovered by his son. Creators Chris Eliopoulos and Marc Sumerak do such a great job that even an older reader like me was entertained from cover to cover. Although this comic book is part of my Akron Comicon coverage, it would also fit in well with Cool Comics Kids, so parents, take note! By the way, if you ever see Marc Sumerak at a convention, be sure to visit his table (and buy something cool from him and ask him to sign it…my copy is signed!), as he's a terrific guy. The cover price of Franklin Richards: A Fantastic Year #1 is $7.99, while the current value is $8.
FCBD the Cool Comics Way (Week 35)
#832 — Malika: Creed & Fury, YouNeek Studios, May 2018.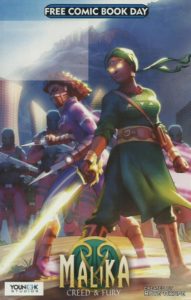 Each week Cool Comics brings you an offering from Free Comic Book Day 2018, and we continually find ourselves entertained with comics, characters, and companies that were strangers to us before journeying on this adventure. This week we discovered YouNeek Studios, a company that publishes comic books focusing on African history and culture, with heroes in settings you've probably never read before. And while FCBD is a great way to let potential fans discover these stories, if you didn't happen to pick this one up, their website offers 100+ pages of free comics, so make sure to pay it a visit! Malika: Creed & Fury, is a fun introduction and doesn't end there, as graphic novels are available for purchase if you want to continue the adventure. Packed with action and intriguing content, this might just be the adventure you're looking to discover in 2019! The cover price of Malika: Creed & Fury is free, while the current value is $1.
Cool Comics Kids
#833 — Walt Disney Winnie-the-Pooh #12, Whitman / Gold Key, April 1979.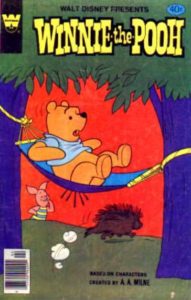 When I think back to my more innocent childhood years, I realize that Winnie-the-Pooh was part of the magic, so when I saw this in a quarter box at my local comic shop, I knew there was no way it wasn't coming home with me. Many of us have fond memories of Pooh, Piglet, Owl, Eeyore, Tigger, and others who reside in the Hundred Acre Wood via cartoon movies and Saturday morning episodes, not to mention the original source material that many of us spent countless hours reading. So yes, Winnie-the-Pooh comics would be a great edition to any young person's comic book library. This is a Gold Key edition, under the Whitman branding, and this issue contains five delightful stories (I especially like the first one, "The Thing that Went Flap and Whir in the Night") with no ads. That's right, you get nothing but story, with the exception of the inside front cover and the back inside/outside cover (nice, but some of us love those old ads…). As an added bonus, this is a Disney property comic book. The cover price of Winnie-the-Pooh #12 is 40¢, while the current value is $16.
Cool Comics Classics
#834 — Batman #293, DC, November 1977.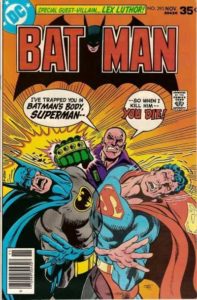 Batman is one of those iconic titles that you don't want to let go of when you find an older issue in a quarter box. With a cover date of 1977 and for less than the original selling price, it HAD to come home with me. Yes, the cover is kinda beaten up, but that's no excuse for a reputable comic collector to leave this one behind. And the Jim Aparo cover is pretty cool, with Lex Luthor trying his devious best to kill both Batman and Superman. This issue is part of an ongoing story that involves a trial to determine just who killed Batman (wait, is he really dead?!) and features lots of villains like Two-Face, Ra's Al Ghul…well, you get the idea. It's a fun story, but I don't have what came before or after, yet I got plenty of entertainment out of this issue. It was written by David V. Reed, with pencils by John Calnan. The cover price of Batman #293 is 35¢, while the current value is $25.
ComicBooks For Kids!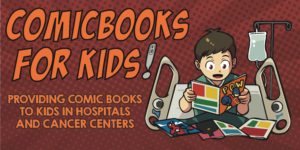 ComicBooks For Kids! (CB4K) is a charity that Cool Comics In My Collection is honored to be working with. CB4K provides comic books to kids in hospitals and cancer centers all across the Unites States. You can check their website and see if your local hospital is included and if not, you can work with them to get them included! If you like what you see, please help them out and follow/like their Facebook page. Their link is https://www.facebook.com/comicbooksforkids/
Never Miss an Episode of Cool Comics!
Now you can get Cool Comics in My Collection delivered directly to your email! Just click "Join My Newsletter" on my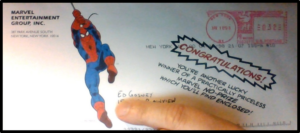 website (or click on the image of my No-Prize!), sign up, and that's it. Pretty easy, right? Just be sure to follow the instructions on the confirmation email so that you start receiving my newsletter. If you don't see it, you may want to check your Spam or Junk Mail folders.