Welcome to Cool Comics in My Collection Episode 171, where we take a look at various comic books I own (and in some cases ones that I let get away), both new and old, often with a nostalgic leaning for those feelings of yesteryear.
For each of the comic books I include in this blog (except for digital issues), I list the current secondary market value. This is according to the website www.comicbookrealm.com. They list out the near mint prices, which are on the comic book grading scale of 9.4. If you go to the website to look up any in your collection, you can click on the price and see the value at different grades. Not all of my comics are 9.4. Some are probably better, and some are worse. But to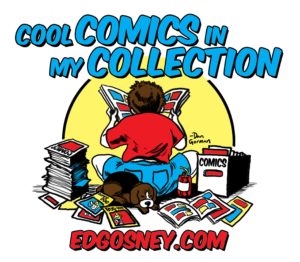 simplify it, that's the grading scale I use here. And remember, a comic book is only worth what someone is willing to pay for it.
Have you considered being a guest host for Cool Comics? You can do a theme or just pick any of your comics for inclusion (this blog is for all ages, so please keep that in mind), with a maximum of seven issues. Repeat guest hosts are permitted and encouraged. For any questions or to submit your completed blog, write to edgosney62@gmail.com.
The Cool Comics In My Collection Facebook group is a place where you can discuss the comics you love, your favorite titles, and the characters that keep you coming back for more. Also, creators are welcome to share news about what you are working on, including Kickstarter campaigns. Be sure and join today!
If you have any comments, please scroll to the bottom of the page to where it says, "Leave a Reply." And now, Episode 171…
Cool Comics News!
Another new year is here, full of possibilities! What are some of your comic book goals and aspirations? Do you want to be a writer or artist? Perhaps you hope to make it to certain conventions so that you can meet some of your creator heroes. Whatever your wishes are, Cool Comics hopes this is the year you fulfill your dreams!
Cool Comics Battle of the Week!
Your Cool Comics Battle of the Week is Invisible Woman versus Green Lantern! What do you think would happen if they faced each other in a titanic tussle, and how do you see the winner achieving victory? Let us know in the comments section below.
Cool Comics
#825 — Fantastic Four #5, Marvel, February 2019.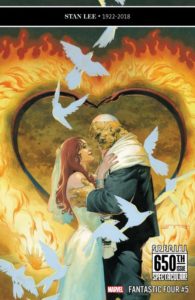 Comic book numbering is an imprecise science. While this is issue 5 of Fantastic Four, it's also the 6th volume and 650th total issue, dating back to 1961. Meanwhile, The Amazing Spider-Man, which launched two years later in 1963, has published 813 issues to date. So why is Fantastic Four so far behind? I know it was cancelled for a while, and just came back, but currently The Amazing Spider-Man is putting out two titles per month. Action Comics has put out over 1,000 issues, and Detective Comics will hit that mark in a couple months, but they both started back in the Golden Age. Still…Action Comics was published weekly for a period of time, and Detective Comics currently publishes twice a month. Companies have the right to publish as they see fit, but as I said, it's imprecise. Time to turn back to the issue at hand. If you are or have ever been a fan of the first family of Marvel, this is an issue you probably want in your collection, regardless of the cover price (made up for in page count). The idol of millions, the Ever-Lovin' Blue-Eyed Thing, is finally tying the knot with long-time girlfriend Alicia Masters. This special issue pays tribute to the past and sets up a big story for the future, with plenty of fun shenanigans (straight out of Ben Grimm's mouth) in between. Also, this is one of the Marvel Comics that pays tribute to the late Stan Lee, with the black stripe across the top, blank black pages inside, and a nice penciled image of him right before the story starts. If you haven't already bought it (it came out December 26), make sure to get a copy before they're gone. The cover price of Fantastic Four #5 is $7.99, while the current value is $8.
#826 — Day 165, Source Point Press, October 2018.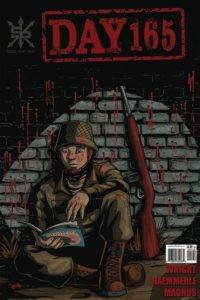 Tony Doug Wright, the writer of Day 165, was at the Source Point Press booth at Akron Comicon 2018, and it didn't take him long to convince me I should buy this comic (and yes, I had him sign it for me!). Originally a web comic, Source Point Press published this beautiful paper edition (listed as a 2nd printing) that tells the story of a British paratrooper who uses comic books as a way of escape during World War II. There is a second story that takes place in a more modern war setting, and both are excellent stories. From what I gather, more are planned for future editions. There is a Twilight Zone feel here, and if you appreciate these kinds of tales, you should order it before it goes out of print by clicking Day 165. The cover price of Day 165 is $4.99, while the current value is $5.
FCBD the Cool Comics Way (Week 34)
#827 — The Legend of Korra / ARMS, Dark Horse Comics, May 2018.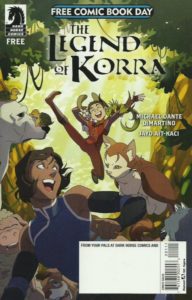 I have to say that adding the FCBD (Free Comic Book Day) the Cool Comics Way section last spring has brought a lot of personal delight, presenting me the opportunity explore such a wide variety of comics, companies, and characters. This week, Dark Horse Comics gives us two tales, The Legend of Korra, which is part of Nickelodeon's Avatar: The Last Airbender! Universe (this is a sequel to that popular series), and ARMS, based on the Nintendo Switch game (of which I know nothing, but the story was strangely entertaining). I really appreciate that companies like Dark Horse Comics publishes these licensed properties, and while I'm not the target audience for these two stories, maybe you are and didn't realize these even existed. The cover price of The Legend of Korra / ARMS is free, while the current value is $1.
Cool Comics Kids
#828 — The Pink Panther #80, Whitman / Gold Key, September 1981.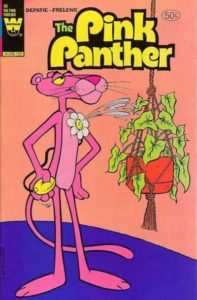 You may have noticed that I have the company for this Pink Panther issue listed as Whitman / Gold Key, an issue that was available only as a prepack (I got mine out of a discount quarter box). There is an interesting history here concerning the events that started in 1979, and if you want to know more, you can find information easily enough on the Internet. And I'll give you a starting point, so click HERE (the history of comic books is long and often complex, but fascinating). Some of you may remember watching The Pink Panther Show cartoon that aired from 1969 to 1978 (using a variety of title names throughout the years), and one of the key things was that the Pink Panther didn't speak. Well, in the comic books, he does. And it's a little disconcerting at first, but it grows on you. This brings to mind the Road Runner comics in which he talks, also. This issue, which is completely kid friendly, has four complete stories featuring the pink feline, and one featuring The Inspector, who shared some airtime in those halcyon cartoon days. The cover price of The Pink Panther #80 is 50¢, while the current value is $18.
Cool Comics Classics
#829 — Green Lantern #44, DC, April 1966.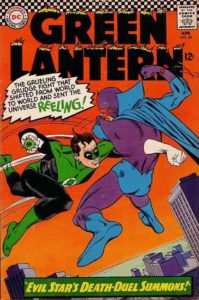 There's nothing like getting your hands on a beautiful looking comic from the Silver Age, and this Green Lantern issue fits the bill! I was fortunate enough to purchase it for only one dollar at an unbelievable sale in downtown Akron several months ago, and I'm very impressed with the condition, considering how little I paid. Part of the fun with these older comics is seeing the ads, and this one doesn't disappoint, as the first one on the inside cover is for a Superman TV show, with a long list of stations across the country that were showing it. Oddly enough, as I search through the list, I can't seem to find a Cleveland, Ohio, station…the Man of Steel's birthplace is left out! But never fear, as the ad says to send in a request to your local station if they aren't currently showing it. There are two stories inside, the first written by Gardner Fox, while John Broome handled the second adventure, and Gil Kane and Sid Greene handled the art for both. The stories aren't the most exciting Green Lantern tales of all-time, but just having this gem from long ago adds to the entire experience. The cover price of Green Lantern #44 is 12¢, while the current value is $180.
Cool Comics Letters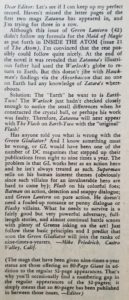 And we aren't quite done yet with Green Lantern #44. As I was perusing the letter column, I found an interesting one from none other than Mike Friedrich, who became a comic book writer. At least I'm thinking this THAT Mike Friedrich. If anyone can shed light one way or another, please let us know in the comments section below.
ComicBooks For Kids!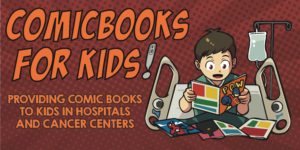 ComicBooks For Kids! (CB4K) is a charity that Cool Comics In My Collection is honored to be working with. CB4K provides comic books to kids in hospitals and cancer centers all across the Unites States. You can check their website and see if your local hospital is included and if not, you can work with them to get them included! If you like what you see, please help them out and follow/like their Facebook page. Their link is https://www.facebook.com/comicbooksforkids/
Never Miss an Episode of Cool Comics!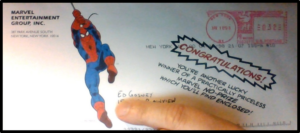 Now you can get Cool Comics in My Collection delivered directly to your email! Just click "Join My Newsletter" on my website (or click on the image of my No-Prize!), sign up, and that's it. Pretty easy, right? Just be sure to follow the instructions on the confirmation email so that you start receiving my newsletter. If you don't see it, you may want to check your Spam or Junk Mail folders.