Welcome to Cool Comics in My Collection Episode 165, where we take a look at various comic books I own (and in some cases ones that I let get away), both new and old, often with a nostalgic leaning for those feelings of yesteryear.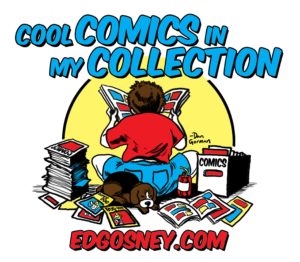 For each of the comic books I include in this blog (except for digital issues), I list the current secondary market value. This is according to the website www.comicbookrealm.com. They list out the near mint prices, which are on the comic book grading scale of 9.4. If you go to the website to look up any in your collection, you can click on the price and see the value at different grades. Not all of my comics are 9.4. Some are probably better, and some are worse. But to simplify it, that's the grading scale I use here. And remember, a comic book is only worth what someone is willing to pay for it.
Have you considered being a guest host for Cool Comics? You can do a theme or just pick any of your comics for inclusion (this blog is for all ages, so please keep that in mind), with a maximum of seven issues. Repeat guest hosts are permitted and encouraged. For any questions or to submit your completed blog, write to edgosney62@gmail.com.
If you have any comments, please scroll to the bottom of the page to where it says, "Leave a Reply." And now, Episode 165…
Cool Comics News!
Happy Thanksgiving, comic book fans! My wish is that all of you have a safe, wonderful time with family and friends. Watch some parades, cheer on your football teams, eat some delicious food, then settle in for the evening by reading comic books, of course (I'm guessing that applies to most people who read Cool Comics). At this time of year, people are often asked what they are thankful for, and you are welcome to tell us in the comments section below just what you are thankful for. Best wishes everyone. Just make sure to save a slice of pumpkin pie for me!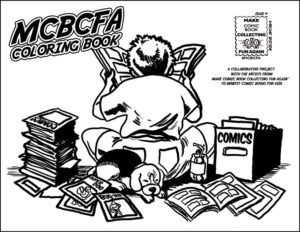 How cool is this? Make Comic Book Collecting Fun Again (they have a Facebook page and a website) is working in conjunction with ComicBooks For Kids! to get special coloring books to kids in hospitals across the country! Some awesome artists donated their time and creativity to this worthwhile cause, and you can help out, too. For every coloring book you purchase, two will be sent to hospitalized children. Click here to check it out and be sure to scroll down to the Variant C cover (yes, like comic books, there are several fun variant covers) where you'll find the art of the Cool Comics logo, as drawn by Daniel Gorman!
Cool Comics Battle of the Week!
Your Cool Comics Battle of the Week is Avengers versus Uncanny X-Men! What do you think would happen if they faced each other in a titanic tussle, and how do you see the winner achieving victory? Let us know in the comments section below.
Cool Comics
#789 — Avengers #10 (Legacy #700), Marvel, January 2019.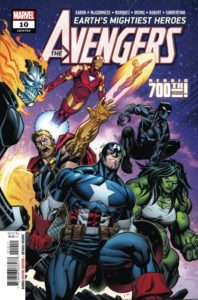 Throughout my comic book reading and collecting years, the Avengers have been a mixed bag. Sometimes the stories are fantastic, and sometimes I've decided I could do without reading them anymore. I'm not the biggest fan of renumbering a series just because a comic book brings a new creative team onboard (of course, it all means more money/more sales/more dollars, but I don't have to like it, and you'll notice that via the Legacy numbering, this is issue 700, which is a little weird to celebrate when you do things this way), but since Avengers started over with a new number 1 issue this year, I've enjoyed the direction the stories have taken and really like the team. The villains, along with a different super team, make this a very entertaining anniversary issue. And now it looks like they'll be adding someone else to the team, along with an additional character entering the fray. The future looks bright for fans of the Avengers! So who are these two people? Well, that would be cheating. I guess you'll have to read it yourself, so get thee to your local comic shop! The cover price of Avengers #10 (700th issue) is $5.99, while the current value is $6.
#790 — Uncanny X-Men #1, Marvel, January 2019.
Back in 1973 when I started buying comic books, I never gave The X-Men a glance. I'm not sure why, but I had no interest in the team of merry mutants. Sure, I knew about some of the characters from crossovers, team-ups, and Origins of Marvel Comics editions, yet I never laid down a quarter for just an X-Men comic. But in 1982, when I was in college, I started buying and reading comic books after being away for a few years, and I got to experience the X-Men firsthand, which had been renamed The Uncanny X-Men. And I enjoyed them! Yet once more, I quit collecting, but when I started up again in the Nineties, I bought lots and lots of comic books with Marvel Mutants. So when I came back to the hobby yet again in the summer of 2017, it surprised me that there was no Uncanny X-Men title (Volume 4 ended a couple months earlier, it turns out). Sure, there were X-Men comics, but none that were uncanny. This title means a lot to longtime readers, and I'm sure there are many people who are happy it's here once more. The only downside is that the first ten issues are weekly. Yikes. Maybe that's too "Uncanny." But if this first issue is any indication, once a week may not be often enough! The cover price of Uncanny X-Men #1 is $7.99, while the current value is $8.
#791 — American Knight #1, Mask and Cape Comics, November 2017.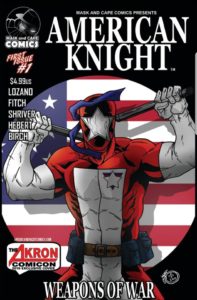 American Knight is another great comic purchase I made at Akron Comicon earlier this month. The writer (Jason Fitch) and artist (Rick Lozano) were both on hand, so my copy has their signatures on the cover. Another cool thing is that this particular cover is an Akron Comicon exclusive, and inside mine states that it's #26 out of 35. That's pretty rare! And even though this is a new character and may not be widely known like many of the heroes I talk about here at Cool Comics, I've really come to appreciate small publishers and independent creators. These people have to work so much harder, and often their work is just as good as the big companies. I was excited to find out they are working on issue #2, and even more excited after reading the comic, because the ending leaves us wanting more! The cover price of American Knight #1 is $4.99, while the current value is $5.
FCBD the Cool Comics Way (Week 28)
#792 — Bongo Comics: Free-For-All 2018, Bongo Comics, May 2018.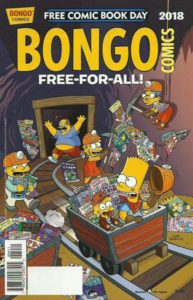 If you've ever read any Simpson's comics, you know they are fun and tie-in well with the cartoon. When Bongo Comics first started, I bought one copy of each title, but alas, I no longer have them in my collection. So when I saw this issue in my pile of Free Comic Book Day goodies, it brought a smile to my face. This issue is an anthology with five different standalone stories that will keep you entertained. I love the multi-issue stories that dominate the spandex wearing heroes' titles, but sometimes it's just fun to grab something like this and read a few short stories that make you laugh. The cover price of Bongo Comics: Free-For-All 2018 is free, while the current value is $1.
Cool Comics Kids
#793 — Walt Disney's Comics and Stories #292, Gold Key, January 1965.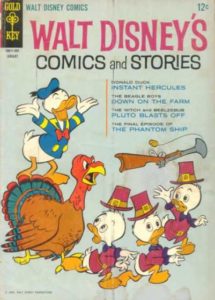 What would Thanksgiving be without a great Thanksgiving comic book? Well friends, I was sure I had one for you when I purchased this golden oldie a few weeks back. Look at that beautiful cover! It's suitable for framing and hanging in your living room each time November rolls around. I've come to appreciate Donald's nephews in these old Disney classics, so I was anticipating a few laughs when I got to the story with them running from the big turkey…but as it turned out, there was no big turkey. And no Thanksgiving story. The tales included were okay, but I was a little disappointed that it didn't contain the content I wanted. Still, even though I misjudged this book by its cover, the cover alone was worth the $4 I paid for it. The cover price of Walt Disney's Comics and Stories #292 is 12¢, while the current value is $50.
Cool Comics Classics
#794 — Batman #328, DC, October 1980.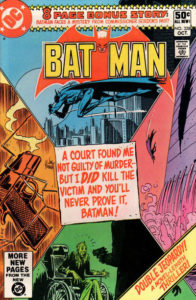 Even though Batman was the first superhero I became aware of, due to the campy TV series in the Sixties (I was very young, and it was an awesome time to be alive!), I've never cared that much for his comics. I know that's considered fighting words to many people, but most of the time I could have done without them. Yet I've come to appreciate Batman over the last year. I read some of his classic stories in digital format, I got my hands on some of the Rebirth issues, and I've been buying Detective Comics and Batman every time new issues come out. I guess "I've grown accustomed to his cowl" (which will be a hit song once I complete my off, off, off-Broadway musical sensation, My Fair Superhero!). I'm also a fan of Alfred, too, as I've read enough now to really appreciate Batman's butler. So Batman is back on my radar, and now I like to dig up some old issues, like this one, when I can find them at affordable prices (and I was able to get about a dozen for a quarter each at my local comic shop yesterday!). The cover price of Batman #328 is 50¢, while the current value is $15.
Recently Read Digital Comics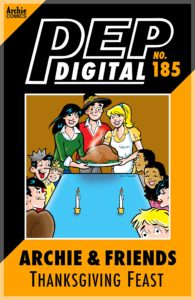 Though the Disney comic failed to provide the Thanksgiving tale I was looking forward to, PEP Digital #185: Archie & Friends Thanksgiving Feast contains 62 pages of Thanksgiving shenanigans Riverdale style that more than made up for it. Most of the stories are just a few pages in length, but each one will put you in the mood to munch on a turkey leg and reach for a second helping of pumpkin pie (just be careful how much whip cream you spray onto those slices!). And the price is certainly right at just $1.99, with the option to purchase it via comiXology or on Amazon. While Riverdale has recently been overrun by zombies, werewolves, and vampires (not to mention the coven of witches next door in Greendale), it was really refreshing to read this mix of stories throughout Archie history, the kinds of stories so many of us grew up reading. If you like Archie, you can't go wrong with this one.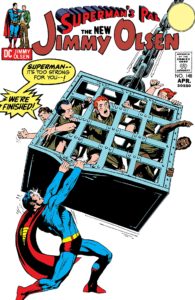 Another digital comic I recently read is Superman's Pal, Jimmy Olsen #148. This is currently free on comiXology, and you can't go wrong with free, especially when you consider the lineup of creators for this one. Neal Adams did the cover, while the first story is written and penciled by Jack Kirby, with inks by Vince Colletta. The second story in this digital comic was written and inked by Joe Simon and penciled by Jack Kirby. When you can get a free comic, in any form, produced by such legends as these, don't let it slip from your fingers (or tablet…or cell phone…however you prefer reading digital comics). The current value of this issue is listed at $45, so download this one soon, in case the free offer disappears.
ComicBooks For Kids!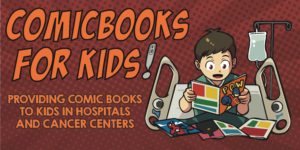 ComicBooks For Kids! (CB4K) is a charity that Cool Comics In My Collection is honored to be working with. CB4K provides comic books to kids in hospitals and cancer centers all across the Unites States. You can check their website and see if your local hospital is included and if not, you can work with them to get them included! If you like what you see, please help them out and follow/like their Facebook page. Their link is https://www.facebook.com/comicbooksforkids/
Never Miss an Episode of Cool Comics!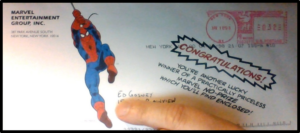 Now you can get Cool Comics in My Collection delivered directly to your email! Just click "Join My Newsletter" on my website (or click on the image of my No-Prize!), sign up, and that's it. Pretty easy, right? Just be sure to follow the instructions on the confirmation email so that you start receiving my newsletter. If you don't see it, you may want to check your Spam or Junk Mail folders.