Welcome to Cool Comics in My Collection Episode 164, where we take a look at various comic books I own (and in some cases ones that I let get away), both new and old, often with a nostalgic leaning for those feelings of yesteryear.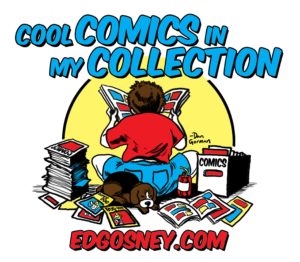 For each of the comic books I include in this blog (except for digital issues), I list the current secondary market value. This is according to the website www.comicbookrealm.com. They list out the near mint prices, which are on the comic book grading scale of 9.4. If you go to the website to look up any in your collection, you can click on the price and see the value at different grades. Not all of my comics are 9.4. Some are probably better, and some are worse. But to simplify it, that's the grading scale I use here. And remember, a comic book is only worth what someone is willing to pay for it.
Have you considered being a guest host for Cool Comics? You can do a theme or just pick any of your comics for inclusion (this blog is for all ages, so please keep that in mind), with a maximum of seven issues. Repeat guest hosts are permitted and encouraged. For any questions or to submit your completed blog, write to edgosney62@gmail.com.
If you have any comments, please scroll to the bottom of the page to where it says, "Leave a Reply." And now, Episode 164…
Cool Comics News!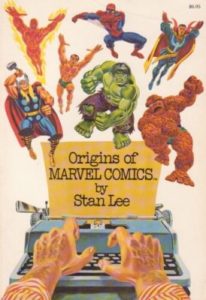 Stan Lee. Just the mention of his name makes us smile, doesn't it? And that's why so many people are pouring out heartfelt grief all over social media and television due to the loss of this iconic giant of the comic book industry. Many of you have met him, shook his hand, or perhaps shared a conversation with The Man. We loved his writing, his enthusiasm, and his Marvel movie cameos. Stan was larger than life in so many ways. It seems like he's always been present in our lives, entertaining us from the time we were young until the time we were a bit older, yet still, like Stan, young at heart. There's really nothing more I can say that hasn't already been said about this man who changed the way we look at comic books. But now, when I pick up my copy of Origins of Marvel Comics and read the essays Stan wrote about these marvelous creations, it won't surprise me if I start to tear up a bit.  Our lives are so much richer because of him, aren't they?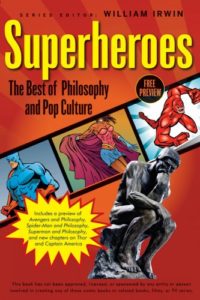 Last week I finished reading a book on my Kindle called Superheroes: The Best of Philosophy and Pop Culture. Though a tagline on the Amazon page (click the name of the book, or the cover image, and it will take you there) states that it's free, that's no longer applicable (I did happen to get it when it was free), although I feel it's worth the 99¢ now being charged. But this book won't be for everyone. Just because you enjoy reading comic books doesn't mean you'll like this book, because I'm sure some of you "Kant" even. Okay, stop groaning already…you knew I was going to do that, didn't you? With Chapters like "Captain America and the Virtue of Modesty," and "Why Doesn't Batman Kill the Joker?" you'll be taken down philosophical trails that may not have previously crossed your mind. Click the link, click on the book cover on Amazon, and check out the table of contents, and maybe you'll decide this is for you. There's even a chapter on Rorschach from The Watchmen, if you're a fan of that classic.
Cool Comics Battle of the Week!
Your Cool Comics Battle of the Week is Katana versus Shang-Chi, Master of Kung Fu! What do you think would happen if they faced each other in a titanic tussle, and how do you see the winner achieving victory? Let us know in the comments section below.
Cool Comics
#783 — The Green Lantern #1, DC, January 2019.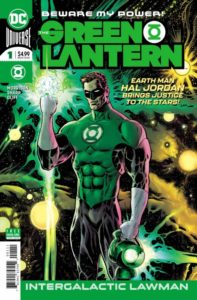 When I was a kid and collecting comic books (in the ancient era of the Seventies), number one issues didn't pop up all that often…or at least compared to today. The Green Lantern #1 came out last week, and we readers were told that Grant Morrison (the writer…you quite possibly are very familiar with him; Liam Sharp is doing pencils) is not recreating the emerald ring-bearer, but rather fashioning Hal Jordan into Earth's space cop. Let's see, we'll start over with Crisis, then reshuffle the deck with the New 52 "pickup" (I've had a lot of coffee today, in case you're wondering), and then change everything all over again with Rebirth. So was a new title really necessary? The Hal Jordan and the Green Lantern Corps title just before this would still work, wouldn't it? Especially considering the amount of other Green Lanterns who appeared in this issue. But we all know that the number on the cover does make a difference, regardless of what may have been done in the past. I haven't been reading Green Lantern comics for a long time, and while this issue started a little slow for me (mostly because I'm behind the eight ball), I see some good storytelling potential. And for those who love hints, clues, foreshadowing, etc., yes, you heard the rumors correctly, as there does appear to be a Dr. Manhattan symbol within these pages. By the way, this issue is rated T+ (Teen Plus), so it's not meant for younger readers. The cover price of The Green Lantern #1 is $4.99, while the current value is $5.
#784 — Suicide Squad Black Files #1, DC, January 2019.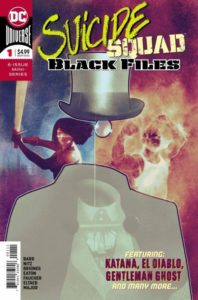 After a year-and-a-half, DC has finally published the first issue of this six-issue mini-series. A controversy brewed after the writer of the second story in this issue (there are two stories running in this series, the first written by Mike W. Barr, with art by Philippe Briones, and the second written by Jai Nitz, with pencils by Scot Eaton) decided to put in a new character who would be called Doctor Endless, with ties to Neil Gaiman's Sandman Universe. Only Gaiman still owns the rights to said universe, and as many comic readers know, there are once more Sandman comics being published. As a result, there was a long delay. But that couldn't hold back the Suicide Squad, and the first book is out. If you like magic (and think it's cool that Aladdin…yes, that Aladdin, is in the story), don't miss out. Yet better is the fact that with this series, we'll be getting six issues of story from legendary weaver of words Mike W. Barr in a tale featuring his creation, Katana. And like the Cool Comic above, this one is also rated T+, so you'll want to keep it out of the hands of youngsters. The cover price of Suicide Squad Black Files #1 is $4.99, while the current value is $5.
#785 — The Viking Queen, One-Shot, Source Point Press, 2018.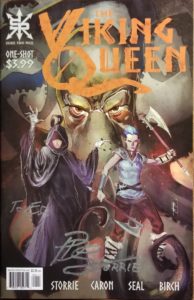 If you take a look back at our last episode of Cool Comics In My Collection, you'll find a picture of writer Paul Storrie signing the cover of this comic at Akron Comicon, which makes it really cool! The Viking Queen one-shot was published by Source Point Press, a smaller company who saw its debut in Previews (THE catalog of comic books…in case you aren't familiar with Previews, you can pick up an issue at your local comic shop, browse through it, and work with the store to make sure they order the comics you'd like to purchase) back in February. I enjoyed this Conanesque tale (look at that, I used this word two episodes in a row!) and it was a real pleasure to chat for a short time with Paul, who has been around the business for a couple decades and has written comic books in worlds including Star Trek, The Green Hornet, Dungeons and Dragons, Justice League, and Captain America (to see what else Paul has written, click on his name above to go to his website, then look at his bibliography page). Paul also told me to be sure to visit the Source Point Press booth at Akron Comicon, and I'm glad I did. By the way, Viking violence abounds here, so you may want to keep it away from younger eyes. The cover price of The Viking Queen is $4.99 (unfortunately, no comics from Source Point Press are currently listed via ComicBookRealm).
FCBD the Cool Comics Way (Week 27)
#786 — Drawn & Quarterly Presents 2018, Drawn and Quarterly, May 2018.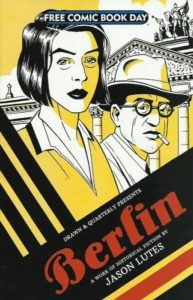 This week for our Free Comic Book Day selection, we have the 2018 copy of Drawn & Quarterly Presents, which features part of the much longer story of the historical fiction comic book Berlin, by Jason Lutes. While this black and white tale that takes place in post-World War I Germany with Nazism on the rise may bring Art Spiegelman's Pulitzer Prize-winning Maus to mind, it deserves recognition in its own right. Far from the spandex wearing crowd of superheroes who soar above the clouds, this story attempts to show us the lives of people affected during these dark days. There is an interview with Lutes at the end of this comic that is worth taking the time to read, and while I'm unsure if I'll ever read the entire story (nearly 600 pages), those who seek to learn more about this period of history should at least give it a look. The cover price of Drawn & Quarterly Presents 2018 is free, while the current value is $0.
Cool Comics Kids
#787 — Tom and Jerry #283, Gold Key, June 1974.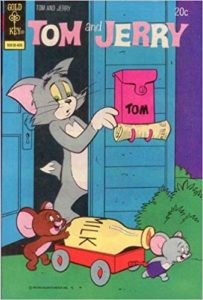 The child trapped inside of me is quite happy about my recent decision to add this Cool Comics Kids section to the blog! And while many of the comics I'll be talking about here may be more familiar to people my age, don't forget that you can always search in back issue boxes at your local comic shop (I was able to find this issue in a quarter box, meaning every comic book contained in it was just 25 cents apiece), then introduce these fun, innocent adventures to any of the youngins in your life. And maybe the kids will consider you as much a hero as Superman is! Because seriously, no one should go through life without knowing who Tom and Jerry are. Granted, the cartoons are better, but when we can get young people hooked on reading, it's a win for everyone. Part of the beauty of comics like this is that they typically contain several complete stories, which is perfect for younger readers. This issue contains four adventures of your favorite cat and mouse team. The cover price of Tom and Jerry #283 is 20¢, while the current value is $14.
Cool Comics Classics
#788 — Master of Kung Fu #54, Marvel, July 1977.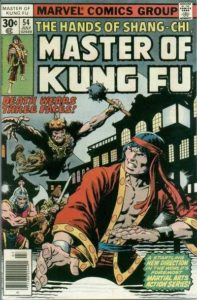 I currently store all my upcoming Cool Comics Classics issues in an old filing cabinet I got at an estate sale for just $10, so when I was flipping through to make a selection for this week (my aim was to find a Marvel issue since I didn't have one already earmarked for the blog…I don't always have an entry from both of the Big2, but I often make the attempt), I decided it was time for another Master of Kung Fu. I've gotten a number of issues of the title recently, so I decided to spread them out a bit and give you one for this episode. I pulled out #53, started reading it, then discovered that it was a reprint of an earlier issue. Granted, Master of Kung Fu is always cool, but I felt an original issue would be worthier of being selected as a CCC, so after I finished reading it, I went straight to this one, number 54. Believe me, it's always a pleasure to read two issues in a row of this fun series featuring Shang-Chi, and in this issue, we get to see Robin Hood and Attila the Hun. Sort of. If you dig the Master of Kung Fu, check this one out. The cover price of Master of Kung Fu #54 is 30¢, while the current value is $6.
Recently Read Digital Comics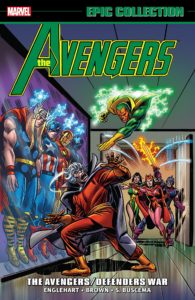 This is the second Epic Collection I've read (both digital reads, as they were extremely affordable at just 99 cents when I bought them during a sale on Amazon/comiXology), and I have to say it was really cool to be able to get the entire story in one volume. The Avengers Epic Collection: The Avengers/Defenders War crossed back and forth between the two titles, but Marvel was smart in putting these in one volume so that readers would get the entire story. After it ended, the story continued with the Avengers and we even got an issue each of Captain Marvel (the original series) and the Fantastic Four. In case you are interested, this Epic is packed with over 400 pages, and collects Avengers (1963) #115-128, Giant-Size (1974) #1, Defenders (1972) #8-11, Captain Marvel (1968) #33, and Fantastic Four (1961) #150. It was worth every penny and isn't crowding my bookshelf. While I still enjoy and appreciate reading on paper, I love the convenience of reading on my tablet, and being able to afford so many of these classic comics is a plus.
ComicBooks For Kids!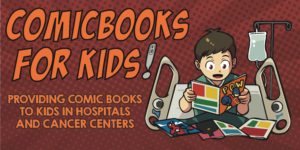 ComicBooks For Kids! (CB4K) is a charity that Cool Comics In My Collection is honored to be working with. CB4K provides comic books to kids in hospitals and cancer centers all across the Unites States. You can check their website and see if your local hospital is included and if not, you can work with them to get them included! If you like what you see, please help them out and follow/like their Facebook page. Their link is https://www.facebook.com/comicbooksforkids/
Never Miss an Episode of Cool Comics!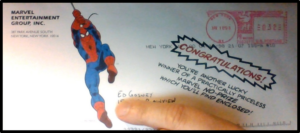 Now you can get Cool Comics in My Collection delivered directly to your email! Just click "Join My Newsletter" on my website (or click on the image of my No-Prize!), sign up, and that's it. Pretty easy, right? Just be sure to follow the instructions on the confirmation email so that you start receiving my newsletter. If you don't see it, you may want to check your Spam or Junk Mail folders.