Welcome to Cool Comics in My Collection Episode 163, where we take a look at various comic books I own (and in some cases ones that I let get away), both new and old, often with a nostalgic leaning for those feelings of yesteryear.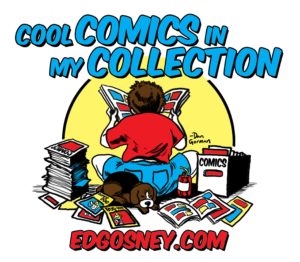 For each of the comic books I include in this blog (except for digital issues), I list the current secondary market value. This is according to the website www.comicbookrealm.com. They list out the near mint prices, which are on the comic book grading scale of 9.4. If you go to the website to look up any in your collection, you can click on the price and see the value at different grades. Not all of my comics are 9.4. Some are probably better, and some are worse. But to simplify it, that's the grading scale I use here. And remember, a comic book is only worth what someone is willing to pay for it.
Have you considered being a guest host for Cool Comics? You can do a theme or just pick any of your comics for inclusion (this blog is for all ages, so please keep that in mind), with a maximum of seven issues. Repeat guest hosts are permitted and encouraged. For any questions or to submit your completed blog, write to edgosney62@gmail.com.
 If you have any comments, please scroll to the bottom of the page to where it says, "Leave a Reply." And now, Episode 163…
Cool Comics News!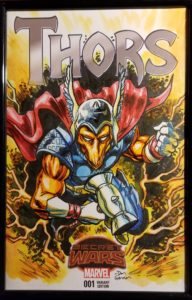 In the spirit of comic book fun and memories, along with the inspiration and compassion of ComicBooks For Kids! (a charitable organization we support), Cool Comics In My Collection is adding a new section named, most appropriately, Cool Comics Kids, and will appear in most upcoming episodes, starting today. We hope you enjoy these more lighthearted and family friendly editions to the blog.
Free! Did I get your attention? Don't forget to sign up for my newsletter so you have a chance to win in my upcoming Audible Code drawing. The only way to enter is by signing up.
And don't miss my Photo Gallery from Akron Comicon this past weekend, following all this other comic book stuff! Many of the comics I bought at the con will be featured here in the weeks to come.
Cool Comics Battle of the Week!
Your Cool Comics Battle of the Week is Booster Gold versus Dick Tracy! What do you think would happen if they faced each other in a titanic tussle, and how do you see the winner achieving victory? Let us know in the comments section below.
Cool Comics
#777 — Justice League 3000 #12, DC, February 2015.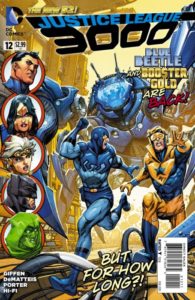 If you like your comic books with some "comic" in them, then this one fits the bill, as Blue Beetle and Booster Gold find themselves in the year 3000, and the future isn't so bright. I got this comic in a Five Below store, where they sometimes have packaged comics at a discount. I believe this one was in a four pack for $4. Not bad at a dollar apiece, especially when you add all the cover prices. And since I wasn't collecting comics during The New 52 period, it's always fun for me to read some of these to see what they were doing with the DC Universe. This is the second issue of Justice League 3000 I've gotten in a discount pack, and I've liked both of these visions of a dark DC future. The run was short, just 15 issues, and while I'm not actively searching for the other 13, if I find any of them in a discount box, I'll probably get them. The cover price of Justice League 3000 #12 is $2.99, while the current value is $3.
#778 — Weirdworld #1, Marvel, August 2015.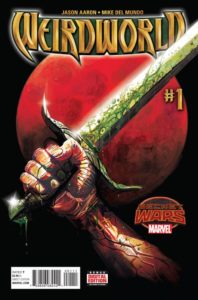 I'm coming right back at you with another Five Below purchase, this time from a Marvel 4 pack for just $4. When I saw this title, I wasn't sure what to expect, but it sat on my shelf for a while, until I read some recent Weapon H issues in which he and some friends happen to be in Weirdworld. So I figured this was the origin of Weirdworld, being that it's a number one issue. Wrong. After a quick search on the Internet I found out that Weirdworld has been around since 1977. And even though I was buying some comic books at that time, none of them contained this…place. As you can see from the cover, this comic came out during the recent Secret Wars storyline that ran through much of Marvel (I wasn't buying comics during this time, so yes, another reason why this is all new to me). The story was a little Conanesque (I've never heard of this term before, but after writing it down, found some usage of it on the Internet…sad to say I'm not the originator), and the art, by Mike Del Mundo, who is currently penciling Thor, isn't my favorite style, but it works for Weirdworld. The cover price of Weirdworld #1 is $3.99, while the current value is $4.
Cool Comics Done Dirt Cheap
#779 — Hawk and Dove #1, DC, November 1997.
Though I've known about Hawk and Dove for decades, they are like new characters to me, since I've read only one of their comics before this issue. Maybe they've had some appearances in other titles I've read, but I can't recall (after you read a few thousand comics, sometimes it's hard to remember them all, believe it or not!). And that's what makes my legendary longbox (419 comic books jammed into a longbox that I bought for $20, sight unseen) so much fun. I get to experience characters and stories I wouldn't ordinarily read. This is a short series and the cover tells us it's Part One of Five. Guess what? My long box had four of the five issues! I'm still up in the air if I'm going to retain this one or put it in my garage sale bag of comics, but I'm happy I get to read more, since this was a fun story. The cover price of Hawk and Dove #1 is $2.50, while the current value is $3.
FCBD the Cool Comics Way (Week 26)
#780 — The Only Living Boy #12, Papercutz, May 2018.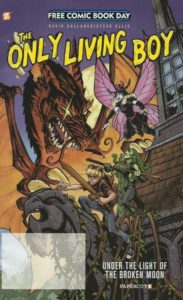 Once again, Free Comic Book Day allowed me the opportunity to read something fun and different that I was completely unfamiliar with. The Only Living Boy has come out in a couple hardcover and trade editions, but from what I can tell, this is the only "single-issue" comic edition, which is listed as #12, continuing the story. On the inside cover, we are given a "What You Missed…" in order to get a little background. This is exactly what new readers needed, and Papercutz provided it. It's an adventure story that appeals to all ages (although there is some violence, and a few samples of other comic books in their stable are in the back, so you may want to keep it from younger eyes), and I wouldn't mind reading more in this world. The only thing I didn't like about this comic book is the size. It's three quarters of an inch taller than standard comics, and therefore doesn't store as well. But don't let that keep you from reading it if you find a copy. The cover price of The Only Living Boy #12 is free, while the current value is $0.
Cool Comics Kids
#781 — Looney Tunes #1, Gold Key, April 1975.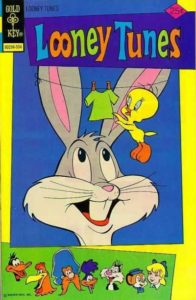 Although people are first introduced to comic books at various ages, many of us got our start when we were kids. It's a hobby that appeals to many people for many different reasons, and although I've had lots of comic books listed as Cool Comics over the years that are geared towards a younger audience, now these books have earned their own special heading. A few weeks ago I was digging around in quarter boxes at Kenmore Komics & Games and ended up buying a big stack of titles that perfectly fit this category. Why? Because sometimes we like to relive our childhood, and sometimes we just like to branch out with our reading. So they sat in a box for a while, untouched. Then I found out about ComicBooks For Kids! and decided it was high time to install this category into Cool Comics. I picked Looney Tunes #1 for the first issue to feature here because Bugs and friends were a big part of my childhood. And who doesn't like these characters? For those who want complete stories in one sitting, this fits the bill. There are five stories with a variety of characters, whisking you away to those Saturday mornings so long ago. The cover price of Looney Tunes #1 is 25¢, while the current value is $45.
Cool Comics Classics
#782 — Dick Tracy #139, Harvey, April 1960.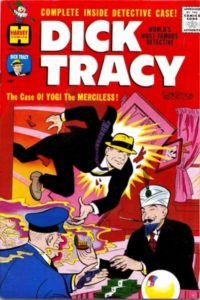 When I was a kid, one of my favorite things to do was read the Sunday Funnies section. While Dick Tracy wasn't much on my radar, I'd give it a read most of the time…after I'd finished with Flash Gordon, the Phantom, Peanuts, Hagar the Horrible…well, you get the picture. And when the Dick Tracy movie starring Warren Beatty came out, I was more interested in the action figures. Yet as I watch the calendar continue to march forward on this journey of life, I've come to better appreciate things of the past in a different way. And especially so with Dick Tracy, now that I've read my first comic book featuring the "World's Most Famous Detective." Though this issue came out over a decade after my father had quit getting comic books when he was young, I can't help but think of him when I'm reading older characters. And it adds a certain joy to the experience. My father passed away in 2001, and not a day goes by that I don't think of him. I believe he would have enjoyed reading this Cool Comics Classic just as much as I did. The cover price of Dick Tracy #139 is 10¢, while the current value is $95.
ComicBooks For Kids!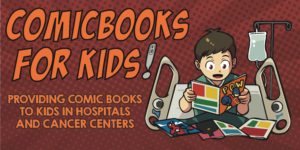 ComicBooks For Kids! (CB4K) is a charity that Cool Comics In My Collection is honored to be working with. CB4K provides comic books to kids in hospitals and cancer centers all across the Unites States. You can check their website and see if your local hospital is included and if not, you can work with them to get them included! If you like what you see, please help them out and follow/like their Facebook page. Their link is https://www.facebook.com/comicbooksforkids/
Never Miss an Episode of Cool Comics!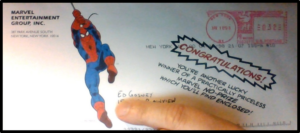 Now you can get Cool Comics in My Collection delivered directly to your email! Just click "Join My Newsletter" on my website (or click on the image of my No-Prize!), sign up, and that's it. Pretty easy, right? Just be sure to follow the instructions on the confirmation email so that you start receiving my newsletter. If you don't see it, you may want to check your Spam or Junk Mail folders.
Akron Comicon Highlights!
On Saturday, November 3, I attended the 2018 Akron Comicon and once again had a terrific time, meeting and talking with a variety of creators and vendors. Below are some pictures from the event, and in the coming weeks, I'll feature some of the comics I purchased there as part of my Cool Comics Collection, along with a note that I got them at the con. This year I focused mostly on small press and Indie comics and had a lot of fun talking to everyone!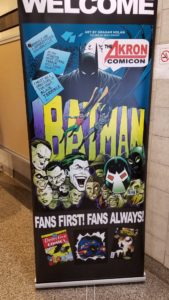 Isn't this a "Cool" welcome banner?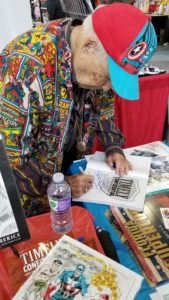 Allen Bellman, comic book legend! I bought his book Timely Confidential and look forward to reading it.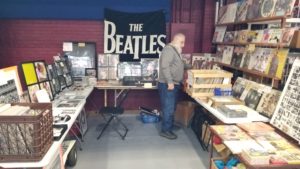 Love comics AND the Beatles? Then this Beatlemania booth was made for you!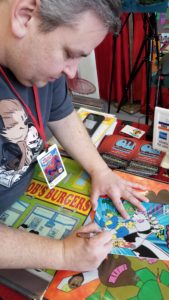 Writer Brett R. Pinson signs my copy of Boomtown Scabs #4.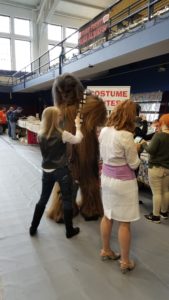 How awesome was Akron Comicon? Some attendees traveled a long, long way!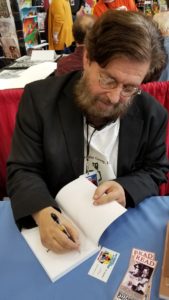 Author Chris Lambert signs a copy of his book The Best of Comic Spot for me.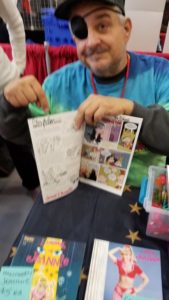 Chris Yambar proudly points out his signature in Mr. Magoo's Christmas Carol.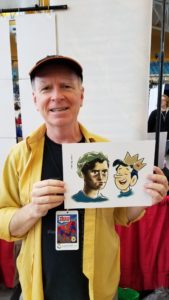 Craig Boldman holding a Jughead sketch I bought from him with the Riverdale version and the original comic style.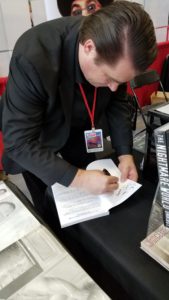 Author and comic book writer Dirk Manning signing for me.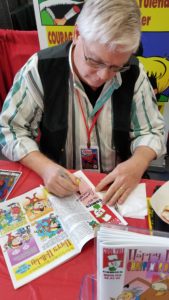 The newest Cool Yule Comics edition signed by writer and artist George Broderick Jr.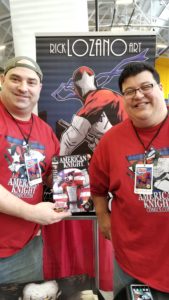 Writer Jason Fitch and artist Rick Lozano holding the copy of American Knight they both signed for me.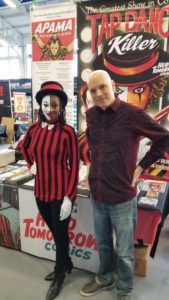 Tap Dance Killer writer Ted Sikora with Josy Jones, who looks just like the character!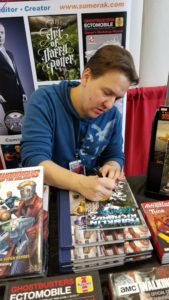 Marc Sumerak signs "Franklin Richards A Fantastic Year" for me.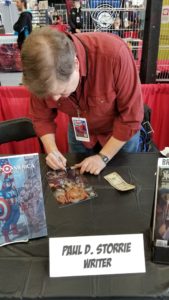 Paul D. Storrie signs The Viking Queen. Look for this title in Cool Comics next week!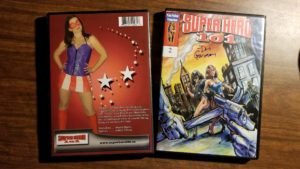 Want to learn more about comic books? Watch the DVDs of Super Hero 101 parts one and two, from Pixler Perfect Products (with cover art by Dan Gorman).
A signed copy of Day 165 from writer Tony Wright.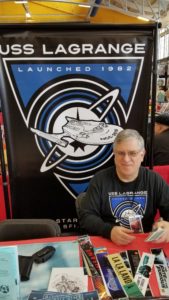 Star Trek fans had an opportunity to sign up to be part of the USS LAGRANGE, a club that dates back to 1982!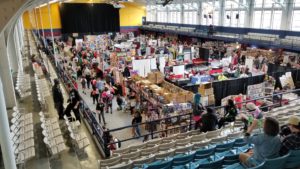 A view from above just after finishing my lunch. What an awesome day!