Welcome to Cool Comics in My Collection Episode 162, where we take a look at various comic books I own (and in some cases ones that I let get away), both new and old, often with a nostalgic leaning for those feelings of yesteryear.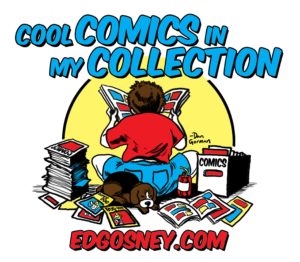 For each of the comic books I include in this blog (except for digital issues), I list the current secondary market value. This is according to the website www.comicbookrealm.com. They list out the near mint prices, which are on the comic book grading scale of 9.4. If you go to the website to look up any in your collection, you can click on the price and see the value at different grades. Not all of my comics are 9.4. Some are probably better, and some are worse. But to simplify it, that's the grading scale I use here. And remember, a comic book is only worth what someone is willing to pay for it.
Have you considered being a guest host for Cool Comics? You can do a theme or just pick any of your comics for inclusion (this blog is for all ages, so please keep that in mind), with a maximum of seven issues. Repeat guest hosts are permitted and encouraged. For any questions or to submit your completed blog, write to edgosney62@gmail.com.
 If you have any comments, please scroll to the bottom of the page to where it says, "Leave a Reply." And now, Episode 162…
Cool Comics News!
Last week I released Episode 161 a day early, on Wednesday instead of Thursday. You probably didn't even notice, unless you're a subscriber. See, once each episode goes live, subscribers get email notification with a little tidbit from me and a link directly to the blog. One day early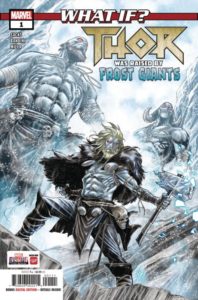 isn't a big deal, but, as I've said before, there are advantages to joining my newsletter, so I hope you'll take the time to sign up if you haven't already (and then you can enter my upcoming Audible code contest!).
If you've picked up any of Marvel's new What If? titles, I strongly recommend the one with Thor as a Frost Giant, which came out last week. So far, I've read 5 of the 6 (I just bought the last one yesterday), and this had to be my favorite. To be honest, some of them didn't do much for me, but sometimes that's the way it goes.
And one more thing I want to bring to your attention. Dan Gorman, the phenomenal artist who did my Cool Comics logo, was recently featured in a news story about his recent number 3 world ranking as a sketch card artist. How cool is that? You can find the story and video here.
Cool Comics Battle of the Week!
Your Cool Comics Battle of the Week is Moon Knight versus Hawkman! What do you think would happen if they faced each other in a titanic tussle, and how do you see the winner achieving victory? Let us know in the comments section below.
Cool Comics
#772 — Avengers Halloween Special #1, Marvel, December 2018.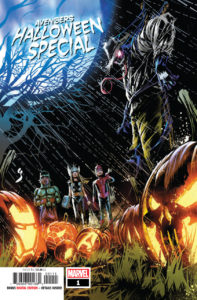 More often than not, when a new comic becomes a "Cool Comic" and is included here in the blog, I made the purchase of it at my favorite comic shop the previous week. But sometimes, due to holidays, something happening in upcoming issues of a comic, or just because, I include one from the current week, which doesn't give me much time since new comics come out on Wednesdays and new episodes drop on Thursdays. Such is the case with Avengers Halloween Special #1. I think it was a smart move for Marvel to wait until Halloween to have this one hit the stores. This special contains five short and spooky stories that feature Daredevil, the Fantastic Four with Doctor Doom, some Avengers with a Captain America who's not so friendly, a Punisher style story set in a different century, and a couple little trick-or-treaters who find themselves in a haunted X-Mansion. I enjoyed the last two the most (especially the last one, since it takes place on Halloween), but was sorry to discover that the fantastic cover (by Geoff Shaw & Rain Beredo) turned out to be just a cover. I was looking forward to a scary Halloween story about these kids dressed up like their favorite heroes and came up empty. Still, the cover is so cool this comic would make a great Halloween display on your wall, don't you agree? Hopefully there will be an issue #2 in October 2019. The cover price of Avengers Halloween Special #1 is $4.99, while the current value is $5.
#773 — Moon Knight #200, Marvel, December 2018.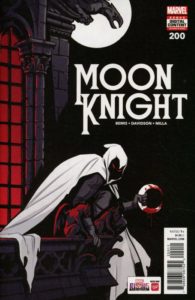 This issue brings Volume 8 of Moon Knight to an end, with no new comics on the horizon. After Marvel Legacy kicked in, many of their issue title numbers suddenly advanced by the hundreds as the company wanted to hit some big anniversary issues, such as 200 for Moon Knight (they simply added up all the issues from the previous volumes and started numbering from there). After a while, many of the titles relaunched once more, starting with number ones, but Marvel kept the legacy numbering on the covers, underneath the new numbering. Hence, first issues are a great jumping on point, and more people buy number one issues, etc., etc. But is that what really keeps readers buying titles each month? In the Seventies and Eighties, I just started buying titles of comics with heroes I was interested in, regardless of the issue number. If Moon Knight starts up again in a couple years, it will start with issue 1, and maybe have "LGY#201" underneath that number. Or maybe not, until they get closer to issue 300. Things sure have changed from when I was a kid. By the way, in the last few issues the storyline has been on a personal level for writer Max Bemis, and while I respect that, I wasn't having as much fun reading it. I stuck with it to the end, but if I hadn't read that the end was near, I probably would have dropped it. This last issue was okay, but still not the kind of Moon Knight comic I would have preferred. Another one of the titles I've been enjoying, Sentry, also came to an end last week with issue #5, yet the ending that has me hopeful for more story in the future (just a heads-up for any of you Sentry fans out there). The cover price of Moon Knight #200 is $4.99, while the current value is $5.
Cool Comics Done Dirt Cheap
#774 — Ultimate Power #4, Ultimate Marvel, June 2007.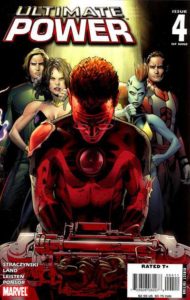 Years ago, when I needed to downsize my collection and could use some extra money, I sold my Ultimate line of Marvel comics on eBay. Since they were rather new at the time, I wasn't as attached to them, and it took a little getting used to the different spin the creators put on this version of the Marvel Universe. And I must admit that I haven't really missed them, especially considering the rate of return. So I haven't exactly been in a rush to get to this particular comic book. Ultimate Power is a nine issue limited series, and it sort of stinks that the only one in my legendary longbox (419 comics stuffed in a box, sight unseen, for just $20…yes, it was fun to get this!) comes in the middle of a story. And especially so, considering it was written by J. Michael Straczynski, creator of Babylon 5. I enjoyed what I read, but even more frustrating is the fact that it looks as if in the next issue there will be a huge smackdown, and I'm missing out on it! I think I'll keep a close watch on comiXology to see if the collected version goes on sale. The cover price of Ultimate Power #4 is $2.99, while the current value is $3.
FCBD the Cool Comics Way (Week 25)
#775 — Die Kitty Die! #1, Chapterhouse Publishing, May 2018.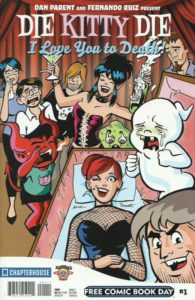 Any readers of Die Kitty Die! out there? Once again, Free Comic Book Day brings me something I'd never experienced before. Did I like it? Sort of, in a weird way. It was certainly different. The first segment made me think of the Little Archie comics I used to buy back in the Seventies, then the story advanced in time, with the plot continuing the same themes. If you took a pot, dumped in Little Archie, Caspar, Chilling Adventures of Sabrina, and Afterlife with Archie, you might come up with something similar (and this shouldn't be all that surprising, considering Dan Parent is one of the creators…he's written and penciled for a number of Archie comic books). This freebie is rated T for teens, so keep that in mind if you think this is something your kids might be interested in and you happen to find a copy somewhere. The cover price for Die Kitty Die! #1 is free, while the current value is $1.
Cool Comics Classics
#776 — Hawkman #27, DC, September 1968.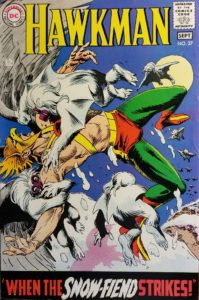 A few months ago, a comic shop in Akron, Ohio, ran a back issue special in which their comics where just one dollar each. I mentioned it in Cool Comics News after I found so many cool comics there, and I bring that up because this particular issue from that sale had a "Landis Collection" sticker on the protective bag. As a matter of fact, several of the issues I bought that day were marked with the Landis Collection stickers. If anyone out there knows anything about this collection, I'd love to hear about it, so feel free to email me at the email address above or tell us in the comments section below. As for the comic, this was the last issue from Hawkman's first series, and I'm really happy I found this one for a dollar. It was fun, it featured a Yeti, and the story was compelling in that great comic book fashion. What more could you ask for? The cover price of Hawkman #27 is 12¢, while the current value is $80.
ComicBooks For Kids!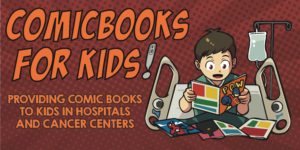 ComicBooks For Kids! (CB4K) is a charity that Cool Comics In My Collection is honored to be working with. CB4K provides comic books to kids in hospitals and cancer centers all across the Unites States. You can check their website and see if your local hospital is included and if not, you can work with them to get them included! If you like what you see, please help them out and follow/like their Facebook page. Their link is https://www.facebook.com/comicbooksforkids/
Never Miss an Episode of Cool Comics!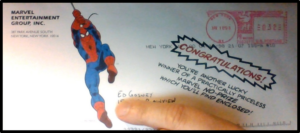 Now you can get Cool Comics in My Collection delivered directly to your email! Just click "Join My Newsletter" on my website (or click on the image of my No-Prize!), sign up, and that's it. Pretty easy, right? Just be sure to follow the instructions on the confirmation email so that you start receiving my newsletter. If you don't see it, you may want to check your Spam or Junk Mail folders.