Welcome to Cool Comics in My Collection Episode 161, where we take a look at various comic books I own (and in some cases ones that I let get away), both new and old, often with a nostalgic leaning for those feelings of yesteryear.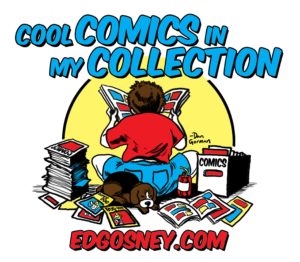 For each of the comic books I include in this blog (except for digital issues), I list the current secondary market value. This is according to the website www.comicbookrealm.com. They list out the near mint prices, which are on the comic book grading scale of 9.4. If you go to the website to look up any in your collection, you can click on the price and see the value at different grades. Not all of my comics are 9.4. Some are probably better, and some are worse. But to simplify it, that's the grading scale I use here. And remember, a comic book is only worth what someone is willing to pay for it.
Have you considered being a guest host for Cool Comics? You can do a theme or just pick any of your comics for inclusion (this blog is for all ages, so please keep that in mind), with a maximum of seven issues. Repeat guest hosts are permitted and encouraged. For any questions or to submit your completed blog, write to edgosney62@gmail.com.
If you have any comments, please scroll to the bottom of the page to where it says, "Leave a Reply." And now, Episode 161…
Cool Comics News!
There may be a few of you out there who recall that I set a goal for myself early this year of reading an average of 100 comic books a month. So how am I doing, you ask? I'm happy to announce that I'm over the thousand mark, and on pace to reach 1,200! That's a lot of reading, no doubt, along with a lot of comic books (good thing I'm able to find so much "gold" in quarter boxes, along with great digital sales!). Maybe when the year is over, I'll finally be able to catch up on some of my piles of books and magazines I've neglected for so long.

If you hand out candy to little goblins next week, do you have a preferred type you like to buy for the trick-or-treaters? This year I'll be giving away some of the mini Halloween ComicFest issues you could order through Previews. I'm hoping to turn some of the candy-loving kids into comic book readers of the future! And as a reminder, Halloween ComicFest is this Saturday, so check with your local comic book shop and see if they are participating so you can get some free and discounted comics!
Cool Comics Battle of the Week!
Your Cool Comics Battle of the Week is Sabrina versus The Living Mummy! What do you think would happen if they faced each other in a titanic tussle, and how do you see the winner achieving victory? Let us know in the comments section below.
Cool Comics
#768 — Chilling Adventures of Sabrina, Book One, Archie, July 2016.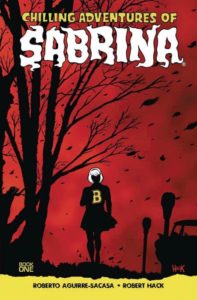 Around five years ago, back when I wasn't making weekly trips to my local comic book shop, I found out about Afterlife With Archie. I don't recall the details but decided I would subscribe to it. Later, with the success of the comic, Archie published another horror title called Chilling Adventures of Sabrina. I didn't find out about this one until six issues had come out, but during a sale at the Archie website, I ordered the trade edition containing the first 5 issues, issue #6, and subscribed to it, starting with #7. They sat untouched for a while, but when I found out that Sabrina would be having a show on Netflix with the same title, I knew it was time to read the collected edition. If you haven't read this, and plan on watching the show, just be warned that it is a far cry from the Sabrina show and comic books of the past. But if you like the Archie Horror line, you're probably looking forward to Chilling Adventures of Sabrina, which drops on Netflix October 26. I enjoyed the dark twists that Roberto Aguirre-Sacasa put in these first five issues, and Robert Hack's art was a huge contributor to the mood and setting. Also, please be aware that this is rated Teen Plus, meaning it's definitely not for the kiddos. The cover price of Chilling Adventures of Sabrina, Book One, is $17.99, while the current value is $18.
#769 — The Tick Big Halloween Special, New England Comics, September 2001.
I'm sure there are some Tick fans out there shouting "Spoon!" as soon as they see this cover, and while I'm not a die-hard fan, I appreciate the humor. My first experience with the big blue guy was via the Nineties cartoon version. Later, when I saw this Halloween special listed in Previews way back in 2001, I ordered it from my comic shop. Yet for some reason, I never got around to reading it, so when I stumbled across this Halloween Special a few months ago, I decided I'd save it for some fun October reading. And fun it was! It was silly, goofy, and typical of what you'd expect from a Tick story, and just perfect for this time of year. I've never watched any of the live-action TV shows about the Tick, but I wouldn't mind giving them a try sometime, because reading this made me miss the cartoon. The cover price of The Tick Big Halloween Special is $3.95, while the current value is $4.
FCBD the Cool Comics Way (Week 24)
#770 — Disney Tim Burton's The Nightmare Before Christmas: Zero's Journey #0, TOKYOPOP, May 2018.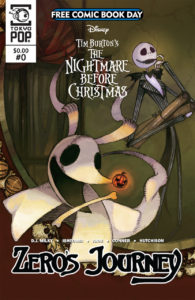 Has it really been 25 years since The Nightmare Before Christmas was released in theaters? No doubt it's a strange blend of holidays, but the movie and subsequent toys have many loyal followers. I have to admit that as someone who liked Oingo Boingo back in the Eighties, I think it's cool that Danny Elfman (the lead singer of the band) wrote the original score and is the singing voice of Jack Skellington and a few other characters. Yet as far as I can remember, I've only seen the actual movie once, and that was a long, long time ago, now that I've come to see that the movie has been around for a quarter of a century. This TOKYOPOP Free Comic Book Day edition runs true to manga form, as you read the story the opposite way you're probably used to (unless you often read manga). This is the second or third FCBD edition in which I've done this, so I'm getting exposed to new experiences. The story wasn't bad at all, so if you are a fan, you may want to try to find this issue, along with the ongoing issues. The cover price of Disney Tim Burton's The Nightmare Before Christmas: Zero's Journey #0 (that's a mouthful of a title!) is free, while the current value is $0.
Cool Comics Classics
#771 — Supernatural Thrillers #5, Marvel, August 1973.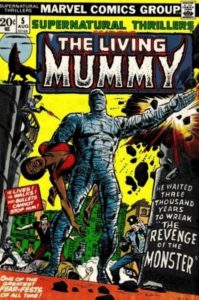 I found this comic book at my local comic shop several months ago and was ecstatic to find a copy in decent condition that didn't cost me an arm and a leg (I paid $20, which is the most I've ever spent for a single issue). When I discovered comic books in 1973, I was all about the superheroes. And while I loved monster movies (especially the Universal films), I reserved my comic book dimes, nickels, and quarters for the spandex crowd. Yet I always noticed Frankenstein, Tomb of Dracula, and Werewolf By Night comic books on the stands. But there was only so much pocket change to go around, so Spider-Man and his amazing friends took precedence. As I got older and started collecting again, I decided I'd made a mistake by ignoring these monster classics, and now I'm slowly building up some cool issues for my collection. Marvel's The Living Mummy never had his own title, but the majority of the issues of Supernatural Thrillers during its short run featured this anti-hero, and this one contains his first appearance and origin, which turned out to be much different than I imagined. If you find this one at a good price and you appreciate these older titles, I strongly recommend getting it. The cover price of Supernatural Thrillers #5 is 20¢, while the current value is $105.
Recently Read Digital Comics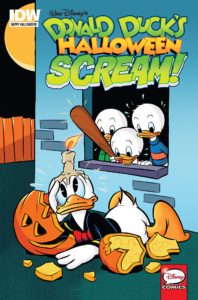 When it comes to Halloween-themed comic books, I'm usually easy to please. I typically prefer stories that are going to give me a little fright (okay, that doesn't often happen, but I appreciate the effort!), and especially so if they contain vampires, werewolves, and other classic monsters. But you know what? It's just as easy for me to channel my inner child and enjoy more innocent tales, such as you might find in a "regular" Archie Halloween special, or Dennis the Menace, and especially Disney comic books. This digital treat, Donald Duck's Halloween Scream #1, was a Free Comic Book Day issue in 2015, but since I wasn't collecting at that time, I was more than happy to find it as a free download on comiXology. Again, much like the Disney comic I talked about in last week's episode (Magica De Spell: Giant Halloween Hex #2), this one contains two reprint stories, both from 1990: Donald Duck Adventures #7 and #8. The first story focuses on something that happens one Halloween when Donald makes a wager with his nephews, while the next story covers the aftermath. I appreciate that there was an actual Halloween setting this time around. Do you have any favorite Halloween-based comic books? We'd love to hear about them in the comments section at the end of this episode.
 ComicBooks For Kids!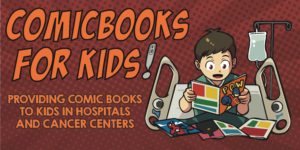 In my last blog I mentioned ComicBooks For Kids! (CB4K) as a charity we are honored to be working with. CB4K provides comic books to kids in hospitals and cancer centers all across the Unites States. You can check their website and see if your local hospital is included and if not, you can work with them to get them included! If you like what you see, please help them out and follow/like their Facebook page. Their link is https://www.facebook.com/comicbooksforkids/
Never Miss an Episode of Cool Comics!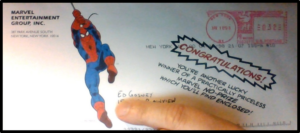 Now you can get Cool Comics in My Collection delivered directly to your email! Just click "Join My Newsletter" on my website (or click on the image of my No-Prize!), sign up, and that's it. Pretty easy, right? Just be sure to follow the instructions on the confirmation email so that you start receiving my newsletter. If you don't see it, you may want to check your Spam or Junk Mail folders.