Welcome to Cool Comics in My Collection Episode 159, where we take a look at various comic books I own (and in some cases ones that I let get away), both new and old, often with a nostalgic leaning for those feelings of yesteryear.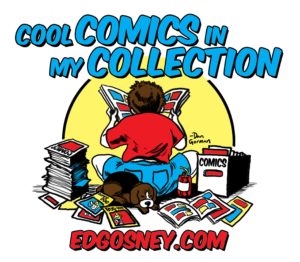 For each of the comic books I include in this blog (except for digital issues), I list the current secondary market value. This is according to the website www.comicbookrealm.com. They list out the near mint prices, which are on the comic book grading scale of 9.4. If you go to the website to look up any in your collection, you can click on the price and see the value at different grades. Not all of my comics are 9.4. Some are probably better, and some are worse. But to simplify it, that's the grading scale I use here. And remember, a comic book is only worth what someone is willing to pay for it.
Have you considered being a guest host for Cool Comics? You can do a theme or just pick any of your comics for inclusion (this blog is for all ages, so please keep that in mind), with a maximum of seven issues. Repeat guest hosts are permitted and encouraged. For any questions or to submit your completed blog, write to edgosney62@gmail.com.
If you have any comments, please scroll to the bottom of the page to where it says, "Leave a Reply." And now, Episode 159…
Cool Comics News!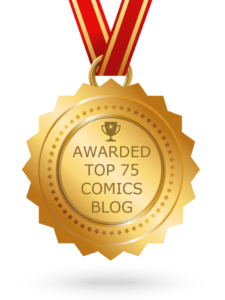 Guess what, faithful readers of Cool Comics? Because of you, the blog is now listed in Feedspot as a Top 75 Comics Blog on the web. As of now, we stand at #74, and I hope we continue to see growth and gain readers! Please help spread the word about Cool Comics In My Collection to your comic book loving friends, neighbors, and family members. We try to keep things fun and light here, and always welcome comments and guest bloggers, giving you the chance to show off some of the cool comics in YOUR collection! Be sure to sign up for the newsletter so that you don't miss any episodes, follow me on Twitter (https://twitter.com/edgosney_author), and keep on reading! To see a comprehensive list of all the comic book blogs, just click on https://blog.feedspot.com/comics_blogs/
Cool Comics Battle of the Week!
Your Cool Comics Battle of the Week is Flash Thompson Spider-Man versus SpongeBob SquarePants! What do you think would happen if they faced each other in a titanic tussle, and how do you see the winner achieving victory? Let us know in the comments section below.
Cool Comics
#756 — What If? Spider-Man #1, Marvel, December 2018.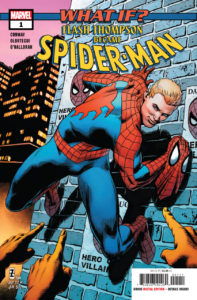 I was an active comic book reader when "What If?" came on the scene in 1977, although I didn't get many of this title. Then, during my third foray into the 4-color world in the Nineties, "What If" comics were once again a thing, and I bought some sporadically, if the scenario caught my interest. So when I saw that Marvel would be issuing a handful of What If? one-shots in October, my nostrils caught a whiff of nostalgia and I jumped back on-board the bandwagon. Last week when this landed at comic shops there was also an X-Men release, but of the two, I preferred this one. See who is wearing the Spider-Man outfit? That's right, none other than the late Flash Thompson. So how does Flash fare as a high school superhero compared to Peter Parker? I won't spoil it for you in case you haven't read it yet, but this takes a turn I wasn't expecting. As a bonus, Gerry Conway, who happened to be writing The Amazing Spider-Man when I first started reading the comic back in the Seventies, is the writer for this one. The cover price of What If? Spider-Man #1 is $3.99, while the current value is $4.
#757 — Battlestar Galactica (Classic) #0, Dynamite Entertainment, October 2018.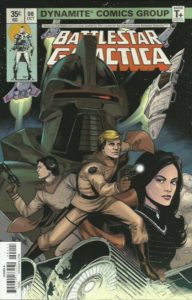 While I've never been a big Battlestar Galactica fan, the original series took place in the Seventies and was a part of my weekly TV viewing. As for the newer series (which is now kind of old), I've seen bits and pieces. So why did I get this comic book? Besides the nostalgia factor, it was cheap. How cheap? If you click on the cover to get a closeup view, you'll notice it was just 35¢. And I remember those days when all my new comic books were just 35¢. If you're wondering if I bought this out of a discount box, the answer is no. It came out last week, brand new! In an age when most new comics are $3.99, this is a great marketing tool to get readers interested in starting a new series. If you yearn for the original Battlestar Galactica, this is your chance to relive those days. The cover price of Battlestar Galactica (Classic) #0 is 35¢, while the current value is 35¢.
#758 — Murder Falcon Ashcan #1, Image, August 2018.
Once again, the owner of my local comic book shop, Kenmore Komics & Games, got an Image Ashcan into my hands, knowing that Cool Comics enjoys bringing a variety of comics to its millions (don't I wish!) of adoring readers each week. And speaking of variety, Murder Falcon gives you heroes, villains, monsters, and music! Admittedly, this is not a comic I will be adding to my pull list, but I enjoyed the journey of reading something so different. Like most ashcans, this comic is black and white, and everything is smaller (so if you wear reading glasses, make sure you have them handy!), but ashcans are usually on the rare side, so you might not be able to locate this. But don't despair if you want to give this one a try, because the regular number one issue just came out October 10. The cover price of Murder Falcon Ashcan #1 is free, while the current value is $3.
FCBD the Cool Comics Way (Week 22)
#759 — SpongeBob Freestyle Funnies, United Plankton Pictures, May 2018.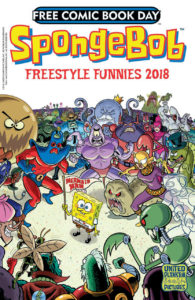 I remember my kids watching lots of SpongeBob cartoons in their younger years. At first, I thought they were kind of funny. Then, when it seemed like SpongeBob was the only thing my TV would broadcast, it got a little annoying. But it's been years since I've seen him and his buddy Patrick, so I didn't at all mind this Free Comic Book Day issue featuring the guy who lives in a pineapple under the sea. And the story, written by Derek Drymon, was pretty amusing, using comic book collecting as a vehicle. But best of all was the beautiful art by Robb Bihun, who did both the pencils and inks and made me feel like this 2018 comic book would fit in well with those of us who cut our teeth on Seventies stuff. And while I'm heaping on praise, I might as well tell you that the vivid colors by John Kalisz made this even more attractive. The cover price of SpongeBob Freestyle Funnies is free, while the current value is $1.
Cool Comics Classics
#760 — Camelot 3000, DC, Trade Paperback 2008.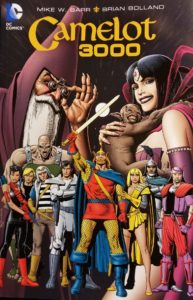 I often think back, both fondly and with a bit of melancholy, about my short time of reading and collecting comic books when I was at Ohio State. Early in 1982, a roommate, also named Ed, got me hooked back into the hobby, and I enjoyed seeing familiar titles like The Amazing Spider-Man, and new ones, including The Fury of Firestorm, the Nuclear Man. But that second phase didn't last long. I'd changed, and my interests seemed to be elsewhere. One of my regrets from that period is that I wouldn't find out how Camelot 3000, a new 12-issue limited series, would end, let alone enjoy the journey. I thought it was a really cool concept at the time, having always enjoyed the King Arthur stories and legends. But last year at Akron Comicon I decided I needed to buy the trade paperback (from the writer himself, the legendary Mike W. Barr!) and finally finish the story. Yet it sat on my shelf for many months, unread. Foolish me. Once I picked it up and read the introduction, I knew I'd read this too fast if I didn't discipline myself. I wanted it to last, unlike my past, which I now see has gone by much too fast. In the year 3000, England has need of its greatest hero, and Arthur, along with some of his knights and the wizard Merlin, are awakened to once more do battle. Yeah, it's good stuff (although it's not for preteen readers, so please keep that in mind), and I give it the Cool Comics seal of Coolness! The cover price of the Camelot 3000 Trade Edition is $19.99, while the current value is $20.
#761 — The Little Monsters #23, Gold Key, December 1973.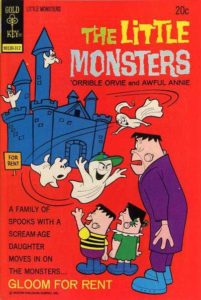 Until I bought this back issue, I wasn't at all familiar with this comic. The Little Monsters hit the scene in 1964 and lasted until 1978. Fourteen years seems like a nice, long run, but Gold Key published just 44 issues of this monster family, which will remind you of a couple classic TV shows, The Munsters and The Adams Family. There are a handful of stories in this issue, but I couldn't tell you if each issue is like this, or if any have just one story. No doubt this comic is aimed towards a younger audience, but if you channel your inner child (and especially if you were raised in the Golden years of The Little Monsters run), you can appreciate it, along with the ads from 1973. The cover price of The Little Monsters #23 is 20¢, while the current value is $20.
#762 — Thor #333, Marvel, July 1983.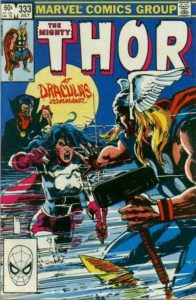 A couple episodes back we visited Thor #332 (Cool Comic #750), which saw the "Mighty" hero battling vampires and coming out victorious, yet the issue ended with Asgardian Sif in the clutches of Count Dracula! Now in Thor #333 we see the God of Thunder going toe-to-toe with the Prince of Darkness, and this is one fun battle to get to read for the month of October. While some comic book aficionados may prefer to keep the more classic monsters separate from the superheroes, I enjoy seeing them face off against one another. As you can surmise, Sif does not become a permanent member of the creatures of the night club, so you can breathe easy if you don't have this cool comic in your personal collection. For more on Dracula facing heroes in the Marvel Universe, make sure to check out my Recently Read Digital Comics section below. The cover price of Thor #333 is 60¢, while the current value is $8.
Recently Read Digital Comics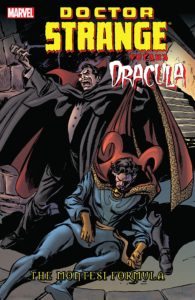 Somewhere around the end of last year, comiXology and Amazon had an unbelievable sale on Marvel digital comics, and I was able to get this collection—Doctor Strange vs. Dracula: The Montesi Formula (which consists of seven comics, Tomb of Dracula #44, and Dr. Strange from 1974 #14, 58-62)—for just 99¢. How in the world could I pass up Doctor Strange versus Dracula? Well, obviously I couldn't, and let me tell you, it was one fun read. But perhaps the most interesting thing of all that I learned from this is how the Darkhold (you know, that evil book, full of power, indestructible, and even featured on TV for a season on Agents of S.H.I.E.L.D.) came to be, the origin of vampires, and that Dracula didn't want to face Thor again. Blade, the Nightstalkers, the Scarlett Witch, and others join in the battle!
Never Miss an Episode of Cool Comics!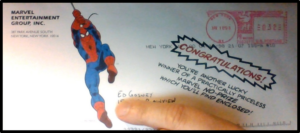 Now you can get Cool Comics in My Collection delivered directly to your email! Just click "Join My Newsletter" on my website, sign up, and that's it. Pretty easy, right? Just be sure to follow the instructions on the confirmation email so that you start receiving my newsletter. If you don't see it, you may want to check your Spam or Junk Mail folders.