Welcome to Cool Comics in My Collection Episode 156, where we take a look at various comic books I own (and in some cases ones that I let get away), both new and old, often with a nostalgic leaning for those feelings of yesteryear.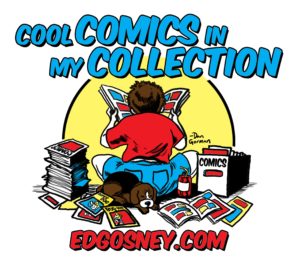 For each of the comic books I include in this blog (except for digital issues), I list the current secondary market value. This is according to the website www.comicbookrealm.com. They list out the near mint prices, which are on the comic book grading scale of 9.4. If you go to the website to look up any in your collection, you can click on the price and see the value at different grades. Not all of my comics are 9.4. Some are probably better, and some are worse. But to simplify it, that's the grading scale I use here. And remember, a comic book is only worth what someone is willing to pay for it.
Have you considered being a guest host for Cool Comics? You can do a theme or just pick any of your comics for inclusion (this blog is for all ages, so please keep that in mind), with a maximum of seven issues. Repeat guest hosts are permitted and encouraged. For any questions or to submit your completed blog, write to edgosney62@gmail.com.
If you have any comments, please scroll to the bottom of the page to where it says, "Leave a Reply." And now, Episode 156…
Cool Comics News!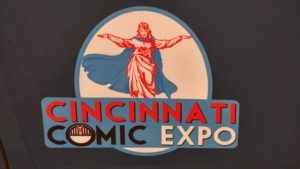 Let's see, 156 episodes, divided by 52 weeks per year, comes out to…it's our third anniversary here at Cool Comics In My Collection, and what better way to celebrate than with a trip to the Cincinnati Comic Expo! The city was beautiful, the people were very nice, and I really enjoyed seeing some familiar faces there including Ted Sikora, the fantastic writer of Tap Dance Killer and co-writer of Apama The Undiscovered Animal, and the one and only Tony Acree, author and publisher of Hydra Publications! Last but not least, Cool Comics was able to visit with the cover artist of Transmutations, Travis Perkins, who has now taken the dive into comic books and recently published the first of a new series in which he did both the art and the writing! See below for more on this special Cincinnati Comic Expo comic.
Cool Comics In My Collection
#745 — Kona Guardians #1, Travis Perkins, August 2018.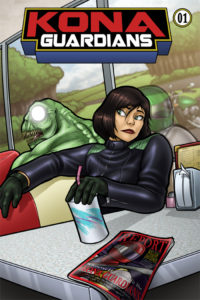 Since I'm dedicating this Third Anniversary episode to the Cincinnati Comic Expo, there is no better way to start off than to feature Kona Warriors #1 as the only Cool Comic book this week! I went to a big comic book show, and only bought one comic book for myself. As crazy as that sounds, Cool Comics was busy rubbing shoulders with some cool celebrities, and since I had to pay cash to rub said shoulders, I limited my comic book purchasing to one. Actually, I wasn't going to spend any money on comics, but when Travis showed me Kona Guardians #1 and told me it was his baby, done all by him, Cool Comics just had to acquire this book (and of course get it signed)! The Kona Guardians will remind you of the Power Rangers (at least that's what they reminded me of…I'm not a Power Rangers follower, though, so maybe you'd have a better comparison?), but still with their own style and differences. I was impressed with this first issue, as the author/artist did a great job breaking down pages, giving us a nice variety of angles, tight and long shots, pacing, color, and storytelling. This is an Indie comic at its finest, and I'll definitely be supporting Travis in his efforts. You won't find this in Previews, and more than likely your local comic shop won't have it in stock, but if you want to check out this up-and-coming comic book creator's work, you can purchase it via print on demand ($4.99) or digital ($1.99) via IndyPlanet at: http://www.indyplanet.us/kona-guardians-1/.
Never Miss an Episode of Cool Comics!
 Now you can get Cool Comics in My Collection delivered directly to your email! Just click "Join My Newsletter" on my website, sign up, and that's it. Pretty easy, right? Just be sure to follow the instructions on the confirmation email so that you start receiving my newsletter. If you don't see it, you may want to check your Spam or Junk Mail folders.
Cincinnati Comic Expo Highlights!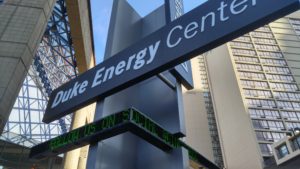 The event was held at the Duke Energy Center in beautiful downtown Cincinnati. If you want to see enlargements of any of the pictures, just click on them, and then hit the back arrow.
We started off Day 1 by visiting a galaxy far, far away.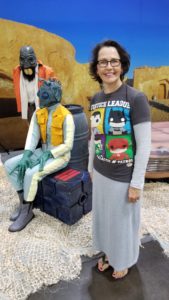 Yes, we saw a lot of cool stuff there!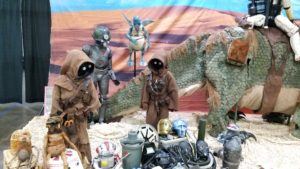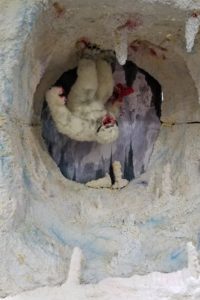 I found out just how dangerous it is hanging around with Luke on the planet Hoth!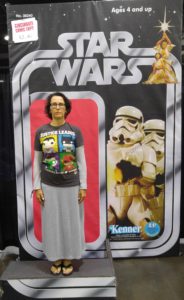 The hot new action figure!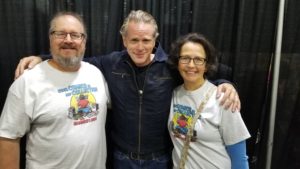 Day 2 started off with autographs and picture opportunities, starting with Cary Elwes (makes me want to re-watch The Princess Bride and Glory)!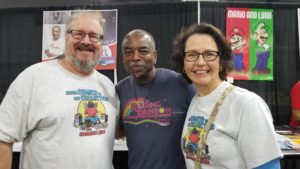 Star Trek: The Next Generation fans take note, as we got to meet LeVar Burton!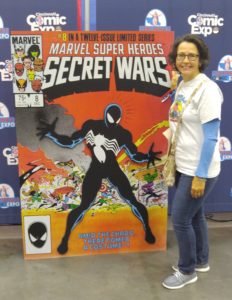 They had some big comic books at the Expo!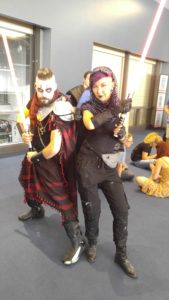 We met the coolest Sith Lords (John and Anique Thomas) in the galaxy while standing in line for one of the celebrity panels.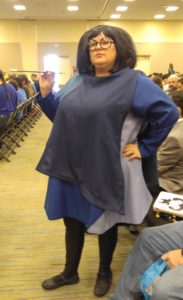 Edna Marie "E" Mode from The Incredibles made a special appearance!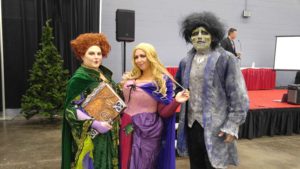 Any Hocus Pocus fans out there?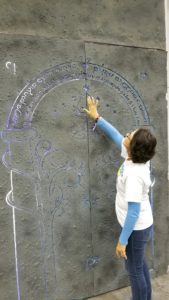 Cool Comics likes to keep up with our Elvish!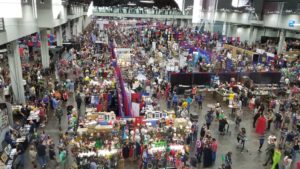 I think these people are all having a great time at the Cincinnati Comic Expo!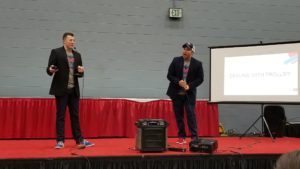 The guys from Iconic Comic (check out their YouTube Channel!) gave Cool Comics some ideas during their panel about creating a YouTube Channel.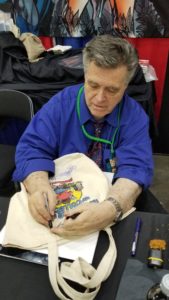 Is that really Neal Adams signing a Cool Comics bag? Why yes, it is!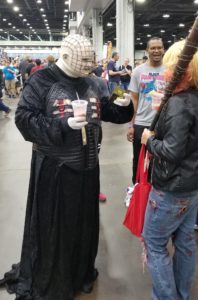 Even Pinhead needs to chill with a cool drink every once in a while.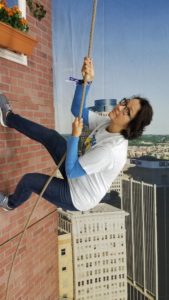 As Day 2 came to an end, we headed back to our hotel.
On Day 3, we arrived in style. Check out our wheels!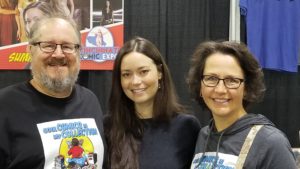 Summer Glau enjoys hanging out with the Cool Comics Crew.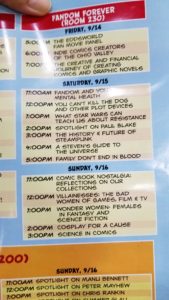 What? Cool Comics is having a panel Sunday on Comic Book Nostalgia?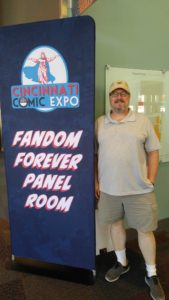 Psst! It's over here!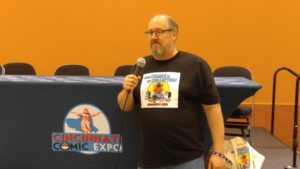 I really wish you could have been there! We gave away free comic books and Cool Comics mugs.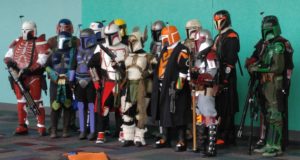 I hope these guys aren't looking for me!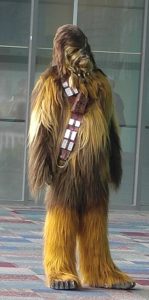 Maybe they're looking for him.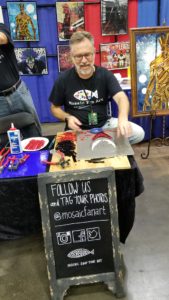 Many talented people were at the Cincinnati Comic Expo!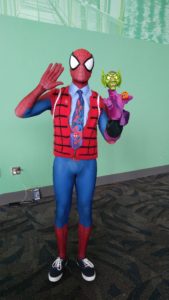 The amalgamated Spider-Man/Mister Rogers bids us a fond farewell as we head out the doors on Day 3.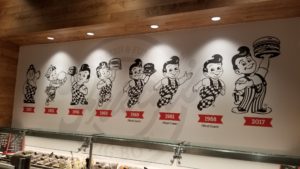 One of our favorite places to eat during our trip to Cincinnati was at the Frisch's Big Boy in Carew Tower. The staff was great, and as a lover of comic books, we felt right at home with the iconic Big Boy art!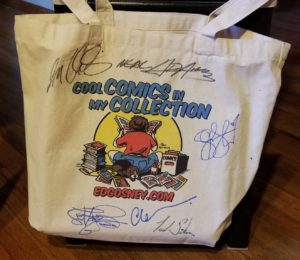 Once home, I had to snap this last picture to show off our Cincinnati Comic Expo autographs. Top left is J.M. DeMatteis, followed by Neal Adams, who wanted his to be top center! Far right in the center is Summer Glau, bottom left, LeVar Burton, next to him is Cary Elwes, and below his is Ted Sikora.