Welcome to Cool Comics in My Collection Episode 149, where we take a look at various comic books I own (and in some cases ones that I let get away), both new and old, often with a nostalgic leaning for those feelings of yesteryear.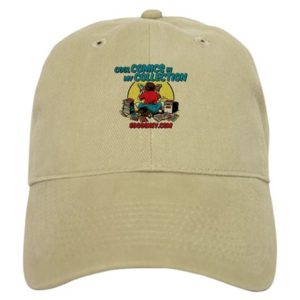 For each of the comic books I include in this blog (except for digital issues), I list the current secondary market value. This is according to the listings at the website www.comicbookrealm.com. They list out the near mint prices, which are on the comic book grading scale of 9.4. If you go to the website to look up any in your collection, you can click on the price and see the value at different grades. Not all of my comics are 9.4. Some are probably better, and some are worse. But to simplify it, that's the grading price I use here. And remember, a comic book is only worth what someone is willing to pay for it.
Have you considered being a guest host for Cool Comics? You can do a theme or just pick any of your comics for inclusion (this blog is for all ages, so please keep that in mind), with a maximum of seven issues. Repeat guest hosts are permitted and encouraged. Send your completed blog to edgosney62@gmail.com.
If you have any questions or comments, please scroll to the bottom of the page to where it says, "Leave a reply." I hope you enjoy seeing these as much as I do writing about them. And now, Episode 149…
Cool Comics News!
Some of you may be wondering why I don't have Acton Comics #1001 this week, the first issue with Brian Michael Bendis at the helm. But both Bendis and the Man of Steel have gotten more than their fair share of attention at Cool Comics over the last couple months, so I decided to skip covering this issue (I did enjoy reading it, by the way). And speaking of Superman, this past weekend I finally finished the hardcover book Action Comics: 80 Years of Superman. If you appreciate the longevity of the hobby's first superhero and want to know more, this is a fun book to read, as it contains 17 previously published issues of Action Comics, an unpublished issue with a special story behind it, and a handful of essays that true fans will want to read.
Cool Comics Battle of the Week!
Your Cool Comics Battle of the Week is Wonder Woman versus Rogue! What do you think would happen if they faced each other in a titanic tussle, and how do you see the winner achieving victory? Let us know in the comments section below.
Cool Comics in My Collection
#709 — Mr. and Mrs. X #1, Marvel Comics, September 2018.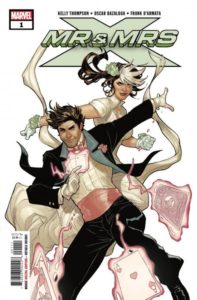 A few months back, Marvel Previews solicited a new comic called X Classified, so I decided to have my local comic shop pull the first couple issues for me. I like mystery and intrigue as much as the next person, and this X-title had a blank cover, so in the interest of satisfying my curiosity and bringing you, the readers of Cool Comics, my impressions of Marvel's newest thing, it made perfect sense. Then when the events of X-Men Gold #30 happened, it was revealed to us that X Classified's real comic book name was Mr. and Mrs. X…the adventures of a now married Rogue and Gambit. For those who love these two characters, it's a neat opportunity to get a more intimate look at them (and with this comic being rated T+, we get more than I cared to see). But now that the secret has been revealed, I guess I'm a little underwhelmed, and I won't be continuing beyond the first couple issues. The cover price of Mr. and Mrs. X #1 is $3.99, while the current value is $4.
 #710 — Justice League Dark #1, DC Comics, September 2018.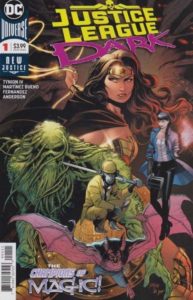 I never intended to buy this comic. I didn't add it to my pull list and I didn't pay much attention to it in DC Previews. DC has been putting out great comics since I've started my fourth phase of reading and collecting, which makes it even more difficult to stick to a comic book budget. Most of my pull list consists of Marvel titles, along with a spattering of DC, Archie, Image, Dynamite, and Valiant. But last week, I sort of got interested enough that I told myself I'd buy it if there were anymore on the shelf at my local shop. Well what do you know, there it was, just waiting for me, and I had a great time reading it. Swamp Thing, Detective Chimp, Zatanna, Man-Bat, and Wonder Woman certainly make this an unusual team, and I have no regrets in picking up this one stray issue. Will I get issue two when it comes out? Maybe. The cover price of Justice League Dark #1 is $3.99, while the current value is $4.
Cool Comics Done Dirt Cheap
#711 — Young Heroes in Love #2, DC Comics, July 1997.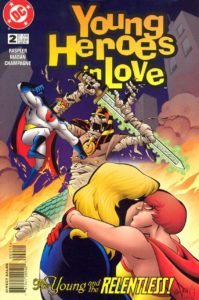 In 1997 I was deep into my third phase of comic book collecting, which consisted mostly of the superhero sort. But when this superhero romance comic came out, I wanted nothing to do with it. I preferred my superhero exploits to be on the more serious side. Besides, weren't romance comics a thing of the past? (by the way, the first recognized romance comic is Young Romance #1 from September 1947 at a cost of 10 cents…with the creative team of Jack Kirby and Joe Simon, and valued today at $1250!) Yet last week I reached into my legendary longbox and out popped this strange combination. Actually, several issues were jampacked into the box, but this is the earliest issue in the bunch. And you know what? I actually had fun reading it, so I don't mind having those additional issues. If you can pick any of them up as cheap as I got them (the legendary longbox cost me $20 and contained 419 comic books), then by all means give them a try. The cover price of Young Heroes in Love #2 is $1.75, while the current value is $3.
FCBD the Cool Comics Way (Week 13)
#712 — Invader Zim, Oni Press, May 2018.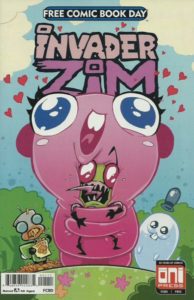 Am I the last person on the planet to find out about Invader Zim? Until I started reading this Free Comic Book Day 2018 issue, I'd never heard of this bizarre, alien creature. Then I found out it had been a series on Nickelodeon at the turn of the Century. I'm probably not in the right demographic. And after reading this issue, I know I'm not in the right demographic. It wasn't a bad story, but it just dragged on and on and on. Sort of like if I'd watch Gilligan's Island today, compared to when I was a kid. But that's the beauty of these free comic books. We get an opportunity to see what's out there, and if we find a story and characters that make us happy, then we can target more of those comics for future purchases. And though Invader Zim doesn't fit into my future, I can see how kids might enjoy it. The cover price of Invader Zim is free, while the current value is $0.
Cool Comics Classics
#713 — Detective Comics #384, DC Comics, February 1969.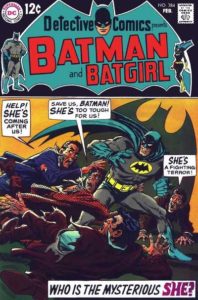 Every once in a while, I'll walk around my local comic shop and look for some good old stuff at affordable prices. Some collectors wouldn't touch the issues I buy, because for me, condition is secondary to pricing. I want to be able to afford a handful of comics without breaking the bank (and I have a feeling there are many of you who feel the same way). I wasn't collecting comic books in 1969, so snagging this Detective Comics issue for just $6 (and the condition isn't bad at all, in my opinion) was a victory in my mind. We get a Batman story and a Batgirl story, and while readers today may not care for the writing style of the Sixties, I really dig it, man. Going back in time is a great way to keep the hobby fresh, if that makes any sense. The cover price of Detective Comics #384 is 12¢, while the current value is $100.
Never Miss an Episode of Cool Comics!
Now you can get Cool Comics in My Collection delivered directly to your email! Just click "Join My Newsletter" on my website, sign up, and that's it. Pretty easy, right? Just be sure to follow the instructions on the confirmation email so that you start getting my newsletter. If you don't see it, you may want to check your Spam or Junk Mail folders.