Welcome to Cool Comics in My Collection Episode 148, where we take a look at various comic books I own (and in some cases ones that I let get away), both new and old, often with a nostalgic leaning for those feelings of yesteryear.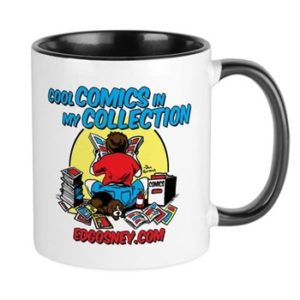 For each of the comic books I include in this blog (except for digital issues), I list the current secondary market value. This is according to the listings at the website www.comicbookrealm.com. They list out the near mint prices, which are on the comic book grading scale of 9.4. If you go to the website to look up any in your collection, you can click on the price and see the value at different grades. Not all of my comics are 9.4. Some are probably better, and some are worse. But to simplify it, that's the grading price I use here. And remember, a comic book is only worth what someone is willing to pay for it.
Have you considered being a guest host for Cool Comics? You can do a theme or just pick any of your comics for inclusion (this blog is for all ages, so please keep that in mind), with a maximum of seven issues. Repeat guest hosts are permitted and encouraged. Send your completed blog to edgosney62@gmail.com.
If you have any questions or comments, please scroll to the bottom of the page to where it says, "Leave a reply." I hope you enjoy seeing these as much as I do writing about them. And now, Episode 148…
Cool Comics News!
As July comes to a close, and a new month is nearly upon us, what comics are you most looking forward to in August? For me it's probably The Fantastic Four #1. What about you? Share with us in the comments section below!
Cool Comics Battle of the Week!
Your Cool Comics Battle of the Week is the Archie Gang from Riverdale versus Mystery Science Theater 3000 characters! What do you think would happen if they faced each other in a titanic tussle, and how do you see the winner achieving victory? Let us know in the comments section below.
Cool Comics in My Collection
#704 — Archie Meets Batman '66 #1, Archie Comics, September 2018.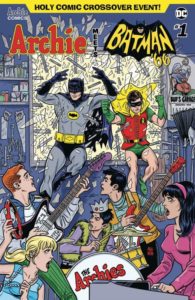 If you get the monthly Previews catalog, or at least step into your local comic shop on a Wednesday when the new issues arrive, then you know that lots of comic books come out every week. We see new characters and titles all the time, so many that it gets hard to keep up with them all. But in the new mini-series titled Archie Meets Batman '66, this company crossover gives us two of the oldest and most familiar characters in the history of comics. Over the last couple years, Archie comics have gone through a bit of change to modernize them, including the Riverdale series that is related to the TV show, and the horror line the started with Afterlife With Archie. I fondly remember watching Archie cartoons as a kid and getting the occasional issue (sometimes the digests) in the Seventies, and I'm glad the company is still putting out a different brand of comic entertainment…meaning other than superheroes. Batman needs no introduction, and I imagine it's hard to find a person who's never heard of the famed Caped Crusader. But for this mini-series, we get Batman and his friends and enemies from the famed, campy, live-action TV show from the Sixties. Yowza! I really enjoyed issue one and look forward to my monthly fix through the six issues. What a great way to wax nostalgic. The cover price of Archie Meets Batman '66 #1 is $3.99, while the current value is $4.
#705 — Mystery Science Theater 3000 The Comic Ashcan Edition, Dark Horse Comics, July 2018.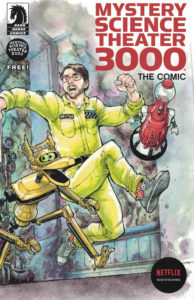 Though I love comic books, along with fantasy and science fiction books, movies, and TV shows, I've never seen an actual episode of Mystery Science Theater 3000 in any way, shape, or form. I've heard of it, and seen short clips, but that's as far as it goes. So when my local comic shop owner gave me this ashcan, I had absolutely no expectations (although I had seen information about the first issue in the September Previews, but didn't add it to my pull list). From what I'd gathered, it was just a goofy thing with weird little robots making odd comments about B-movies. Whether or not any of that is accurate is beside the point, though, when it comes to this ashcan edition (which I had a great time reading). If you love old comic books (and if you're reading my blog, I have a strong inclination that you do), then I would imagine you'd enjoy this every bit as much as I did. Will I pick up the first issue when it hits the stands in September? I'll have to say I'm not sure, as I do have to mind my comic book budget, but it will be awfully tempting. The cover price of Mystery Science Theater 3000 The Comic Ashcan Edition is free, while the current value is $4.
Cool Comics Done Dirt Cheap
#706 — Guy Gardner: Warrior #29, DC Comics, March 1995.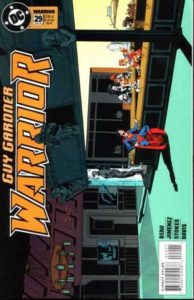 When I started my third phase of comic collecting in the Nineties, I had no idea who Guy Gardner was, but soon came to learn that he was far from being a typical superhero. I read a few of his issues during that period, which started out simply titled Guy Gardner, then eventually got the Warrior moniker tagged on. When I bought my legendary longbox of 419 comic books for just $20, I had no idea what I'd find inside, but it brought a bit of a smile to my face when I found a handful of Guy Gardner comics. Some I had already owned and read in the past, but there are a few that are new to me, such as this one. Issue 29 turned out to be a lot of fun, and you know it's going to be interesting as soon as you flip the cover to the first page and see Darkseid gazing at you. And why is the nefarious villain and ruler of Apokolips looking so stupefied? Because he's trying to figure out why all the heroes are gathering together. And he's probably sad that he wasn't invited. Guy has opened his new tavern, Warriors, and we get to witness a massive roll-call of DC characters in attendance (click the bold text to see the line-up). As much fun as this issue turned out to be, it's probably going into my garage sale comic box, because I just can't keep them all. The cover price of Guy Gardner: Warrior #29 is $1.50, while the current value is $3.
FCBD the Cool Comics Way (Week 12)
#707 — My Hero Academia & RWBY, Viz Media, May 2018.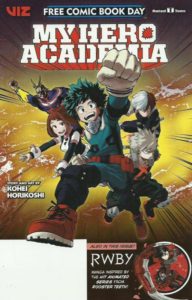 When I made the decision to read every comic issued during Free Comic Book Day 2018, I knew it would be an adventure, as there are so many different kinds of comics produced on a weekly basis and this would give me an opportunity to sample some that are way out of my wheelhouse. And this was one of them. Though written in English, My Hero Academia & RWBY is to be read back to front (at least that's the way it seems when you're used to doing it the other way!) and from right to left, just like a manga issue from Japan. The other side of this comic (not pictured) actually came with a little chart to help guide readers, which I appreciated. Yet I'm not sure if it would have made a difference which direction I flipped pages as I read. There is lots of action going on in both My Hero Academia and RWBY, but I couldn't figure much out. Maybe I was distracted by such a different reading experience, but I sort of came away with nothing. To some people that probably comes as no surprise, and we'll leave it at that! This one is rated T for Teens, and any teen who reads it probably could tell me a thing or two about the plot that my brain couldn't extract. The cover price of My Hero Academia & RWBY is free, while the current value is $1.
Cool Comics Classics
#708 — Master of Kung Fu #33, Marvel Comics, October 1975.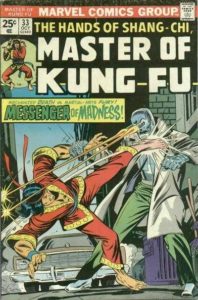 The current issue of Back Issue magazine (that sounds confusing, doesn't it?) focuses on Kung Fu comics from the Bronze Age, and as I was reading through it the other day, I knew I needed to pull an unread issue of Master of Kung Fu out of the old filing cabinet and go have adventures in an era long gone by. That's a huge part of the beauty and charm of this hobby: the ability to time travel within the confines of our reading experience. Funny thing is, I didn't read any issues of this title until 1982, but that doesn't make a bit of difference. I remember seeing them on the rack of the little shop around the corner and up the block where I bought my comics as a kid, but in 1975 my hard-earned, grass cutting money was spent on Spider-Man, Captain America, and the occasional monster magazine. As an adult, I get to revive those childhood feelings by searching through quarter boxes and finding comics like these. For that price, they are often a little rough around the edges, but then again, it's no different from the aches and pains my body experiences with age. Yet when I'm kicking back and lost in these stories, my aches and pains are forgotten about for a little while. The cover price of Master of Kung Fu #33 is 25¢, while the current value is $10.
Recently Read Digital Comics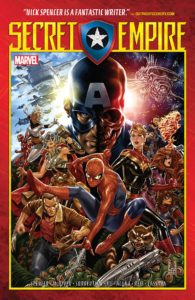 Weighing in at 459 pages and rife with controversy is Secret Empire, the comic book series from Marvel that tossed Captain America, that staunchest of patriots, into the arms of Hydra! When this massive event started, I wasn't buying new comics at the time, but I remember reading on social media how angry fans were about this. I wouldn't have paid the regular price of $19.99 for this digital collection, but when it was on sale for just 99 cents, I decided I'd see for myself just how evil old Cap had become, and if lots of what I was hearing and reading was true. And as it turned out, I think some of the most vocal, angry voices never read it. Because seriously, who really thought Superman would stay dead…I mean, who really thought Marvel would have Captain America fighting for Hydra forever? While I didn't love this series, it had some enjoyable moments and was worth every penny that I paid. This digital version collects Secret Empire #0, Secret Empire #1-10, Secret Empire Omega #1, Captain America #25 and material from Free Comic Book Day 2017 Secret Empire 1.
Never Miss an Episode of Cool Comics!
Now you can get Cool Comics in My Collection delivered directly to your email! Just click "Join My Newsletter" on my website, sign up, and that's it. Pretty easy, right? Just be sure to follow the instructions on the confirmation email so that you start getting my newsletter. If you don't see it, you may want to check your Spam or Junk Mail folders.