Welcome to Cool Comics in My Collection Episode 147, where we take a look at various comic books I own (and in some cases ones that I let get away), both new and old, often with a nostalgic leaning for those feelings of yesteryear.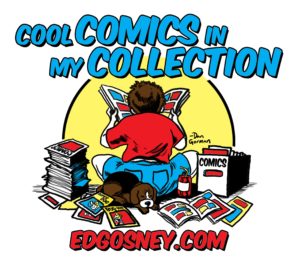 For each of the comic books I include in this blog (except for digital issues), I list the current secondary market value. This is according to the listings at the website ComicBookRealm.com. They list out the near mint prices, which are on the comic book grading scale of 9.4. If you go to the website to look up any in your collection, you can click on the price and see the value at different grades. Not all of my comics are 9.4. Some are probably better, and some are worse. But to simplify it, that's the grading price I use here. And remember, a comic book is only worth what someone is willing to pay for it.
Have you considered being a guest host for Cool Comics? You can do a theme or just pick any of your comics for inclusion (this blog is for all ages, so please keep that in mind), with a maximum of seven issues. Repeat guest hosts are permitted and encouraged. Send your completed blog to edgosney62@gmail.com.
If you have any questions or comments, please scroll to the bottom of the page to where it says, "Leave a reply." I hope you enjoy seeing these as much as I do writing about them. And now, Episode 147…
Cool Comics News!
The big Comic-Con International in San Diego has opened, and once more I'm still in Ohio. But maybe someday! Are any of you planning on attending any comic cons in the near future? There are three that Cool Comics plans on attending before the end of the year, and we'll be sure to take plenty of pictures to share in upcoming episodes.
Cool Comics Battle of the Week!
Your Cool Comics Battle of the Week is Superman versus Excalibur! What do you think would happen if they faced each other in a titanic tussle, and how do you see the winner achieving victory? Let us know in the comments section below.
Cool Comics in My Collection
 #699 — The Amazing Spider-Man #1, Marvel Comics, September 2018.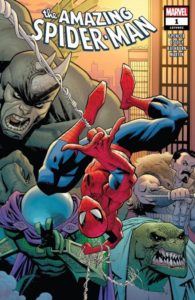 The Amazing Spider-Man finally got its turn to put out a number one issue (Legacy #802 for those keeping score) during Marvel's "Fresh Start" campaign, and the new creative team of Nick Spencer and Ryan Ottley give us part one of a story called "Back To Basics." Meaning that we go back to the old down on his luck Peter Parker. And this time, the poor guy is publicly disgraced. I won't tell you how, as we try to avoid spoilers at Cool Comics, but if you don't read the issue and want to know, I'm sure it won't take long to find out via Google. The cover, which is a wraparound (not shown here…and by the way, there are 14 variant covers to this issue in case you're trying to collect them all, two being ComicBookRealm.com exclusives…for me, this one is good enough), gives us a nice look at Peter's friends and foes, giving us the feeling that we're back in the Sixties and Spider-Man is the hot new comic. But just because the comic has #1 on the cover doesn't mean the past doesn't count, which long-time readers can appreciate. So it's once again sad-sack Parker. But there is one shining light that we get at the end of the main story in this issue, which is sometimes enough to keep a person going, right? The cover price of The Amazing Spider-Man #1 is $5.99, while the current value is $6.
#700 — Superman #1, DC Comics, September 2018.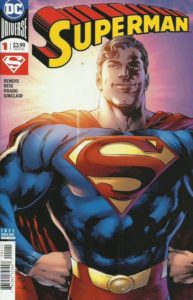 Interesting that both DC and Marvel have relaunched #1 issues of their flagship characters, with both coming out the same day. Is it a coincidence? Does anyone have statistics on which sold better? I read online that Superman sold more, but it was close…although this was not put out by Diamond Comic Distributors. (By the way, Superman has just four additional variant covers to collect, so you won't break the bank the way you will with The Amazing Spider-Man #1's 15 total covers.) There are certain advantages for Superman: fans had the opportunity to sample the new writer (Brian Michael Bendis) via The Man of Steel weekly mini-series; Superman has about 25 years more history than Spider-Man does (although most new collectors are very familiar with both characters); and lastly, DC kept it to regular page length, so the price is $2 less than its Marvel rival. I like the direction Bendis is taking with Superman, so I'll certainly be sticking with it for a while. I like comics that are just as relevant for kids as adults, and if you are going to have your characters talk about current issues, the companies (DC in this case) should be careful not to alienate readers. And keep the heroes true to who they are. There is an interesting scene in this issue with Martian Manhunter that turns political, and even Superman looks a little uncomfortable with the subject. The point is made, and that's the end of it. At least for now (this is about as political as I get here at Cool Comics, where we aim for fun, with a splash of nostalgia). If you could read just one comic between this one and The Amazing Spider-Man #1 issue above, which would you pick? Feel free to tell us in the comments section below. The cover price of Superman #1 is $3.99, while the current value is $4.
Cool Comics Done Dirt Cheap
#701 — Excalibur #3, Marvel Comics, December 1988.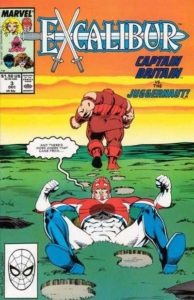 Excalibur wasn't supposed to be the "Done Dirt Cheap" comic from my legendary longbox this week, but after reading maybe half of the one I originally pulled out (which shall remain nameless) I decided it was so family unfriendly that I couldn't put it here, and ended up giving away all 12 issues that came in my longbox. So once more I needed to reach in, and like pulling a sword from a stone if your name happens to be Arthur, Excalibur #3 easily slid out. And what's not to like about this X-title that ran from 1988-1998? Marvel published 125 issues along with a couple annuals featuring this super team of mutants who had their base of operations across the Atlantic. I was an Excalibur reader during it's last few years of existence and reading this much older issue was a lot of fun. It made me realize I miss Lockheed and his friends, and that I sort of regret that I no longer own those issues. But that's life, isn't it? At least I have the memories, and the issues that came in my legendary longbox. By the way, if you enjoy comics with super baddies, this one contains the Juggernaut. The cover price of Excalibur #4 is $1.50, while the current value is $5.
FCBD the Cool Comics Way (Week 11)
#702 — World's Greatest Cartoonists, Fantagraphics Books, May 2018.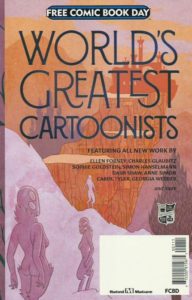 I suppose that if you want to get the public's attention (or at least the comic book reading public), you slap the words "World's Greatest" on the cover. It worked for Marvel with The Fantastic Four, right? To be honest, I'm not familiar with any of the cartoonists in this Fantagraphics Books offering from Free Comic Book Day 2018, but that doesn't mean they haven't been dubbed with that title at one time or another or won prizes of some sort. But most of the stories in this free anthology weren't my cup of tea. Obviously, there are other fans out there who love this type of comic entertainment, and I'm sure they were excited to grab this freebie at their local comic shop. It seems like there really is something for everyone when it comes to this hobby. And before we leave here, just a word of warning that this comic is Rated M for Mature. The cover price of Word's Greatest Cartoonists is free, while the current value is $1.
Cool Comics Classics
#703 — Mystery In Space #115, DC Comics, January 1981.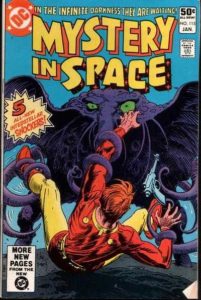 With these old anthology style books, you never know what you're going to get (okay, don't worry, I won't do the Gump/box of chocolates thingie). DC's Mystery In Space started in 1951 and published 117 issues. For 30 long years, the company that brought you Superman, Batman, and Wonder Woman also gave you a variety of science fiction stories taking place in the great unknown, and one of the things I enjoy about these old issues is that you can purchase them and enjoy the stories without having any previous issues. They are sort of like little Twilight Zone episodes. Some are good, some great, and some might put you to sleep. But when I picked this one up to read, I was immediately excited to see that the first story was written by Mike W. Barr, a writer I admire and have gotten to know a little, as we both attend a monthly gathering of other comic book minded people and share our hobby with each other. Which makes this Cool Comics Classic even more special to have in my collection. The cover price of Mystery In Space #115 is 50¢, while the current value is $14.
Never Miss an Episode of Cool Comics!
Now you can get Cool Comics in My Collection delivered directly to your email! Just click "Join My Newsletter" on my website, sign up, and that's it. Pretty easy, right? Just be sure to follow the instructions on the confirmation email so that you start getting my newsletter. If you don't see it, you may want to check your Spam or Junk Mail folders.