Welcome to Cool Comics in My Collection Episode 143, where we take a look at various comic books I own (and in some cases ones that I let get away), both new and old, often with a nostalgic leaning for those feelings of yesteryear.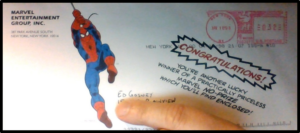 For each of the comic books I include in this blog (except for digital issues), I list the current secondary market value. This is according to the listings at the website www.comicbookrealm.com. They list out the near mint prices, which are on the comic book grading scale of 9.4. If you go to the website to look up any in your collection, you can click on the price and see the value at different grades. Not all of my comics are 9.4. Some are probably better, and some are worse. But to simplify it, that's the grading price I use here. And remember, a comic book is only worth what someone is willing to pay for it.
Have you considered being a guest host for Cool Comics? You can do a theme or just pick any of your comics for inclusion (this blog is for all ages, so please keep that in mind), with a maximum of seven issues. Repeat guest hosts are permitted and encouraged. Send your completed blog to edgosney62@gmail.com.
If you have any questions or comments, please scroll to the bottom of the page to where it says, "Leave a reply." I hope you enjoy seeing these as much as I do writing about them. And now, Episode 143…
Cool Comics News!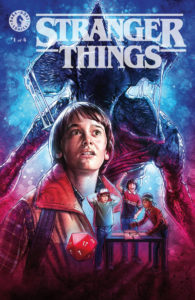 Brynn, my 15-year-old daughter, showed me on her phone that Dark Horse Comics will be producing Stranger Things tie-in comics, starting with a mini-series this September. With all the Eighties nostalgia between the Netflix horror hit and ABC's comedy The Goldbergs, I think Brynn is a little jealous that her mom and I actually experienced the era firsthand. Besides all the movies, toys, and gadgets they always have on these retro shows, the Eighties was also a great time for comic books, but you already knew that, didn't you? Are you a fan of Stranger Things? Will your love for the hit show by the Duffer Brothers encourage you to give the comics a try? Cool Comics plans to take the plunge into the Upside Down, and you can be sure to read my impressions of Stranger Things #1 the week after it debuts.
Cool Comics Battle of the Week!
Your Cool Comics Battle of the Week is Superboy (Jonathan Kent) versus Robin (Damian Wayne)! What do you think would happen if they faced each other in a titanic tussle, and how do you see the winner achieving victory? Let us know in the comments section below.
Cool Comics in My Collection
#677 — Thor #1, Marvel Comics, August 2018.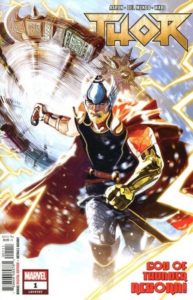 Thor is one of my favorite heroes in the Marvel Universe, and I have lots of Thor comics in my collection. Probably second only to Spider-Man. At one point, my Superman comics were probably in second place behind Spider-Man comics (Superman used to have four different monthly titles), but when that horrific time in my life came in which I had to cull my collection, the Man of Steel didn't make the grade, and most were sold at a garage sale. So now Thor is firmly entrenched as number two. I've been looking forward to seeing the Thor I grew up with back as the top dog in Asgard, but times have changed, and so has Thor. From my perspective, Thor #1 wasn't as cool as I was hoping it would be, but I'm ever hopeful the creative team of Jason Aaron and Mike Del Mundo will have me singing their praises as I traverse the Bifrost to celebrate with the Warriors Three. There are two stories in this first issue, with the second showing us a future Thor as a grandfather with three granddaughters (they were in last month's Mighty Thor: At the Gates of Valhalla #1, if you happened to pick it up). The best moment in the comic book occurred in this story. Yes, if you read it, it was kind of ridiculous, but at the same time, pretty darn cool, don't you think? Don't worry, no spoilers. The cover price of Thor #1 is $5.99, while the current value is $6.
#678 — Outpost Zero Ashcan #1, Image Comics, May 2018.
My local comic shop often gives me ashcans, and I'm not complaining. Free is always awesome, especially when you really enjoy the story. On a few occasions, there have been ashcans containing adult themes, and here at Cool Comics we always make sure to mention that, because we don't want you purchasing something for yourself or your child, or even your grandmother, that isn't appropriate. My preference is always a comic that I could hand to a twelve-year-old, or even twelve-year-old me, if I could only get my TARDIS working again. Which brings me back to Outpost Zero. This one is rated T for Teens, and I think your teens will really enjoy this cool science fiction story. The comic gives me a Lost in Space meets Stranger Things vibe, so if you are hoping to get your teen reading this summer, this might be something to consider getting when it hits comic shops on July 11. The cover price of Outpost Zero Ashcan #1 is free, while the current value is $4.
Cool Comics Done Dirt Cheap
#679 — Manhunter #5, DC Comics, November 1988.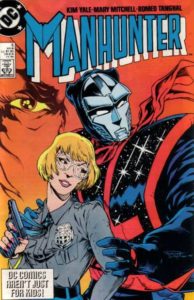 This week from my legendary longbox we go back to the Eighties with Manhunter, a character I really didn't know anything about, and still don't. Back in 1994, I bought Manhunter #0, a comic book I no longer own. To be honest, I can't remember if I bought it new or in a discount box (I was in Atlanta at the time, serving in the Army, and I had access to three different comic shops near me, so it was easy to find discounted entertainment). At any rate, this one that came in my longbox is just the second Manhunter comic I've ever owned. I took a look on Wikipedia to learn more about the character, only to find out the first appearance of Manhunter came in Police Comics #8 in March 1942. There have been different iterations through the years, and I'm sure some of you readers know quite a bit about the Manhunters. The comic was fairly entertaining, but my lack of knowledge probably hindered my reading experience. The cover price of Manhunter #5 is $1, while the current value is $3.
FCBD the Cool Comics Way (Week 7)
#680 — Crush, Yen Press, May 2018.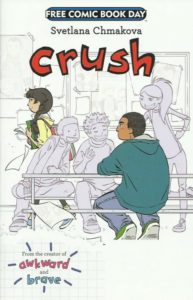 Crush takes place in a middle school, and I'm not ashamed to admit that I had lots of fun reading it. So much so that I had my wife read it, too. We both agreed that it partly made us think of My Bodyguard, a movie we've watched several times. I loved that this Free Comic Book Day edition had the bio of creator Svetlana Chmakova, who is also the creator of Awkward and Brave, both of which take place in the same setting, if I'm not mistaken. The regular run of Crush won't come out until some time in the fall, and I suggest that if you picked this up in May but haven't read it yet, now is the time, because you might just decide to wander back to your middle school days and have your local comic shop pull this title for you. The cover price of Crush is free, while the current value is $0.
Cool Comics Classics
#681 — Captain America #120, Marvel Comics, December 1969.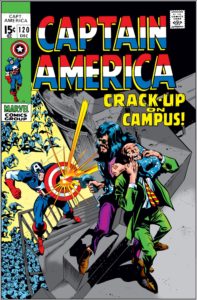 As much as I love comic books from the Seventies, when I can find issues from the Sixties that don't break the bank, I'm a happy reader. This Captain America from 1969 cost me just $2.50! For that price, the condition is far from perfect, but it's perfectly readable and a joy to have in my collection. In this adventure, Cap, using an alias, applies for a job at a college campus, and there just happens to be a big protest going on. Seems like a common theme we've seen before in titles from that period, doesn't it? The problem is, the students who are protesting are being duped by our old big-headed buddy, MODOK. But never fear, because with the Star-Spangled Avenger on campus, the forces of evil don't stand a chance! The cover price of Captain America #120 is 15¢, while the current value is $65.
Recently Read Digital Comics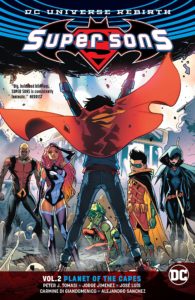 Digital comics allow me to read more titles than I could afford if I bought them all via paper, and one of my favorites is the pairing of Damian Wayne and Jonathan Kent. Super Sons Vol. 2: Planet of the Capes, continues the zany adventures of these young crime fighters. It seems pretty obvious that writer Peter J. Tomasi is having a good time scripting these comics, and though the series has officially come to an end, Tomasi will be writing a 12-issue limited series that starts August 1. As much as I enjoy these comics, I'll continue to get them in digital format, which seems almost fitting for these young heroes of tomorrow.
Never Miss an Episode of Cool Comics!
Now you can get Cool Comics in My Collection delivered directly to your email! Just click "Join My Newsletter" on my website, sign up, and that's it. Pretty easy, right?