Welcome to Cool Comics in My Collection Episode 138, where we take a look at various comic books I own (and in some cases ones that I let get away), both new and old, often with a nostalgic leaning for those feelings of yesteryear.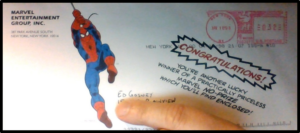 For each of the comic books I include in this blog (except for digital issues), I list the current secondary market value. This is according to the listings at the website www.comicbookrealm.com. They list out the near mint prices, which are on the comic book grading scale of 9.4. If you go to the website to look up any in your collection, you can click on the price and see the value at different grades. Not all of my comics are 9.4. Some are probably better, and some are worse. But to simplify it, that's the grading price I use here. And remember, a comic book is only worth what someone is willing to pay for it.
Have you considered being a guest host for Cool Comics? You can do a theme or just pick any of your comics for inclusion (this blog is for all ages, so please keep that in mind), with a maximum of seven issues. Repeat guest hosts are permitted and encouraged. Send your completed blog to edgosney62@gmail.com.
If you have any questions or comments, please scroll to the bottom of the page to where it says, "Leave a reply." I hope you enjoy seeing these as much as I do writing about them. And now, Episode 138…
Cool Comics News!
In Episode 136 of Cool Comics, I included a fan letter I saw in an old issue of Batman (Cool Comics #643), penned by none other than comic book writer Tony Isabella! It's always fun to see what people have to say about comics, especially when they go on to become creators

themselves. Yet most of us who've sent out fan mail are just happy to see our names in print within the pages of some of our favorite comic books! I've been fortunate to have a couple letters published, but due to circumstances, I no longer have copies of those issues. A friend recently did me a huge favor and found one of the comics, took some pictures of my letter, and sent them to me. Which gave me the idea to start a new section called (of course) Cool Comics Letters. If you've ever had a letter printed in a comic book or comic-related magazine, snap a picture of the letter and the cover of the publication, and send them to me at my gmail address above. That's all you need to do, but if you want to write up a little background about the situation or tell us about yourself and your involvement in reading comics, feel free to do so (I do reserve the right to edit as necessary, especially when it comes to keeping this blog family friendly). If you've never had a letter published, you can still participate by finding letters published by industry professionals or celebrities, or even your friends, so keep your eyes pealed when reading fan mail pages!
Cool Comics Battle of the Week!
Your Cool Comics Battle of the Week is Mister Miracle versus Black Goliath. What do you think would happen if they faced each other in a titanic tussle, and how do you see the winner achieving victory? Let us know in the comments section below.
Cool Comics in My Collection
 #651 — Hunt For Wolverine: Adamantium Agenda #1, Marvel Comics, July 2018.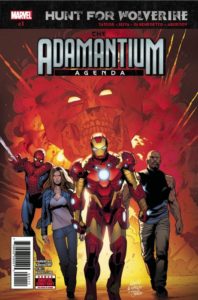 By now, it's apparent that I'll be getting all four of the Hunt For Wolverine mini-series. Like I said a few episodes back, it wasn't my intention to get any of them, but my local comic shop added the titles to my pull list, and who am I to say "no" to comics that I enjoy? Granted, this one, Adamantium Agenda, is just the second out of four, but I'm now assuming I'll like the next two, also. Wolverine is not my favorite Marvel character, and sometimes he drives me crazy, but I like the role-players on the search for him in this one, including Iron Man, Spider-Man, Jessica Jones, and Luke Cage. When I first started collecting and reading comics back in the Seventies, I really liked Marvel Team-Up, and that's the feeling these Hunt For Wolverine comics are giving me, and especially with this one, since it has Spider-Man. I know a lot of fans aren't overly crazy about Marvel these days, but I enjoyed both of these so far. Here's to hoping Marvel keeps putting out more good, fun stuff, like these. The cover price of Hunt For Wolverine: Adamantium Agenda is $3.99, while the current value is $4.
Cool Comics Done Dirt Cheap
#652 — Mister Miracle #7, DC Comics, October 1996.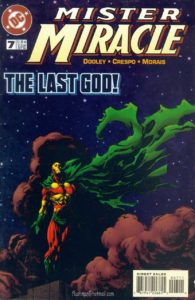 About a year-and-a-half ago, I bought a long box of comic books from Kenmore Komics (my Local Comic Shop) for $20. It was one of those deals in which you buy it sight unseen, and just have fun with what's inside. This box, which I now refer to here at Cool Comics as my "legendary longbox," contained 419 comic books, which breaks down to $0.0477 per comic. That's right, 419 comics for less than a nickel each. When you get comic books for that price, you don't have much room to complain about them. And there it is, how the legendary longbox came to be. This week I pulled out Mister Miracle #7, from the short-lived Mister Miracle series in 1996 that lasted until issue #…7. That's right, this one is the end of the line. Fans of Mister Miracle (Scott Free) could tell you that his first appearance was in 1971 and that he was created by Jack Kirby, as part of his "Fourth World" storyline. From what I see on the web, there are a number of people who love Mister Miracle, and especially his current 12-issue limited series. Did you hear about the upcoming New Gods movie? With Mister Miracle headed towards the big screen, and a fairly limited number of comic book titles baring his name, maybe it's time to check him out now, before my Cool Comic Done Dirt Cheap issue quadruples in value! The cover price of Mister Miracle #7 is $1.95, while the current value is $3.
FCBD the Cool Comics Way (Week 2)
#653 — DC SuperHero Girls, DC Comics, March 2018.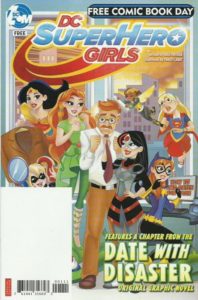 If you're looking for comic books that are safe for a younger crowd, DC's lone Free Comic Book Day offering fits the bill, with DC SuperHero Girls, which features a chapter from their Date With Disaster graphic novel. While this isn't something I'd buy for myself (this particular issue was free, so why not?), it gives you a nice look at the art and type of story that DC is publishing with their SuperHero Girls. And actually, it wasn't a bad read, even for this old guy. The bright colors and happy faces of the heroes help make this more appealing, and if you have some young readers and you want to introduce them to comic books, why not pick up one of the graphic novels? When I was young, most of the girls in the neighborhood didn't care much for the superhero crowd, but Harvey Comics like Richie Rich and Casper, along with Archie and Dennis the Menace comics, filled the bill. And they were typically just a quarter each. Those were the days. At any rate, FCBD is a nice chance to see what else is out there, and maybe to get some gift ideas. The cover price of DC SuperHero Girls is Free, while the current value is $0 (by the way, last week's FCBD issue is now up to $1).
Cool Comics Classics
#654 — Black Goliath #4, Marvel Comics, August 1976.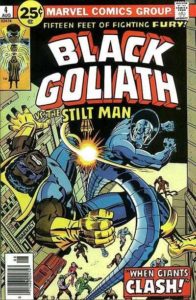 Way back in Episode 11 (December 10, 2015), I lamented the fact that I no longer owned Black Goliath #1 (see Cool Comic #77 – One That Got Away! by clicking "Episode 11 above). Remember how it used to be a thing here at Cool Comics that I'd include an issue I no longer own? I haven't done it in a long time…probably because it makes me too sad! Anyway, Black Goliath, for some reason, really takes me back to my favorite period of collecting, in the Seventies. I bought issues #1 and 2, but didn't continue getting anymore (and who knew it would only make it to five issues?). And then in college, I sold those two issues. If only I could travel back in time and convince myself not to do it! Well, it's apparent that we can't turn back the clock, but I was able to find a couple issues at reasonable prices, so I'm a happy camper. Just look at that cover and imagine the titanic battle between Bill Foster (Black Goliath for the uninitiated) and Stilt Man! Do you feel the temptation to go to your local comic shop and search for it? I can't blame you one bit. The cover price of Black Goliath #4 is 25¢, while the current value is $16.
Cool Comics Letters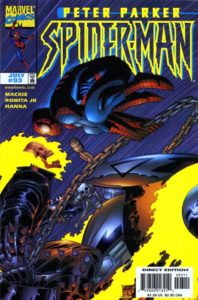 I'm starting off this new column by including a letter I had published 20 years ago in Spider-Man #93, cover dated July 1998. My letter didn't fit on one column, so to make the pictures more readable, I broke them up into three parts, including the response from Marvel (click each one for a larger view). You'll notice that they mention my No-Prize is on the way, and you can see it near the top of my blog, as I include it each week here at Cool Comics. Twenty years is a long time in a person's life, and I know I'm not as critical today as I was when I wrote this, having gone through many different experiences. So what I'm saying is, I don't necessarily care much for my tone, yet it did garner me that empty envelope, coveted by millions!
Never Miss an Episode of Cool Comics!
Now you can get Cool Comics in My Collection delivered directly to your email! Just click on "Join My Newsletter" on my website, sign up, and that's it. Pretty easy, right?