Welcome to Cool Comics in My Collection Episode 133, where we take a look at comic books I own (and in some cases ones that I let get away), both new and old, often with a nostalgic leaning for those feelings of yesteryear.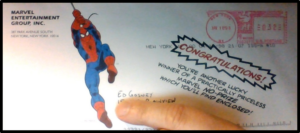 For each of the comic books I include in this blog (except for digital issues), I list the current secondary market value. This is according to the listings at the website www.comicbookrealm.com. They list out the near mint prices, which are on the comic book grading scale of 9.4. If you go to the website to look up any in your collection, you can click on the price and see the value at different grades. Not all of my comics are 9.4. Some are probably better, and some are worse. But to simplify it, that's the grading price I use here. And remember, a comic book is only worth what someone is willing to pay for it.
Have you considered being a guest host for Cool Comics? You can do a theme or just pick any of your comics for inclusion (this blog is for all ages, so please keep that in mind), with a maximum of seven issues. Repeat guest hosts are permitted and encouraged. Send your completed blog to edgosney62@gmail.com.
If you have any questions or comments, please scroll to the bottom of the page to where it says, "Leave a reply." I hope you enjoy seeing these as much as I do writing about them. And now, Episode 133…
Cool Comics News!
I've been watching a lot of the old TV series Monk on Amazon Prime these days. That's right, I'm talking about Adrian Monk here at Cool Comics. And you know why? He's a superhero, of sorts. That's right, he's one of the greatest fictional detectives of all time, and despite his quirkiness, even Batman would probably like to work with Monk, when needed. So why does this old TV show come to mind? Because this week we feature the 600th issue of Daredevil, and Leland "Owl" Owlsley is in it, and the police chief in Monk is named Leland Stottlemeyer. And because they are the only two Lelands I can think of, my brain tied them together. Funny where our minds go sometimes, isn't it?
Cool Comics Battle of the Week!
Your Cool Comics Battle of the Week is Daredevil versus Batman (Affleck vs. Affleck battles are permitted)! What do you think would happen if they faced each other in a titanic tussle, and how do you see the winner achieving victory? Let us know in the comments section below.
Cool Comics in My Collection
#627 — Daredevil #600, Marvel Comics, May 2018.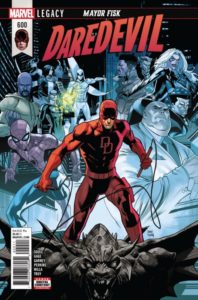 Daredevil first appeared in Daredevil #1, April 1964, and he's still going strong 54 years and 600 issues later. It's quite an achievement when you stop and think about it. He doesn't have the appeal or longevity of DC's big three (Superman, Batman, and Wonder Woman), nor the name and spandex recognition of Captain American and Spider-Man from his own world in Marvel Comics, yet Matt Murdock, blind attorney with a dash of super powers, has been around for a long time. And yes, though many more people know him from the Netflix series, he also had a major motion picture a while back, although may fans choose not to talk about it (and notice how I have Daredevil vs. Batman for the Cool Comics Battle of the Week, and Ben Affleck has played them both? But I'll venture to say that most fans prefer Charlie Cox from the Netflix series). A lot has changed since I read Frank Miller's take on Ol' Hornhead several decades ago, and I've been more of a casual reader ever since. Yet now that I'm reading new comics again, Charles Soule's writing has sucked me in and made me excited about the Man Without Fear once more. If you were ever a fan, you may want to get a copy of this 600th issue, which also features a number of other Marvel heroes. The cover price of Daredevil #600 is $5.99, while the current value is $6.
#628 — Xerxes: The Fall of the House of Darius and the Rise of Alexander #1 (Ashcan edition), Dark Horse Comics, February 2018.
Confession time. I've never read Frank Miller's 300 (double confession time: I've never seen the movie 300). There, are you happy that I've come clean? Really, what business do I have reading this sequel when I have no connection to the original? Well, my nice local comic shop owner happened to slip this Preview Edition into my comic book purchase bag, so that's my story. And I really liked what I read. The art matched the mood of the abbreviated story, and the telling of the tale didn't leave me feeling that I had to read 300 first. There is a level of violence in the art that may upset some readers (I imagine 300 was the same), but this isn't a typical capes and spandex (why does that word keep coming up this week?) kind of story. The first issue (remember, this is just an Ashcan) came out last week, and while I was very tempted to get it, I'm on a budget. I'll probably look to get the entire collection once the series is over, either in digital or a trade edition. And this time around I'll get and read 300 first. The cover price of Xerxes: The Fall of the House of Darius and the Rise of Alexander Ashcan edition is free, while the current value is $5.
Cool Comics Done Dirt Cheap
#629 — Solar, Man of the Atom: Hell on Earth #2, Acclaim Comics, January 1998.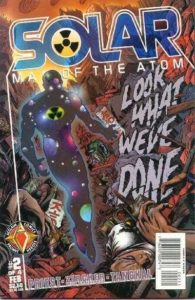 This week I pulled a Valiant…okay, Acclaim…comic out of my legendary longbox (is it really legendary? I bought it for $20, and it had 419 comic books in it…legendary enough for me!). As time goes on, I keep becoming more and more interested in these characters published under the Valiant umbrella (Solar was first published by Gold Key Comics in 1962). Unfortunately, this is issue #2 of a four-issue mini-series, but it's packed with other characters in the Acclaim-Valiant stable (for a short while, Acclaim had ownership…comic book history is chalk full of strange and sometimes wonderful, sometimes disastrous, business dealings). Guests include Ivar, the eternal Timewalker; his brother Gilad, the Eternal Warrior; Magnus Robot Fighter; Turok, who's appeared in comics from Dell, Gold Key, Dark Horse Comics, and Dynamite Comics; Woody, from Quantum and Woody; and even Quantum and Woody's pet, Vincent Van Goat. I still have much to learn about this universe, and I'm still grieving the fact that I sold all my old Valiant Comics (123 unread issues…it hurts) at a big garage sale several years ago. The cover price of Solar, Man of the Atom: Hell on Earth #2 is $2.50, while the current value is $5.
Cool Comics Classics
#630 — Super Friends #40, DC Comics, January 1981.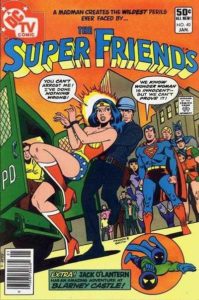 Everyone who grew up on Seventies cartoons is familiar with that great opening theme from Super Friends, not to mention the magnificent narration by the late Ted Knight. Click the highlighted title above and relive your childhood, as this video covers multiple seasons from the show. I'll wait for you to come back, I promise! Did you enjoy your stroll through time? This is the first Super Friends comic I ever purchased, and truth be told, I pulled it out of discount box (I think this one was just a quarter). For me, and I'm pretty sure many of you readers would agree, part of the allure of comics is the connection they give us to our past. Today, we have superhero movies and TV shows with stunning visual effects, yet watching these Super Friends openings through the years, is there anything better? For a moment, we're kids again, sitting on the family couch, TV tray in front of us, munching away on a bowl of Quisp or Quake cereal. Did you feel it? I sure did. And that's exactly why I write this blog each week. The cover price of Super Friends #40 is 50¢, while the current value is $14.
Recently Read Digital Comics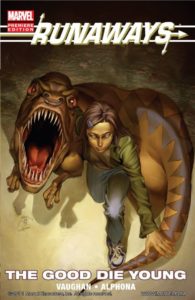 I finally got around to finishing up the first Runaways series by Marvel. Runaways Vol. 3: The Good Die Young, collects issues 13-18, and contains a bunch of surprises. And after reading this, I can see why the TV series on Hulu seems to be going a different direction. Not that they couldn't bring the comic book vision to the small screen, but it would be more difficult, and probably a little harder to swallow for non-comic book readers (why do non-comic book readers still exist? Get the word out about how much fun they are, spread the news, get everyone reading, and maybe prices will go down, or at least hold steady a little longer than usual!). All told, I enjoyed these 18 issues, and may someday continue with the next series they published, from 2005. And by the way, Marvel has been putting out some great digital titles lately for just 99 cents. Check comiXology every few days to see what the new offerings are if you like to spend less money.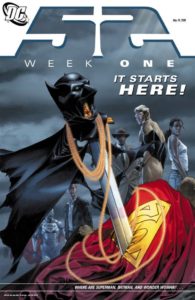 52 (DC Comics) is free on comiXology, so why not, right? I thought it was either an introduction or ongoing series for The New 52 phase from DC, but soon found out I was wrong. Instead, for those like me who don't know any better, it was a weekly follow-up to DC's Infinite Crisis series. Yes, it lasted 52 issues. By the way, I have Infinite Crisis #1 in digital (picked it up when it was being offered free) but haven't read it yet. Okay, I'm doing things a little backwards, but it's an honest mistake. Besides, I only have issue one, and unless Infinite Crisis knocks my socks off, that's probably all I'll ever read from that series (again though, if they ever offered it for free, or the collected edition at a price I can't refuse, I'll get it). A person can only read so many comics in a lifetime (isn't that unfortunate?), and someone must have stolen my dollar trees from my backyard, so I have to be somewhat pickier as time continues to march forward.
Never Miss an Episode of Cool Comics!
 Now you can get Cool Comics in My Collection delivered directly to your email! Just click on "Join My Newsletter" on my website, sign up, and that's it. Pretty easy, right?